Another spicy invention from my kitchen to you all ! Touch of fennel, heat from chillies, pearl onions and curry leaves, now you guess the flavor!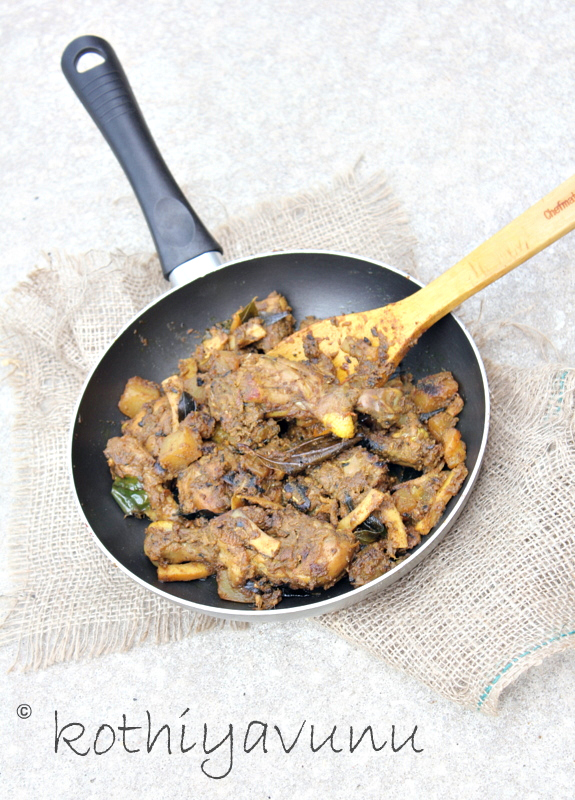 One of my loyal reader and fellow blogger friend Nima, asked me to post my version of chicken with potato roast. She asked me long time back and I promised her, but it took sometime for the promise to materialize. I am sorry Nima it took me this long to prepare this..Anyways, better late than never 🙂 Will post the spice-less version too soon. So here u go Nima, try and let me know how you liked it.
I appreciate a quick and simple meal, I also really enjoy making slow cooking, when I have the opportunity. I think that the slow cooking really brings out the flavor of the spices. I love each step to make a meal the best it can be. I know there are lots of easier versions out there, but I wanted to go for the slow cooked version.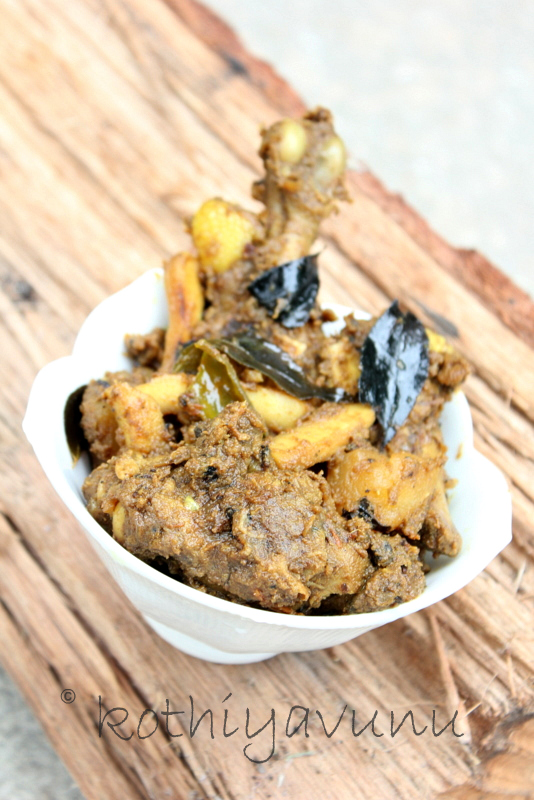 If you enjoy Kerala style recipe with slow cooking then its a must try, I'm sure the final product is something to be proud of..Enjoy the post and happy slowcooking!
Slow Cooked Nadan Kerala Style Spicy Chicken and Potato Roast Recipe /Chicken & Potato Roast Recipe
Preparation Time : 30 mins to 1 hour
Cooking Time : 1 hour to 11/2 hour
Serves : 4
Ingredients :
To Dry Roast & Marinate :
Chicken with Bones : 2.5 lb/11/2 kg (washed & cut into medium pieces)
Turmeric Powder : 1/2 tsp
Red Chilly Powder : 4 tsp or as per tolerance (lightly roasted)
Coriander Powder : 2 tsp (lightly roasted)
Homemade Garam Masala Powder : 11/2 tsp (Recipe given below)
Fenugreek Powder : a pinch
Garlic : 4 cloves (crushed)
Ginger : 1″ piece (crushed)
Vinegar or Lime juice : 1 tsp
Salt to taste
To Saute :
Shallots /Red Small Onions : 2 cup or Onion : 1 (large, finely sliced)
Tomato : 1 (medium, finely, chopped)
Potato : 2 (medium peeled and cubed)
Garlic : 4 cloves (crushed)
Ginger : 1″ piece (crushed)
Green Chillies : 2-4 (slit lengthwise) adjust as per taste
Whole Black Pepper : 11/2 tsp (adjust as per tolerance) (freshly crushed)
Fennel Seeds /Perumjeerkam : 1/2 tsp
Cinnamon /Karugapatta : 1″ stick
Cloves /Grambu : 2
Cardamom /Elakka : 2 pods
Bay Leaves /Karugailla : 1
Turmeric Powder : 1/2 tsp
Red Chilly Powder : 1 tbsp or as per tolerance
Coriander Powder : 2 tbsp
Homemade Garam Masala : 1 tsp
Coconut slices /Thenga Kothu : 1/2 cup
Curry Leaves : 2 sprig
Oil : 2 tbsp + 3 tbsp
Water : 1/2 cup
Salt to taste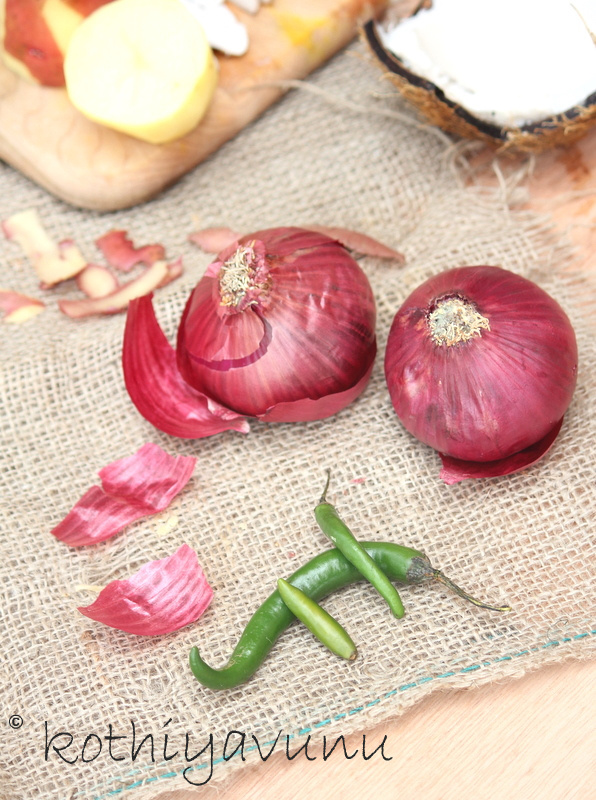 For Fresh Homemade Garam Masala :
Fennel Seeds /Perum Jeerakam : 1 tsp,
Cinnamon Stick/Karugapatta : 2 inch pieces,
Cloves/Grambu : 2,
Star anise / Takkolam : 2,
Green Cardamom /Elakka : 2 pods
Method of Preparation for Fresh Homemade Garam Masala :
1. Dry roast all the ingredients listed above for "To Make Fresh Garam Masala" and grind to fine powder and keep it aside. (
Note :
You can prepare this in bulk and store, but fresh masala taste too good or you can use store bought garam masala.)
1. Heat a small pan over low heat and dry roast the coriander powder, red chilli powder, fenugreek powder when its turns to darker brown, add turmeric powder and stir for a minute or two. Keep stirring while dry roasting spices without burning them.
2. Marinate the chicken pieces with the above roasted spices, crushed garlic, crushed ginger , vinegar and salt; keep in the refrigerator for 1/2-1 hrs (Note : For best result marinate overnight)
3. Pour 2 tbsp of coconut oil in a wide heavy bottomed pan and tilt the pan in such a way that oil gets spread evenly in the pan. (Note : Using heavy bottomed vessel is very important for slow cooking.)
4. Add the whole spices, fennel seeds, half of the curry leaves and saute for couple of minutes.
5. Add sliced shallots and saute till it turns to light brown in color, add crushed ginger and garlic; saute for minute or two.
6. Add in coconut silces and fry for a minute; add chopped tomato and saute till it turns to soft and mushy
7. Now add all the spice powder, (except freshly crushed pepper,) the marinated chicken pieces, cubed potato; combine everything well and saute for 5-8 minutes.
8. Add 1/2 cups of water; bring to boil and let it stand on high flame for 5 minutes.
9. Cover and cook over medium heat for 10 to 15 minutes or until the chicken start to ooze out water.
10. Now remove the lid, mix well and cook until all the water evaporates.
11. Reduce the heat to low and add the remaining 3 tbsp coconut oil, freshly crushed black pepper, curry leaves and dry roast it in low heat till browned up. Adjust the salt and spices. (Note : Check in between and give a stir to avoid burning and sticking to the bottom. It takes 45-1 hour minutes approximately. Do not close the lid after adding oil to roast the chicken.)
12. Once the chicken meat starts to fell apart and have attained the dark brown color then remove from the fire and let stand covered for 10 minutes before serving.
13. Delicious Chicken and Potato Roast is ready to serve. Serve as a side dish for
Rice
or with
Indian breads
.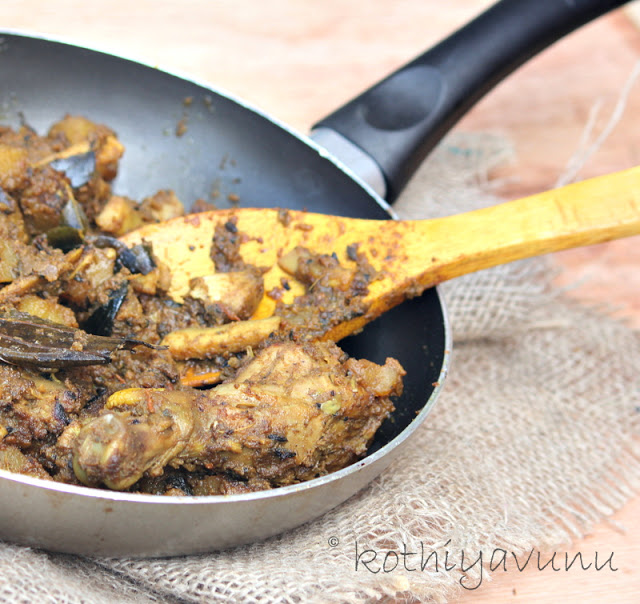 Notes:
This is a very spicy dish. Increase or decrease chilli powder and pepper powder as per your tolerance. Optional – To bring down the heat, substitute red chilli powder with kashmiri chilli powder or paprika.
Using freshly ground pepper and coconut oil enhance the authentic taste and flavor.
I prefer to use shallots instead of onions as it gives a great flavor to dish.
Related Post :
Nadan Kerala Koonthal /Kanava Roast /Spicy Squid/Calamari Roast

Happy Cooking!
Sangeetha