With the holidays around the corner, we all definitely have cookies on the mind. What kind of cookie do you plan on making this holiday season??
My holiday baking begins with easy to make, delicious and versatile French cookie, 'Palmier /Elephant Ears' – fun and different…they make the plate look pretty!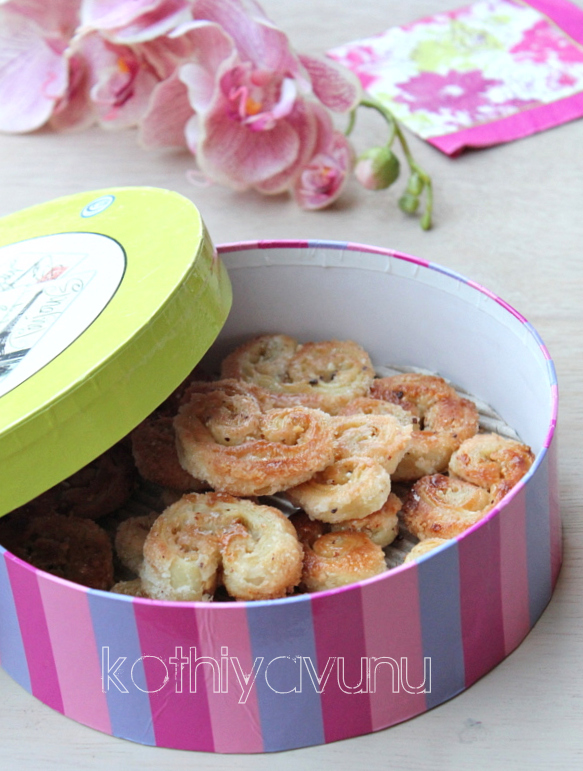 I made these especially for my friend 'M', who loves similar cookies called
Little Hearts
manufactured by Britannia, India. I was inspired by the Martha Stewart's Baking Handbook and I decided to try add my personal touch to it!
Palmier is a cookie made of puff pastries, rolled and cut into a butterfly shape, and sprinkled with sugar. The easiest way to make palmier is using pre-rolled frozen puff pastries. You can make your own puff pastry from the scratch, but to save time and energy the store-bought puff pastry are used. It makes the things easy on you and never fail to impress. This is a no-stress no-mess recipe that's perfect for a last minute sweet treat. Palmier /Elephant Ears can be served with plated desserts, topping cupcakes or simply with a cup of tea..Yum!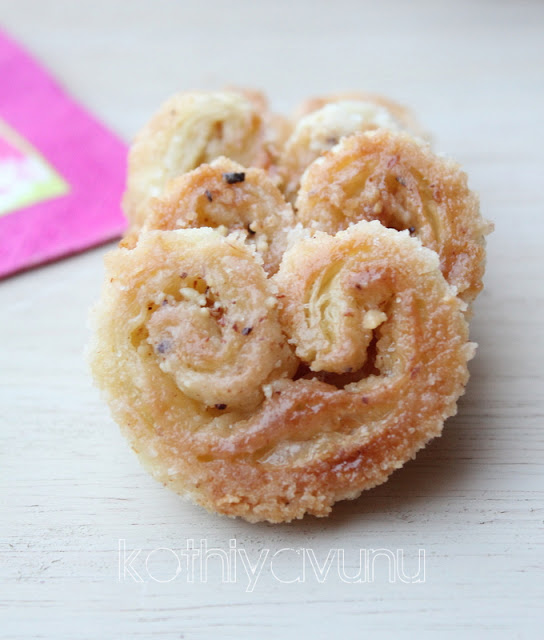 These crisp, sweet, buttery pastry, carmelized flakey texture, are perfect to give as a holiday gift or for a cookie party or for Valentine's Day or just as a treat to share with you kids. So, bake a dozen or two, swap with friends and family and enjoy these yummy cookies.
Now, lets plunge into the recipe!
Palmier Recipe – Elephant Ears Recipe – Little Hearts Biscuits Recipe
Preparation Time : 45 mins
Baking Time : 15 mins
Serves : 2 dozen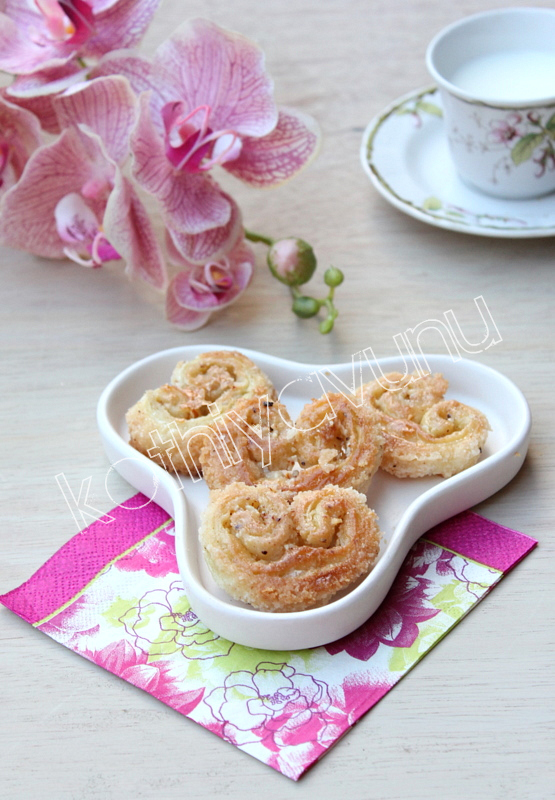 Ingredients:
Puff Pastry Sheet : 1 (defrosted )
Granulated Sugar : 1/3 cup
Cardamom : 3/4 tsp (crushed)
Optional – Almonds or Pecan, Walnut : 3 tbsp (coarsely ground)
Optional – Egg white : 1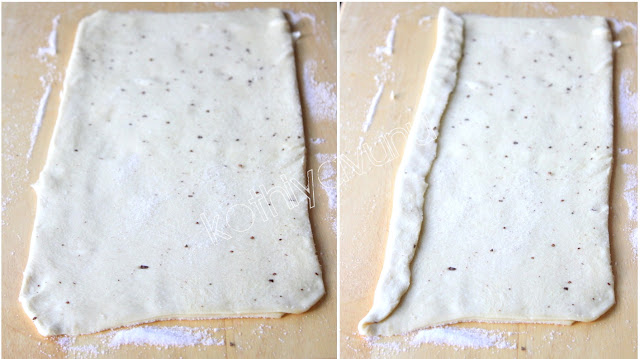 How to make Palmier – Elephant Ears – Little Hearts Biscuits Recipe:
1. Thaw the puff pastry sheet according to package directions for 30-40 minutes.
2. Preheat the oven at 400 degree F /200 degree C.
3. Mix the sugar and cardamom; sprinkle half of the sugar evenly on a clean work surface.
4. Place the puff pastry sheet on top with the shorter edge facing towards you.
5. Mix the coarsely ground almonds or pecan into the remaining sugar cardamom mixture and sprinkle that on top of the pastry sheet.
6. Working from one end, roll the puff pastry gently into rectangle, about 1/8 inch, continually coating both sides of the sheet with sugar mixture.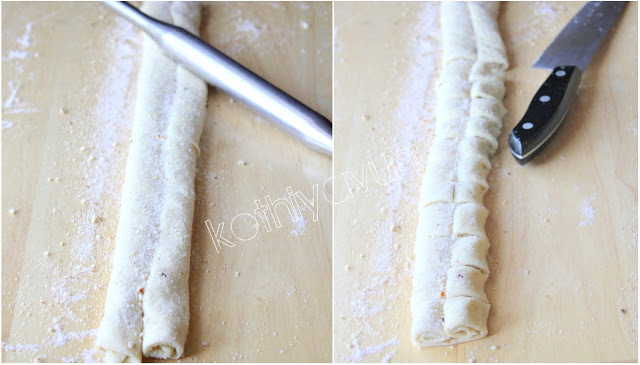 7. Fold the sides of the rectangle towards the center so that they go halfway to the middle.
8. Fold them again so the two folds meet exactly at the middle of the dough. Leave a 1/4 inch space in the middle.Trim the outermost edges with a knife.
9. Wrap tightly in plastic and freeze until firm, about 15 minutes.
10. Cut the dough crosswise into that are between 1/4 -1/2 inches wide and place cut side facing upwards on a baking sheet on ungreased baking sheets, about 2 inches apart, and flatten firmly with with the palm of your hand.
11. Optional – Brush with egg white and sprinkle with additional sugar, if desired.
12. Bake for about 15-20 minutes or till both the sides turn a light brown.
Notes:
The sky is the limit for palmiers variations. You can use your imagination and put your own spin on it.You can make sweet palmiers or savory palmiers, according to your taste. Above is a cardamom flavor palmiers, since we like it this way. Some other optional are cinnamon, organe, lime zest, etc..The basic recipe just calls for sugar and pastry sheet.
Although the puff pastries should be thawed before using, work with the pastry sheets while they are still cold. When the pastry becomes too warm, the butter inside the pastry will melt. In that case, chill it in the refrigerator for around 10 minutes.
Increase or decrease sugar according to your taste.
Palmiers can be stored in an airtight container up to 3 days.
Happy Baking!
Sangeetha