It is almost time to ring in the New Year. Are you ready for the big countdown?
To the old, long life and treasure; To the young, all health and pleasure. Wishing everyone a blessed, prosperous, healthy & happy 2012!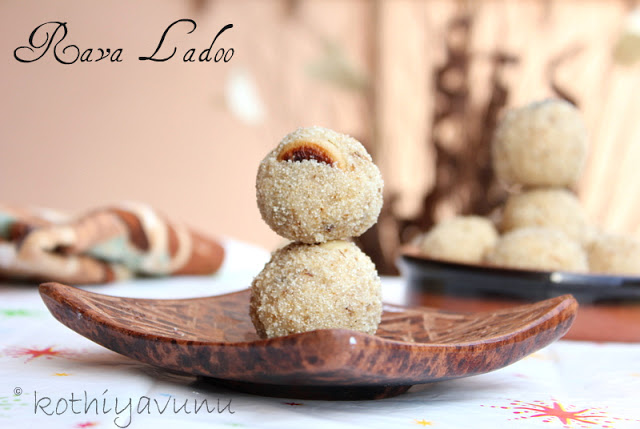 Goodbye 2011! and say hello to 2012 with these yummy treat..Rava Laddu/Semolina Balls.
Laddu /Ladoo is an Indian sweet made with different kinds of flour and shaped into small balls for serving as a treat for festivals and special occasions.The sweet can be made from both grain and legume flours and often has nuts or dried fruit added.One of the most popular varieties is Boondi Laddu/Ladoo



Today we are featuring Rava Laddu /Ladoo /Rava Unda. Rava laddu is made from semolina, which is roasted and mixed with milk or ghee until the mixture is dry enough to form into balls. Nuts, raisins and grated coconuts are frequent additions to rava laddu.These sweet balls are extremely easy and jiffy sweet which is prepared in no time. Roast and mix all ingredients together and the the sweet is done.
May 2012 brings you all the happiness in the world ! We are looking forward to 2012 and all of the adventures that are to come.
Rava Laddu Recipe – Rava LadooRecipe – Rava Unda Recipe | Semolina Balls Recipes
Preparation Time : 20 minutes
Baking Time : 15 minutes
Makes : Around 10 to 12 medium-large sized balls
Ingredients :
Rava /Semolina : 1 cup
Sugar : 1 cup
Ghee : 1/4 cup
Milk : 1 tbsp
Grated Fresh Coconut : 1/4 cup
Cashew nut : 10, broken into pieces
Raisins : 10 nos
Cardamom Powder : a pinch
How to make Rava Ladoo-Laddu |Rava Unda :
1. Heat 2 tbsp ghee,when its hot, fry the raisins on medium heat until they puff up and add cashew nuts and fry until golden brown, Keep it aside.
2. In same pan roast the grated coconut for couple of minutes; remove and set it aside.
3. Add the remaining ghee and add the rava /semolina/farina; reduce flame over low and roast evenly until a nice aroma starts coming out, (Note : Make sure to not burn the rava /semolina. To ensure this, keep stiring continuously.)
4. In a bowl, take all the roasted rava, nuts, coconut and add the cardamom powder.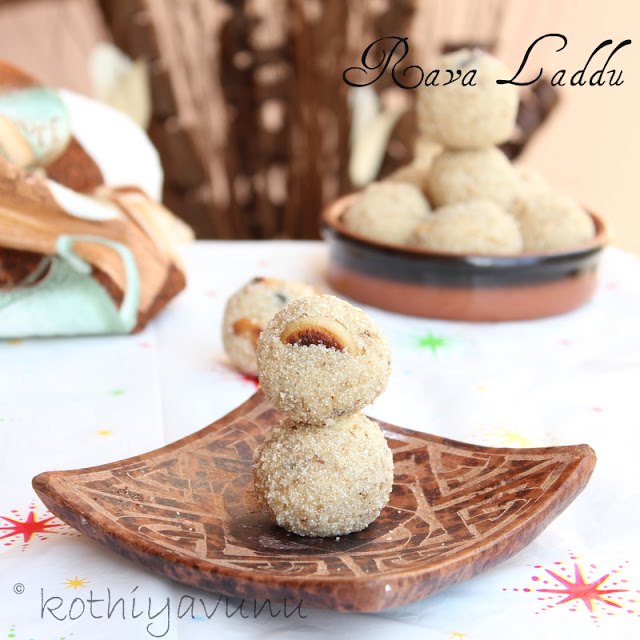 5. Then add the sugar and mix well.
6. Slowly add the warm milk into the bowl. Make small balls out of this mixture immediately, roll it tight, check if you are able to gather as balls. if you could and then mixture is too dry, sprinkle more milk or add more warm ghee to it and make balls again (or) When you find that milk added is enough to get you laddus, transfer it back to the pan and cook over low heat for couple of minutes remove from the fire and try to gather the balls.
7. Yummy Rava Ladoos are ready to enjoy!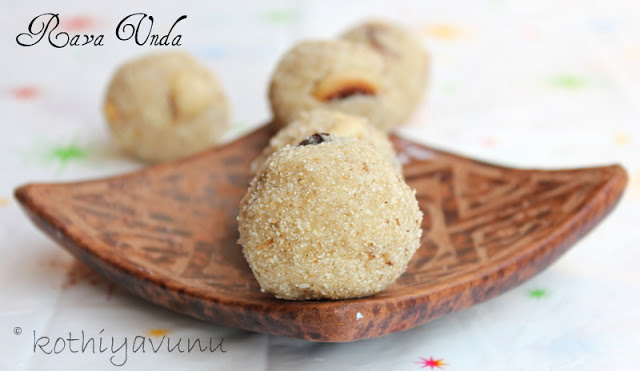 Notes:
While roasting the rava, make sure that heat is low, else there is a chance of the rava getting over roasted.
Add heated warm ghee and make ball immediately, so ladoo won't break easily.
Sprinkling milk will make the shelf life reduce, it's best to consume within a 3 days of making them.
If you store them in fridge, you can have them for a week.
Related Posts :
Motichoor-Motichur Ladoo/Laddu
Date Nuts Balls /Dry Fruit Laddu
Boondi Ladoo
Pineapple Laddu
Click here for more Sweets Recipes
Once again we wish you all a very Happy & Prosperous New Year!
Sangeetha