Sounds fancy, doesn't it? Trust me folks, These little bundles of yum is simple, quick to make and a definite crowd-pleaser.
Few week before my girls had a playdate and moms had tea party 🙂  Some of my friends asked me to cook some snacks for  playdate tea session, as it is always great pleasure to cook for my friends. It's such a wonderful time for us to hangout while our kids are playing and enjoying.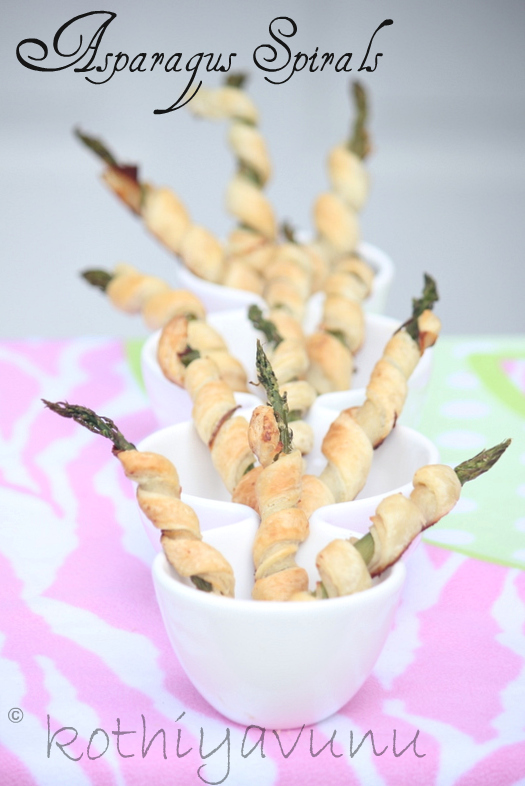 I was looking for easy snacks to make and  I came across this recipe
here
.  I'm impressed with this recipe, so I decided to give a try, with a few minor changes. They were SO GOOD. Entire batch was demolished by the end of the day, and is a fantastic recipe to have in your repertoire.
I'm fairly certain this will make an appearance on my party table near future. The original recipe calls for proscuitto, but I tweaked it a bit, omitting the proscuitto and substituted it with deli thinly sliced chicken breast. It coupled so nicely with the asparagus and puff pastry.
Do give a try, these simple and quick treat..Sure to impress any crowd. Enjoy !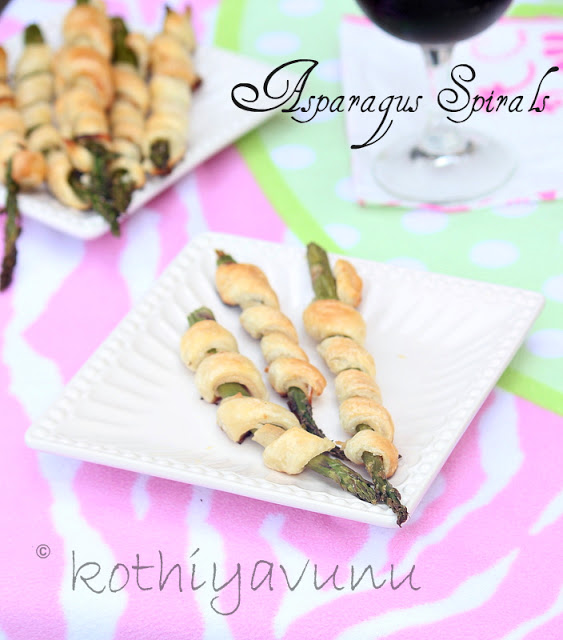 Recipe for Chicken Asparagus Spirals
Preparation Time : 15 minutes + Thaw time : 40 minutes
Cooking Time : 15 minutes
Makes : 30-40
Ingredients :
Puff Pastry Sheets : 1 pkg (thawed) I have used Pepperidge Farm
Cream Cheese, seasoned as desired : 6 tsp (softened)
Deli Thin Sliced Chicken Breast or Thinly Sliced Deli Ham or Prosciutto : 8 slices or as needed
Asparagus Spears : 30 medium (washed/dried/trimmed)
Egg : 1 (lightly beaten)
Water : 1 tsp
How to make Chicken Asparagus Spirals  : 
1. Preheat oven to 400 degrees.  Line baking sheet with foil.
2. Unfold thawed puff pastry sheets  on a lightly floured surface and spread the cream cheese on each sheet.
3. Top each with 4 slices deli thin sliced chicken breast.  Using a pizza cutter or sharp knife, Cut each into 15 strips crosswise, making 30 in all.
4. When cutting make sure you cut straight down and through the chicken slices  (
Note
 : Do not drag the knife.)
5. Tightly wrap a strip of pastry, chicken slices side in, around each piece of asparagus in a spiral manner.  Place the pastries seam-side down onto to the prepared sheet pans, about 1/2″ apart.
6. Mix egg  with water and brush between layers, then pinch or press together.
7. Bake for 15-20 minutes or until puff pastry is lightly golden brown;  rotating the pans halfway through.
8. Let it cool until easy to handle, then serve and Enjoy !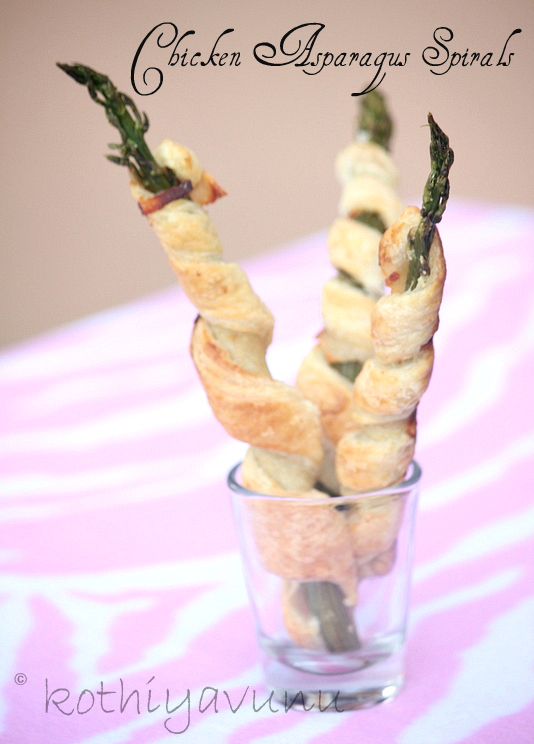 Notes :
Make ahead;  assemble and refrigerate, tightly wrapped, for up to one day then bake right from the refrigerator.
For Non-Vegetarians version, just skip the meat part and proceed.
For those who are not familiar with asparagus, buy the asparagus freshest you can find and get the fat stems over the thin. The trick for trimming asparagus,  just bend the end of the stem; it will naturally snap where the fibrous bits end.
Don't try to unfold the pastry sheet that's not completely thawed; unfolding it while it's still frozen could tear the sheet.
Try to keep pastry sheets from becoming too warm when working with it by only using your fingertips.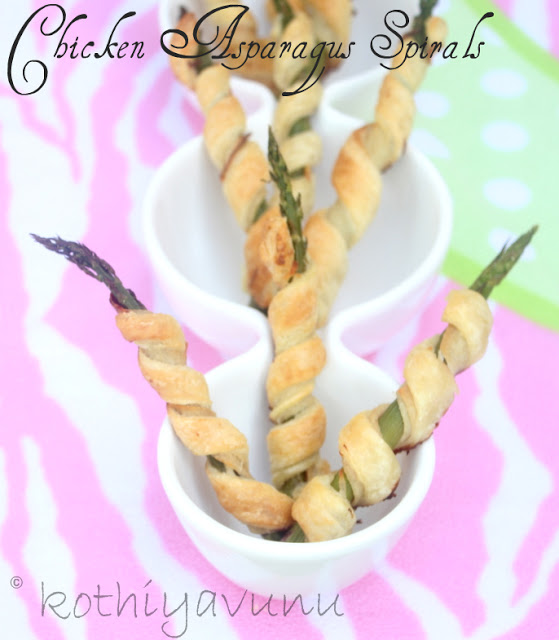 Related Posts :
Palmier /Elephant Ears /Little Hearts Biscuits
Vegetable Puffs

Egg Puffs

Click here for more Snacks Recipes
Happy Cooking !
Sangeetha