Cranberry lovers, Chutney lovers, unite! Have you noticed the brightly colored cranberries in the market lately? They're glorious…Aren't they ?
As soon as I saw cranberries at the farmers' market, I get a little overzealous and buy lot. I set out to find a different cranberry recipe; one that was still reminiscent of the classic, but with a Indian twist.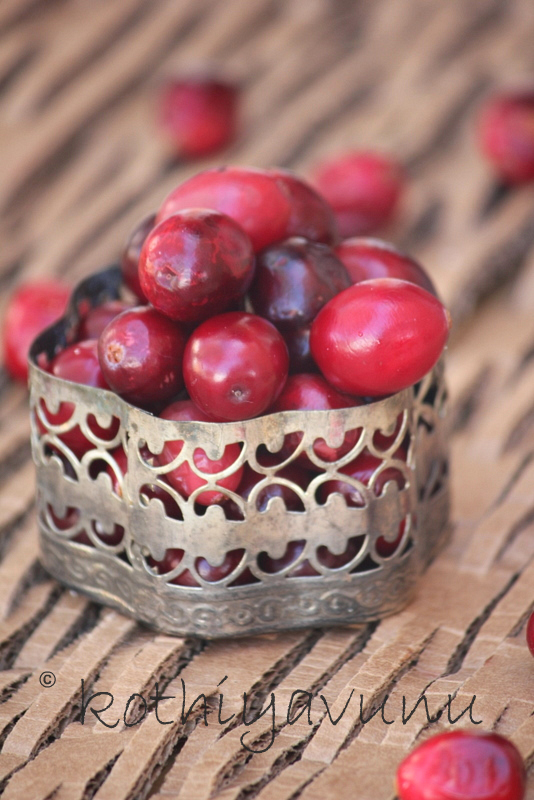 I made these fingerling chutney a few days before and we loved them so much, I made them again for yesterday dinner just on their own, to accompany bread.
This gloriously sweet-and-tart chutney is easy to make and a perfect side for
Idili
,
Dosa
or with
Rice Gruel /Kanji
, great on bread, and great on its own too. The chutney consists of fresh raw cranberries, shallots, and coconut, all put through a grinder with little sugar and salt added to macerate.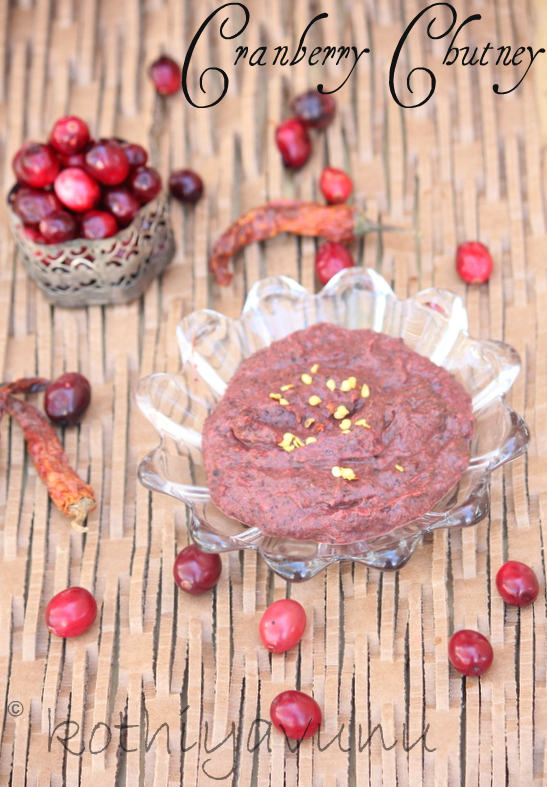 Best of all, the cranberry is chock full of health benefits. It help prevent the adhesion of bacteria associated with urinary tract and contain vitamin C, antioxidants, and other phytonutrients that helps to protect against diseases.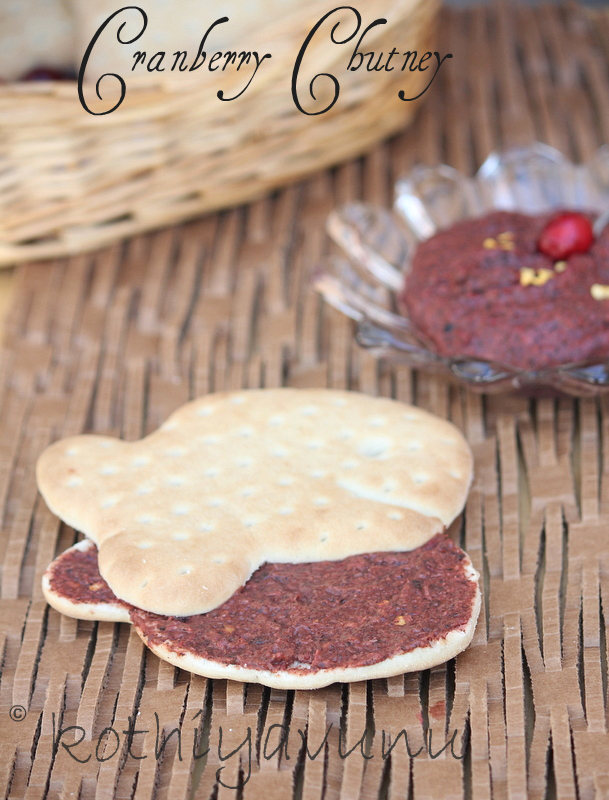 A balance of spicy, sweet, and sour, with a touch of saltiness is truly delicious..So why not try out this recipe? Don't forget to give me a feedback though!
Recipe for Indian Style Cranberry Chutney
Preparation Time : 5 minutes
Cooking Time : 5-8 minutes
Serves : 1 cup
Ingredients :
Fresh Cranberry : 1 cup
Shallots /Red Small Onion : 10-15 (thinly sliced)
Garlic : 2 cloves
Green Chillies : 2 (sliced)
Black Gram/Urad dal : 2 tsp
Asafotida /Hing/Kayam : a pinch
Dried Red Chillies : 2
Grated Coconut : 2 tbsp
Sugar : a big pinch
Salt to taste
Olive Oil : 1 tsp

For Tempering :
Olive Oil : 1 tsp
Mustard Seeds : 1/2 tsp
Curry Leaves : a sprig
1. Heat a pan with oil on medium high, add urdal dal, asafetida and dry chilles and saute till lightly brown.
2. Add the chopped onions, garlic and saute till it becomes translucent.
3. Add green chillies, grated coconut, salt,and cook over medium flame till everything is just done.
4. Add the fresh cranberries, saute till berries turns to soft and mushy.
5. Allow to cool. Add sugar and grind in a blender using little water till smooth paste.
6. Taste and adjust salt and sugar, as needed. Garnish with crushed chillies or do the tempering with the mustard, curry leaves and pour it to the chutney.
7. Cranberry Chutney is ready! Serve with
Idili
or
Dosa
or with
Rice Gruel /Kanji
, great on bread too..Enjoy !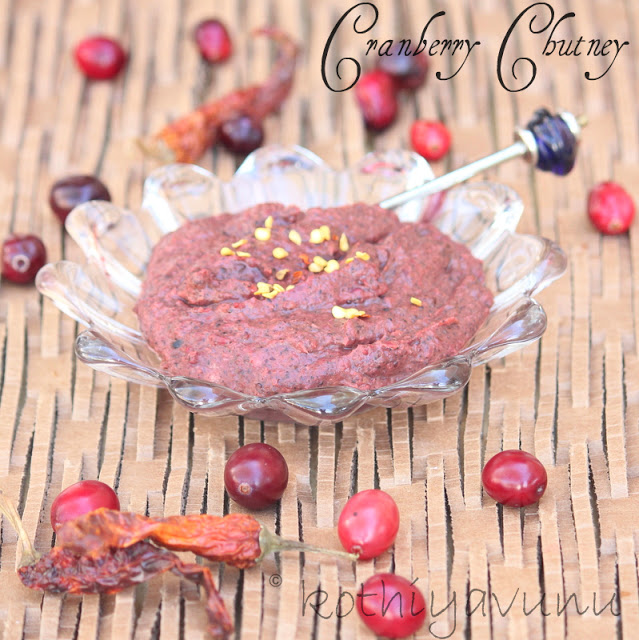 Have a great day!
Sangeetha