Raw Banana and Long Beans Stir Fry..tasty? Possible ! Try this recipe out.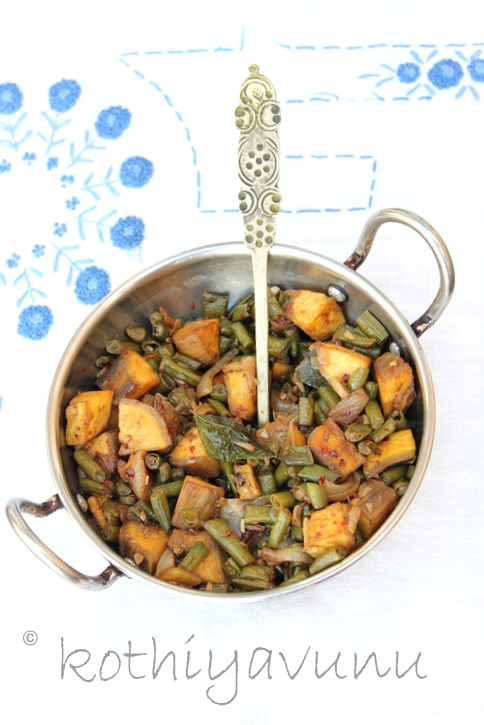 This has been lying in my draft for long time. I made them even yesterday and thought it's high time, I brought it to you.
I always think of my friend M, whenever I make this Mezhukkupuratti / Stir fry, for it used to be our staple fav side once upon a time..So this post is dedicated to her 🙂 'M' Hope you reading this..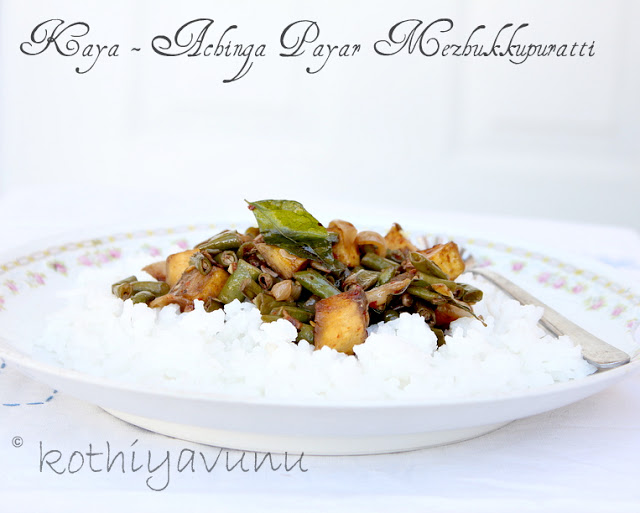 This stir fry is super easy and addictively-good.! Just toss with a little oil, add a few spices and cook it…So easy, so good…Check it out!
Recipe for Kaya -Achinga Payar Mezhukkupuratti /Raw Banana and Long Beans aka Asparagus Beans Stir-fry
Preparation Time : 15 minutes
Cooking Time : 15 minutes
Serves : 4
Ingredients :
Long Beans / Achinga Payar : 1/2 cup (cut into small pieces)
Raw Banana /Pacha Kaya: 1/2 cup (cut into small cubes)
Shallots /Small Red Onion /Cheriya Ulli : 5 (crushed)
Turmeric Powder : 1/4 tsp
Crushed Red Chilly Flakes : 1 tsp or your spice level
Curry Leaves : few
Coconut oil or Any cooking oil : 2 tbsp
Salt to taste
Method of Preparation :

1. In a cooking vessel/pan, add pachakaya /raw banana cubes and achinga payar /long beans with little water along with turmeric powder and salt, cover bring to boil and cook for 5 minutes.
2. When the pieces turn soft, uncover and keep on low fire till the water evaporates completely.
3. Heat coconut oil in a pan, add crushed shallots/small onion and saute for couple of minutes, when they turns to light pink in color, add crushed red chilli flakes and curry leaves and saute for a minute.
4. Add the cooked long beans & banana pieces; combine well and saute it on low fire for 5 minutes.
5. Serve hot with rice and Enjoy!