This is a recipe that deserved a little updating, mainly in the picture.
Dosa is a fermented crepe or pancake made from rice batter and black lentil, which is a common South Indian breakfast. There are many other versions exist. Some variations include wheat dosa, rava dosa, paper dosa, egg dosa, cheese dosa, masala dosa, neer dosa, set dosa, onion dosa, ghee roast, …yummm the list is endless..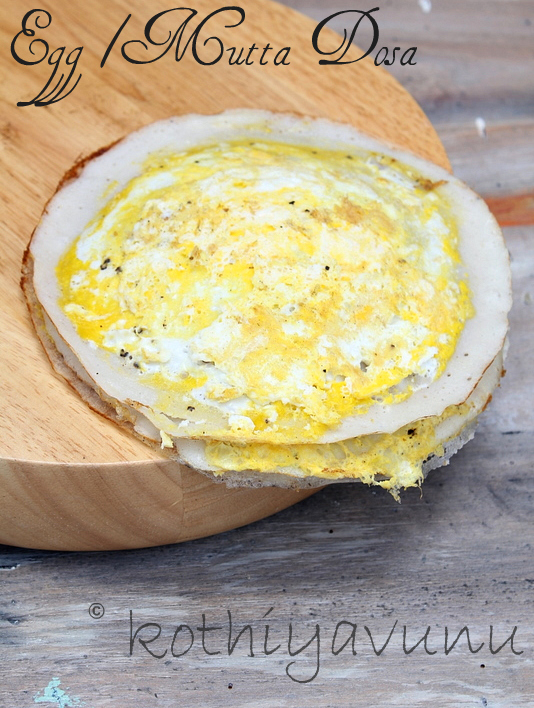 Lately, my girls has been asking for omelets every morning for breakfast. So after the first few days of crack eggs, whisk eggs, cook eggs. I decided to see how they'd respond to a bit of a change. They really enjoyed eating egg dosa.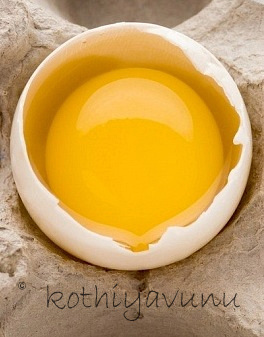 Give a try, they'll be sure to be a hit with both kids and adults alike. Enjoy !
Now to the egg/mutta dosa recipe.
Mutta Dosa Recipe – Egg Dosa Recipe
Preparation Time : 10 minutes
Cooking Time : 15 minutes
Serves : 4
Ingredients :


Dosa Batter : 2 cups (To make dosas follow instructions here )
Egg /Mutta : 1 for each dosa
Sesame Oil /Oil or Ghee : 1 tbsp
Black Pepper Powder : 1 tsp
Salt to taste
How to make Mutta Dosa Recipe – Egg Dosa Recipe :
To make Dosa Batter follow instructions here
1. Smear a spoon full of oil or ghee on a hot tawa, pour a dosa on tawa and spread batter to outer layer on low flame, cover with lid.
2. Lightly sprinkle with oil/ghee at the edges of dosa.
3. Beat the egg with salt and pepper, pour right above the top of batter. Then spread it thinly to all over the dosa.
4. Sprinkle pepper powder (optional). Once the batter and eggs are almost cooked and crisp on one side, flip to the other side for a minute, then back to the top.
5. Serve hot with chutney or sambar and Enjoy!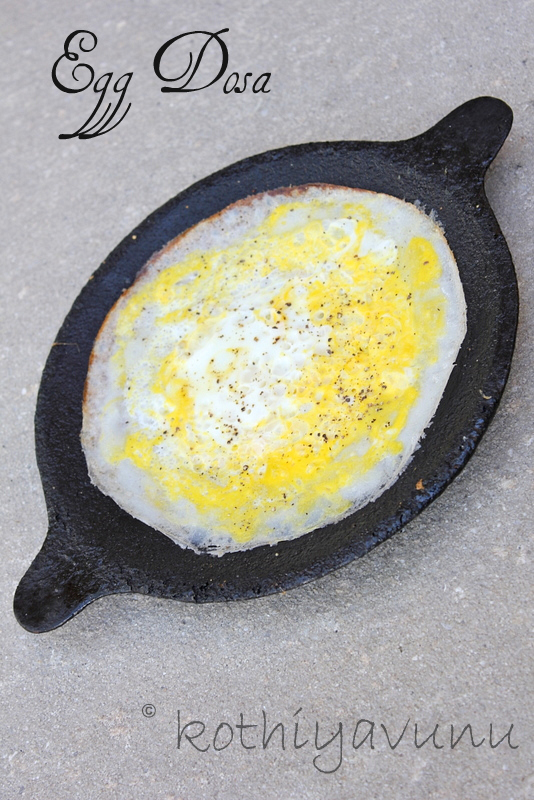 Click here for more Dosa recipes.
Have a Good Day all !
Sangeetha