Happy New Year, everyone! I hope you all had a wonderful time with friends and loved ones.
We too had a wonderful time, involving dinner outs, party at our friends' place. Being together with loved ones and friends makes me so grateful for all the blessings in our life. 2011 was a year of both joys and sorrows for us, so I am optimistic that 2012 will be much better.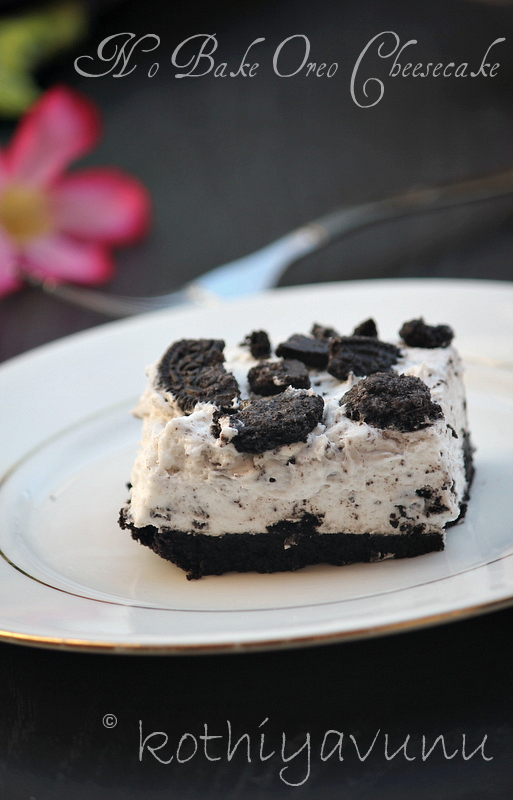 We are thrilled to mark the beginning of this 2012 with easy "No Bake Oreo Cheese Cake".
I've been on an oreo kick lately. After the Oreo Stuffed Chocolate Chip Cookies, I began brainstorming of other oreo desserts I could make. when I saw these on Kraftsrecipes How could I resist? Even it 's not zero calories and it's probably not very healthy, but they sounded yum and easy, so decided to try and I knew my kids would enjoy this for sure. 🙂
Oreo crust layered with cream cheese and chopped oreos. The end result is a yummy, and cream creation. I recommend putting it on your wish list and try..Enjoy!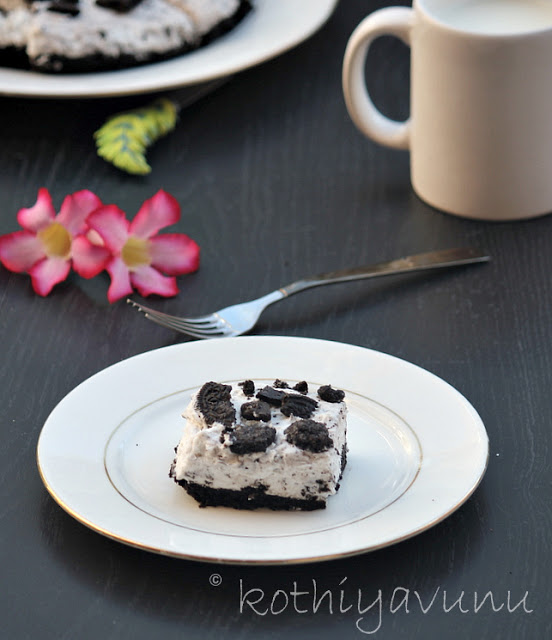 No Bake Oreo Cheese Cake Recipe
Preparation Time : 15 minutes
Setting Time : 4 hrs
Serves : 16
Ingredients :
Oreo Cookies : 45 /1 pkg (16.6 oz ) divided
Butter : 1/4 cup, (melted)
Cream Cheese : 4 pkg. (8 oz each), softened
Vanilla Extract : 1 tsp
Sugar : 3/4 cup
Cool Whip Whipped Topping : 3 cups, thawed
How to make No Bake Oreo Cheese Cake Recipe :
1. Line 13×9-inch pan with foil, with ends of foil extending over sides of pan.
2. Coarsely chop 15 of the cookies; set aside. Finely crush remaining cookies; mix with butter.
3. Press firmly onto bottom of prepared pan and refrigerate while preparing filling.
4. Beat cream cheese, sugar and vanilla extract in large bowl with electric mixer on medium speed until well blended.
5. Gently stir in cool whip whipped topping and chopped cookies.
6. Spoon over crust; cover. Refrigerate 4 hours or until firm.
7. Use foil handles to lift chilled cheesecake from pan before cutting to serve.
8. Store leftover cheesecake in refrigerator.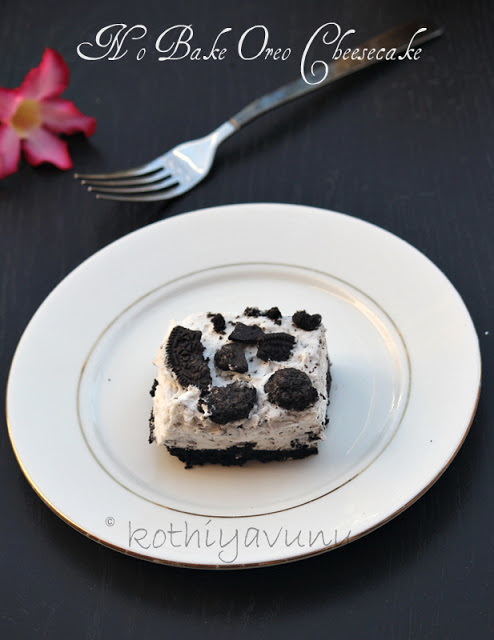 Related Posts:
No Bake Banana Cake
Tapioca Steamed Cake
Steamed Sweetened Rice Cake
Click here for more Desserts Recipes
Have a wonderful and year ahead!
Sangeetha