Are you bored of the usual egg curry and want to try different? Why don't you try this poached egg stew.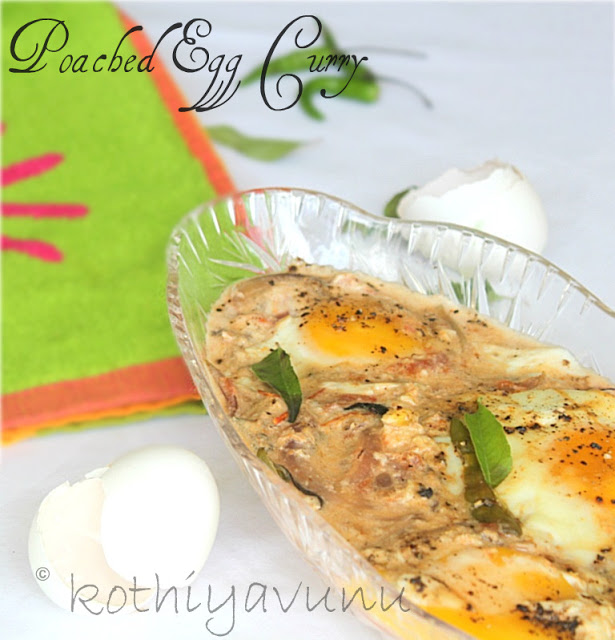 If you know my blog well, by now would have realized, how I enjoy cooking for my family and friends. And yes, I really love the bond it builds between people, It brings me joy 🙂

This yummy recipe is shared by my best friend 'M', who is terffic cook. She makes the best Egg Curries, Malai Chicken, Hyderabadi Dum Biryani, Mirchi Ka Salan and list goes on…YUM! Hopefully I will post all her yummy recipes over time, Stay Tuned!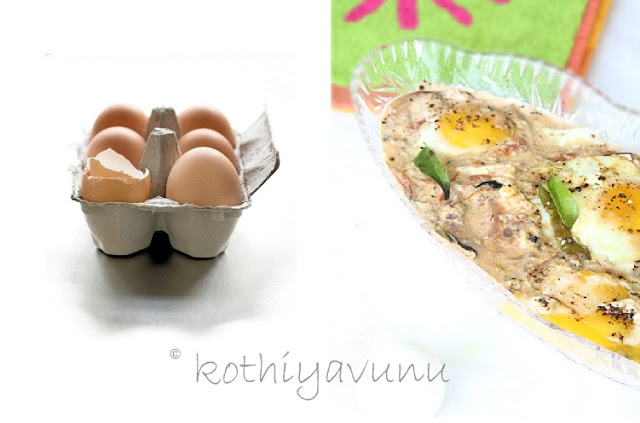 Recently while talking to her over phone, she mentioned that this used to her Mother's specialty and how much everyone at theirs used to enjoy it. After having a long discussion about her mom poached egg stew. I almost decided to give it a try and went with it and I should say it was pretty good.
We enjoyed this with
Appam
. It was a welcome change from our usual egg curry..It sure will be yummy with rice or other breads.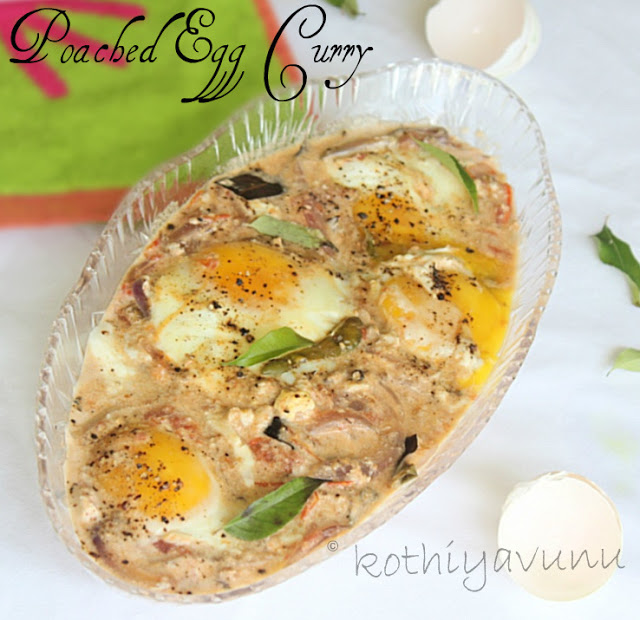 Here is a Poached Egg Stew which my family enjoyed having and hopefully anyone trying this recipe enjoys it too !
Recipe for Poached Egg Stew
Preparation Time : 15 minutes
Cooking Time : 15 minutes
Serves : 4
Ingredients :
Eggs : 6
Shallots /Red Small Onion :1 cup (thinly sliced)
Tomatoes : 2 (medium, thinly sliced)
Green Chillies : 2-3 (slit lengthwise) or to your spice level
Cardamom : 2
Cloves : 3
Cinnamon : 1″ stick
Bay Leaves : 2
Curry Leaves : 1 sprig
Black Pepper Powder : 1/2 tsp
Thick Coconut Milk : 1 cup or The milk of one grated coconut (extracted by squeezing the milk with your hands, or mixing in a blender for a minutes, adding a cup of warm water)
Cornflour : 1 tbsp (optional)
Coriander Leaves : few (finely, chopped)
Oil : 2 tbsp
Water : 1/2 cup
Salt to taste
Method of Preparation :
1. In a pan, heat oil and add all the whole gram masala and saute for a minute
2. Add the sliced shallots, green chilies and saute till it turns to soft and pink in color.
3. Add the sliced tomatoes, curry leaves and saute till it is semi pulp and mushy.
4. Add salt and 1/2 cup of water; allow to boil.
5. Reduce the heat and break the eggs one by one into the pan. (Note : Leaving some space between the eggs and do not stir with a spoon to mix from this point, as it will break the eggs.)
6. Just swirl the pan in a such a way that everything is mixed together and simmer for couple of minutes or until the egg white solidifies around the yolk.
7. Add the thick coconut milk. (
Note :
If you are using cornflour, then stir the cornflour into the milk.)
8. Let it simmer for another couple of minutes.
9. Sprinkle the pepper powder on the top and granish with coriander leaves.
10. Delicious Pochaed Egg Stew is ready to serve..Serve with
Appam
,
Indian Bread
,
Bread
or
Rice
and Enjoy !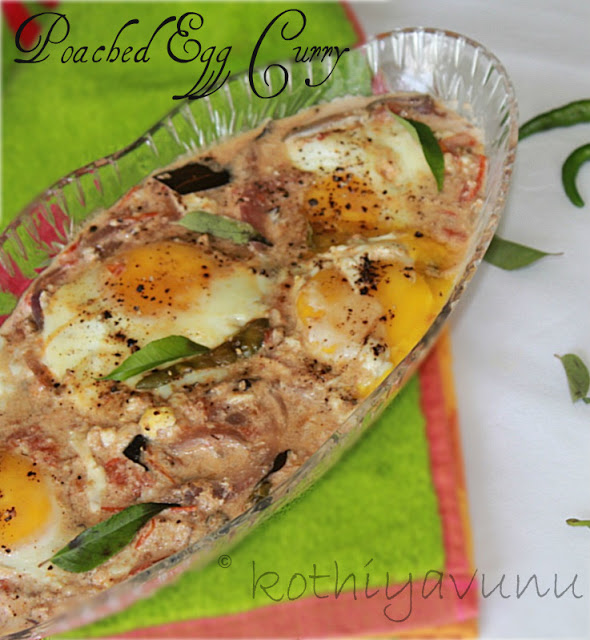 Related Posts :
Cheers !
Sangeetha