Happy Valentine's Day ! I know there are a lot of mixed feelings out there about Valentine's Day. I'm not usually a cheesy V-Day person, but I decided to make these treats for a few reasons.
Just in time for you to bake these for the ones you love to celebrate Valentine's Day and if you're not into celebrating Valentine's Day, just make these as a sweet treat to yourself, especially if you're a chocolate lover ! Secondly, I need to send some goodies to my lil one school V-Day party; when i asked her, how do we make it special ? without second thought the answer popped up was 'chocolate cupcake' her favorite and even I thought it would be very Valentine-ey !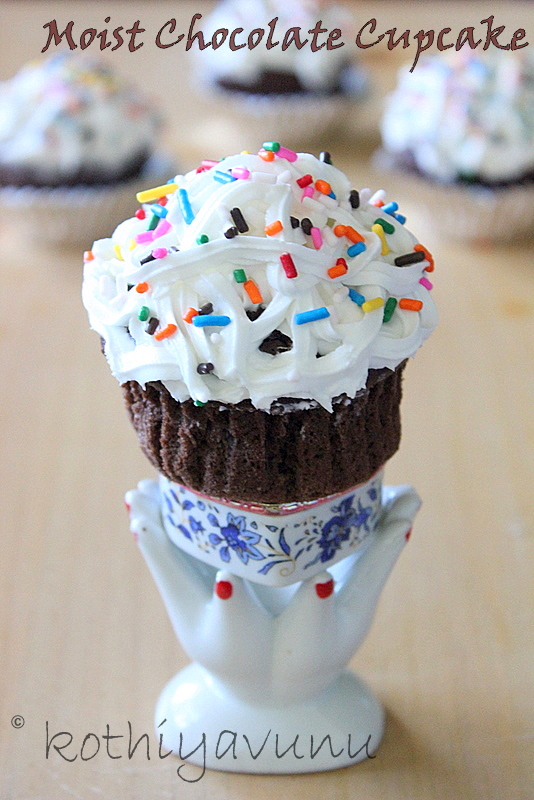 So, instead, I decided to share it with you all today; I wanted to come up with a recipe that my girls and I could make together to impress both her friends and teachers and be enjoyed by the whole family.
Did you notice frosting and sprinkles on the cupcake? Oh, yeah..my girls did the frosting and decorating and they had so much fun decorating own cupcakes with fluffy icing ! They also decorated a special cupcake for Daddy to surprise him with after dinner. He loved it 🙂
Getting your kids cooking and having them associate the kitchen is fun. I love watching my little ones get excited and feel empowered making their very own treats, but to be honest I can do without the mess left behind after the final product 🙁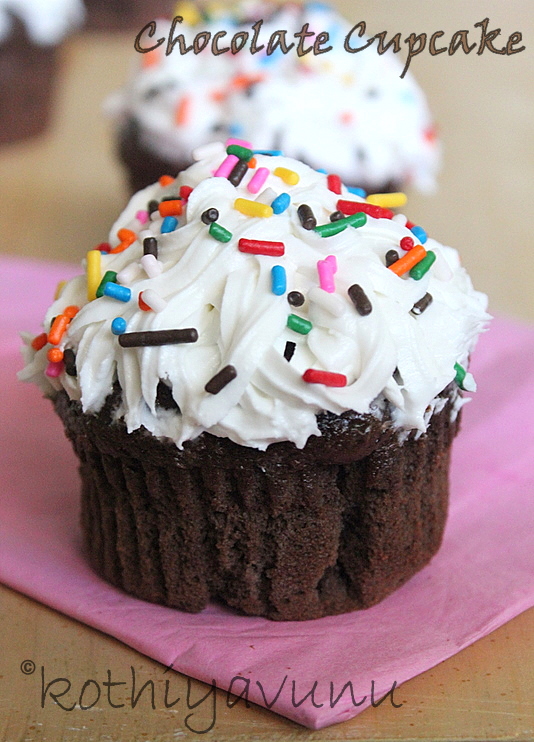 Stories apart, coming to recipe; Adapted from ??? There are some recipes I return to again and again. Whenever I make chocolate cake or cupcake, I always use the same recipe of
Moist Chocolate Cake
from
here
Why? Because it will never fails..It makes the best moist chocolate cake, hands down ! so followed the same..
So dive in, make these sweet treat for yourself, your Valentine, or whomever you so choose! And if you love it, do not forget to come back and share your feedback…Enjoy!
Preparation Time : 25 minutes
Baking Time : 20 minutes + 10 mins for Preparing Frosting and Decorating
Makes : 24
Ingredients:
For the Chocolate Cupcake :
All Purpose Flour : 2 cups
Sugar : 2 cups
Hershey's Cocoa : 3/4 cups
Baking Soda : 2 tsp
Baking Powder (Optional) : 1 tsp (This will make the cake rise just a little bit more than using the Baking Soda only)Eggs : 2 ( large eggs)
Salt : 1 tsp
Buttermilk : 1 cup
Vegetable Oil : 1 cup
Vanilla Extract : 1 1/2 tsp
Boiling Water : 1 cup
For the Cream Cheese Frosting :
Cream Cheese : 10 oz chilled
Unsalted butter : 6½ tbsp at room temperature
Confectioners' sugar (sifted) : 3¼ cups
Vanilla Extract : 4 tsp
How to make Chocolate Cupcake with Cream Cheese Frosting :


To make Chocolate Cupcake :
1. Preheat the oven to 350 degrees. Line cupcake pans with paper liners and set aside.
2. Combine all the ingredients, except the cup of boiling water into a mixing bowl.
3. Mix at medium or medium high speed for a minute, now add 1 cup of boiling water and continue to mix until all ingredients are blended and smooth.
4. Pour the batter evenly between the prepared liners.
5. Bake it for 18-20 minutes, rotating the pans halfway through baking or until a toothpick inserted into the center comes out clean. If not bake it for an additional 5 minutes and then test again.
6. Remove from the oven and cool in the pan for 5-10 minutes and invert them onto wire rack and let it cool completely.


To Make Cream Cheese Frosting :
1. Combine the cream cheese and butter in the medium bowl.
2. Beat on medium-high speed until light and fluffy, about 2-3 minutes with hand mixer or electric mixer.
3. Add in the confectioners' sugar and mix on low speed just until incorporated. Increase the speed to medium-high and beat 2-3 minutes more.Blend in the vanilla.
Frost cupcakes and decorate it further with sprinkles or your desired decoration. Serve and Enjoy!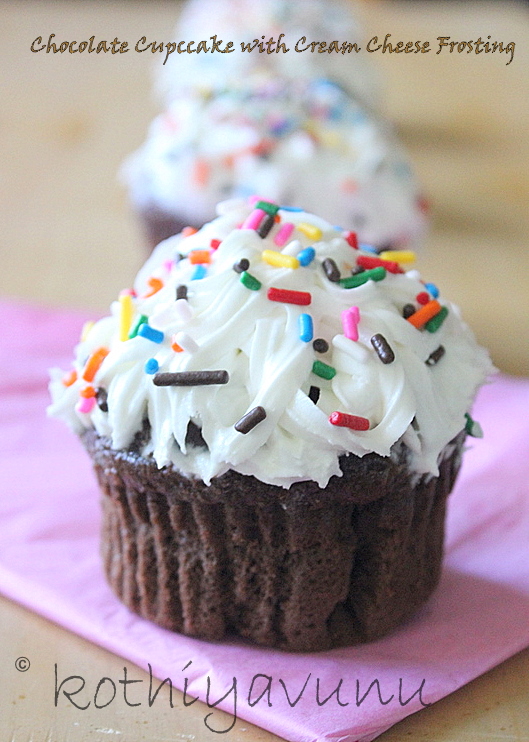 Click here for more Valentine's Day Recipes.
Happy Valentine's Day!
Sangeetha