Hope you all had a wonderful Valentine's Day…what did you all do?
For us it was just another day in our calendar but my girls are very much aware of hearts day and they had a fun time at their class party with lots of goodies and they did a great job by making a special valentine's card for their Mom & Dad 🙂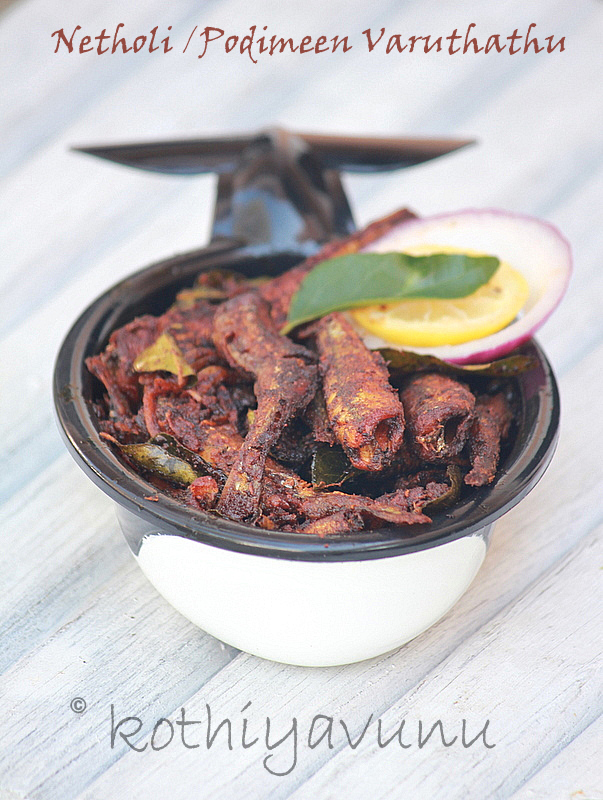 My girls shared their love & thoughts as Mom – Magnificent, Overlooking, Marvelous and Dad – Dependable, Awesome, Delightful.. Isn't that cool ? It's priceless to us ! that made our day so special…what better a parents could hear from the kids 🙂
Back to business, Lately we are trying to eat more fish dishes into our diet and go healthy for some time now. As you might know in Kerala, among non-vegetarians, dishes of fish are most preferred and staple one, so we love fish in our house and not only they are healthy and they are easy to prepare.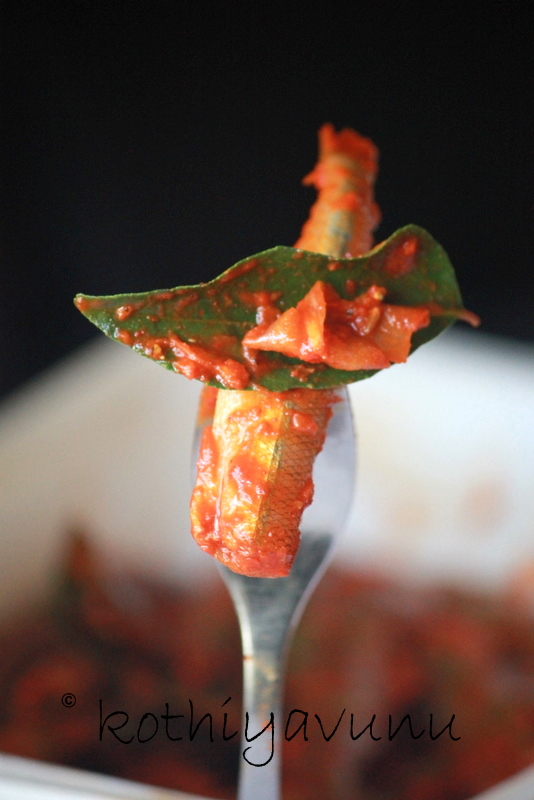 Anchovies serves as a excellent source of calcium, proteins, vitamins, and omega-3 fatty acids, all of which are very important for all age group, especially best for the growth of growing children. Unfortunately, anchovies are also high in sodium and cholesterol, which means they should be eaten in moderate amounts especially if you have a history of hypertension or heart disease. Whatever…this is one delicious dish we all love in our house and this is a long due recipe for me…though I make this often, by the time I finish my all other work, it will be finished by then 🙁 Some how this time was lucky enough to save a bowl full to get pictures. 🙂
Back home in Kerala, this particular fish fry is also one popular dish served in
Toddy shops and it is referred as Shappile Podimeen Varathathu. Usually for this preparation we deep fry it; if you don't wanna deep frying then shallow fry it or even bake till its dry.
Do try it if you get hold of Anchovies, it is amazingly good & healthy too..Enjoy!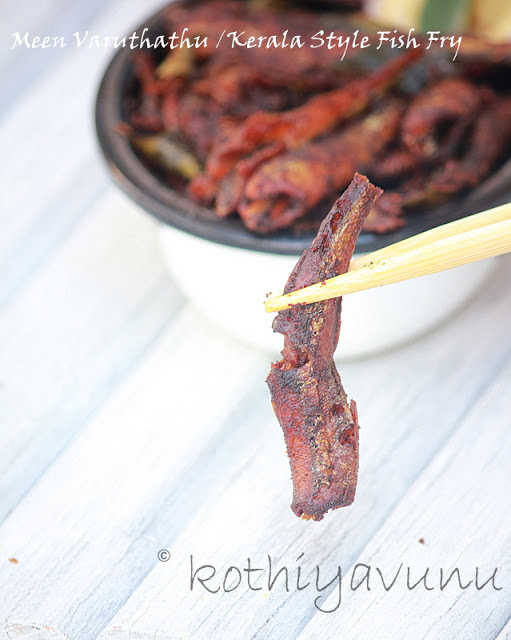 Netholi/Nethili/Chooda /Podimeen Fry-Kallushap Style Netholi /Podimeen Varuthathu -Kerala Style Fried Anchovies
Preparation Time : 30 minutes
CookingTime : 10-15 minutes
Serves : 4
Ingredients :
Netholi/ Chooda /Kozhuva/Anchovy : 1 lb 1/2 kg (fresh or frozen)
Red Onion : 2 (medium, thinly sliced)
Ginger : a small piece (minced)
Garlic : 4 cloves (minced)
Turmeric powder : 1/4 tsp
Red Chilli Powder : 2 tbsp or as per your spice level
Fenugreek powder :1/4 tsp
Black peppercorns : 1/2 tsp (freshly crushed)
Lime Juice : 2 tsp
Curry leaves : handfull
Salt to taste
Coconut Oil as needed for frying
How to make Netholi – Nethili Meen Fry | Chooda – Podimeen Varuthathu | Kerala Style Fried Anchovies:
1. Clean and wash the fish with lime juice and salt and marinate the anchovies /netholi/chooda meen with all other ingredients listed above, except coconut oil and set it aside for 30 minutes.
2. Heat coconut oil in a pan and deep fry fishes in batches over medium flame, until it is done. Drain on kitchen tissue and serve immediately..Enjoy!!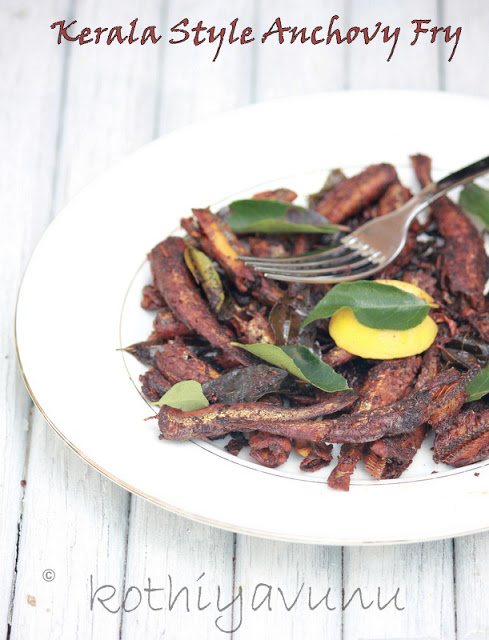 Notes :
Make sure you keep the heat at medium low, so that everything gets fried evenly.
This is a very hot dish so increase or decrease chilli powder and pepper powder as per your tolerance. Optional – To bring down the heat, substitute red chilli powder with kashmiri chilli powder or paprika.
If you wish you can add any other oil, using coconut oil gives authentic taste and flavor.
Related Posts :

Cheers!
Sangeetha