Do you like your pizza with a Indian twist, like my family do?
When I was living in Chennai, there is a pizza delivery called 'Chef Express'. Every pizza at the restaurant is fantastic but the paneer tikka pizza is by far the crown jewel on the menu !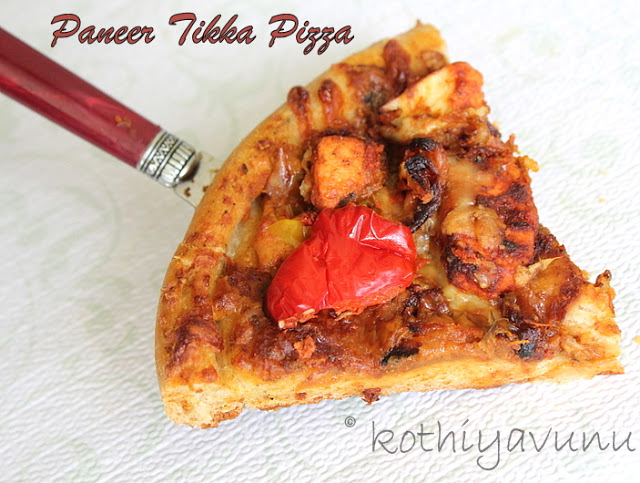 Since I have been on a bit of a pizza kick lately, we have no way i get such pizzas here and hence there is only one option- make it ourself !
Not surprisingly, this pizza was phenomenal, so I decided to take a shot at recreating this fabulous restaurant find at home. I never would have thought I could come this close to the real thing, this was every bit as good as what I had from that place.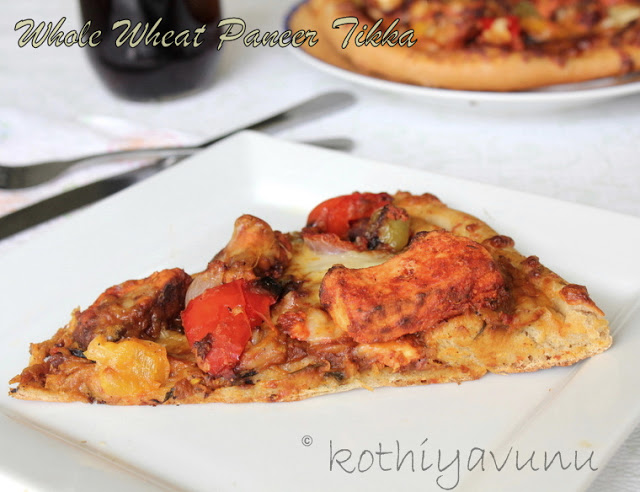 Whole wheat crust with Paneer Tikka, onions, bell peppers on tikka tomato sauce. Since the crust is what pizza is primarily about, this is a good thing. My crust, made with half whole wheat flour and all-purpose flour, yields a light crust with a distinctive nutty taste with full of whole grain nutrients.
Here's the best part is spreading the tikka tomato sauce of
Paneer Tikka Masala
over crust, which gives it a unique flavor. It is little time consuming to make, but its worth all the effort.The crisp taste of the crust combined with the piece of paneer was like heaven in every bite! Yes, it is a unique recipe but you can make it at home for a fraction of the restaurant price.
Here is how it is made in my kitchen…Enjoy !
Recipe for Whole Wheat Paneer Tikka Pizza from the scratch /Pizza Hut Style Paneer Tikka Pizza
Preparation Time : 2 1/2 hrs for pizza crust + 2 hrs of marination for paneer tikka
Cooking Time : 20 minutes for cooking paneer tikka masala + 15 minutes for baking pizza
Makes : 2 thick medium pizza or 4 thin crust pizzas
Ingredients:
For Whole Wheat Pizza Crust
Whole Wheat Flour : 2 1/2 cup
Unbleached All Purpose Flour : 1 cup + more for dusting work surface and hands
Luke Warm Water : 1 cup
Active Yeast : 2 1/4 tbsp or 1 envelope
Extra Olive Oil : 1 tbsp + 1 tsp for brush outer edge of the crust
Salt : 1 tsp
Sugar : 1/2 tsp
Olive oil or Nonstick cooking spray for oiling the bowl
For Paneer Tikka Masala :
For Toppings :
Little Semolina or Cornmeal for dusting the pizza peel
Tikka Tomato Sauce
: as needed
Onions : 1/2 (thinly, sliced)
Capsicum (Red, Yellow, Green) : 1/2 (julienned)Fresh Basil Leaves : 1 tbsp (finely chopped)
Mozzarella and Parmesan Cheese : 1/2 cup ( shredded, to cover the toppings.)
Salt and Ground Black Pepper for seasoning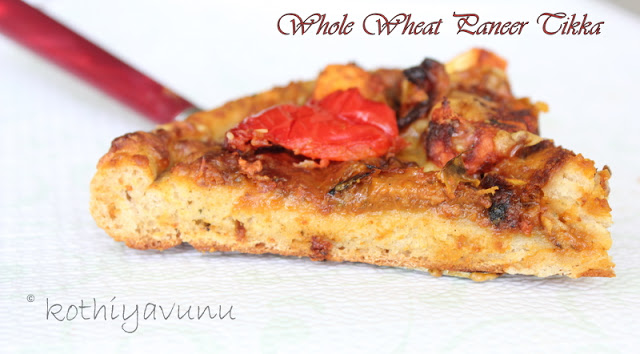 Method of Preparation :

Preparing Whole Wheat Pizza Dough By Food Processor :
1. Sprinkle in the yeast and let stand for about 5 minutes or until the yeast dissolves and gets frothy.
2. Add the room-temperature water and oil to above yeast mixture and stir to combine.
3. In a food processor, process the whole wheat flour, all purpose flour and salt, pulsing to combine.
4. Continue pulsing while pouring the liquid ingredients (holding back a few tablespoons) through the feed tube. If the dough does not readily form into a ball, add the remaining liquid and continue to pulse until a ball forms.
5. Process until the dough is smooth and elastic, about 30 seconds longer. (
Note :
The dough will be a bit tacky, so use a rubber spatula to turn it out onto a lightly floured work surface.)
6. Knead by and for a few strokes to form a smooth, round ball.
7. Transfer the dough into a deep oiled bowl and cover with a damp cloth or with plastic wrap for 11/2 to 2 hours.. Let rise until doubled in size. Press the dough to deflate it.

Preparing Pizza Dough by Hand :
1. Sprinkle in the yeast and let stand for about 5 minutes or until the yeast dissolves and gets frothy.
2. Omit the room-temperature water and oil.
3. Instead combine the salt and half the whole wheat flour & all purpose flour in a deep bowl.
4. Add the liquid ingredients and use a wooden spoon to combine.
5. Add the remaining whole wheat flour & all purpose flour, stirring until a cohesive mass forms. Turn the dough onto a lightly floured work surface and knead until smooth and elastic 7 to 8 minutes, using as little dusting flour as possible while kneading.
6. Form the dough into a ball, put it in a deep oiled bowl, cover with cover with a damp cloth or with plastic wrap for 11/2 to 2 hours.. Let rise until doubled in size. Press the dough to deflate it.

Notes :
This recipe makes enough dough for 2-3 medium pizzas, depending on how thick you like your crust. Unused dough can be refrigerated after the first rise for up to three days or freeze the dough until it is ready to be used. The day you plan to use the dough, transfer it to the refrigerator to thaw and let stand at room temperature for about 30 minutes to take off the chill before making the pizza.
I adapted this crust recipe from the book Cooking Thin with Chef Kathleen..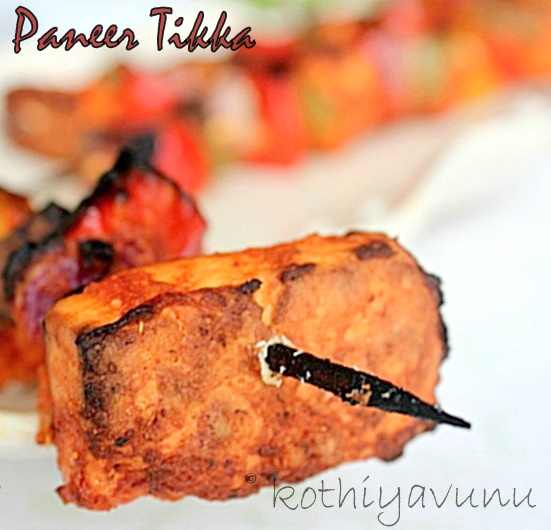 Preparing Panner Tikka Masala:
To make Paneer Tikka follow instructions here
Preparing Pizza :
1. Prepare the dough as directed in the wheat pizza dough recipe above.
2. Divide the dough into two pieces and form each piece of dough into a smooth, round ball and cover it with a damp cloth. Let the dough relax for at least 10 minutes but no more than 30 minutes.
3. Place a pizza stone on a rack in the lower third of the oven. Heat the oven to 450° for at least 30 minutes.
4. While it is preheating, Place a parchment paper the size of your pizza stone on a work surface and lightly sprinkle it with semolina or cornmeal
5. Place the pizza dough in the center and roll it out into a large round using a lightly floured rolling pin, or a pulling/stretching motion with floured hands.
6. Leave an approximately 1-inch border that is thicker around the edges for the crust. Lightly brush this outer edge of the crust with olive oil. (Note : This gives it a nice golden sheen after baking.)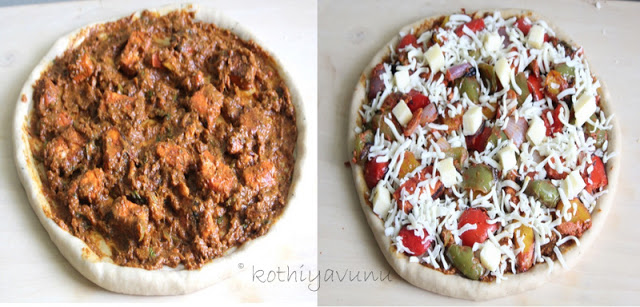 7. Spread a thin layer of tikka tomato sauce on the pizza crust using the back of a spoon.
8. Sprinkle with a layer of shredded mozzarella cheese.
9. Top with paneer tikka pieces and bell peppers, onions, and chopped fresh basil leaves.
10. Finally sprinkle shredded parmesan cheese on the top and season with salt and freshly ground pepper, to taste.
11. Carefully transfer the parchment paper to the preheated pizza stone. Place in the oven and bake until the cheese is bubbling and the crust edges browned, about 15-18 minutes.
12. Remove the pizza from the oven, sprinkle with 2 tbsp parmesan cheese.
13. Slice and serve immediately and Enjoy !
Notes :
The sky is the limit for pizza variations. You can use your imagination and put your own spin on it.You can also make with plain Paneer or just marinate the panner and grill it on stove top and add the sauce according to your preference and taste. Above is a panner tikka with spiced tomato gravy, since we like it this way. Some other optionals are Kadai Panner, Sweet Corn Panner etc.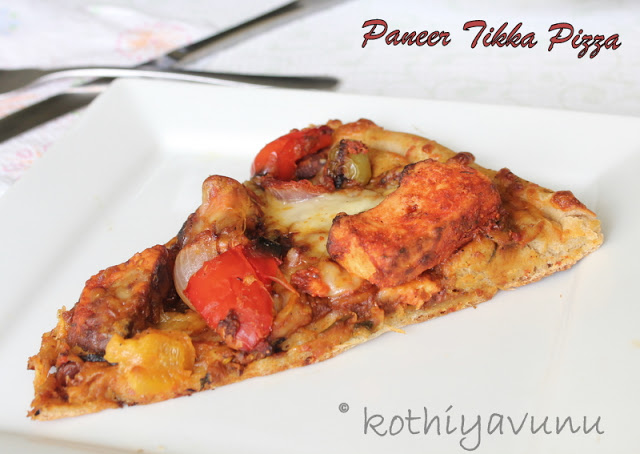 Related Posts :
Fish Pizza
Tandoori Paneer Tikka /Grilled Indian Cottage Cheese
Paneer Tikka Masala /Grilled Cottage Cheese in Creamy Gravy
Click here for more Bread Recipes.
Good day all!
Sangeetha