Yet another fish preparation straight from the coasts of Kerala!
When I write about fish recipes…It's difficult not to mention that we Keralities are die-hard carnivores and fish is a staple among Non-Vegetarian population. There are several different ways of making fish, most common ways are making curries, frying the fish and stir fries. Yes, I know that I have talked about this on before.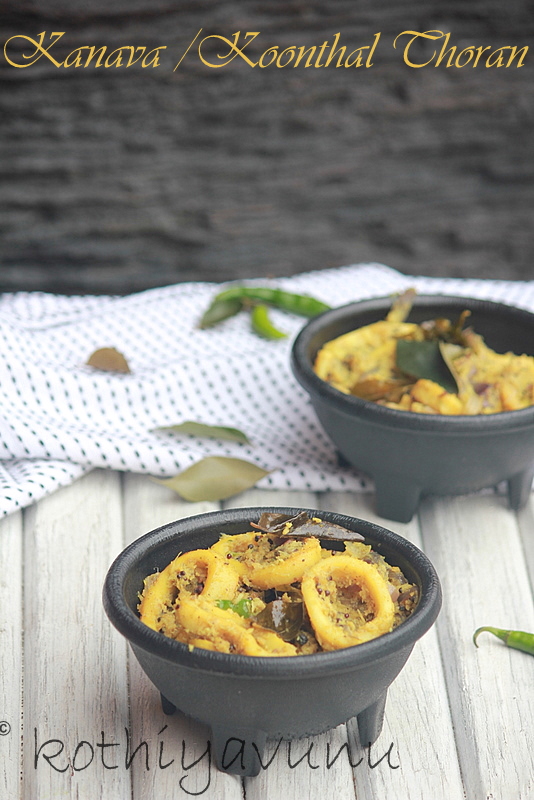 Asusual our weekend shopping ended up in the fish market and this is time, I got stuck with a Squid /Calamari fish (Kanava/Koonthal in Malayalam). There was no second thought for whether to buy or not since my family like it…I vary the preparation of Squid /Kanava from time to time, but this one is by far the most popular with my family..


Talking about this recipes, it awakens fond memories from my early days of marriage and it's difficult not to mention my MIL sister (our cheriyamma). She makes fish curry, fry, roast, stri fry almost every day and I always feel she makes the best fish/meen thoran ever. She always uses a mortar and pestle "Ammikkallu /Arakallu" to pound the coconut and the other spices to get the distinct taste. Though she makes little too spicy, once I asked her how many chilies, she put in and she said "oru kaineriya" means handful…ohhhh! I would still eat in spite of the heat in the curry, but when I cooked this, I was too caution on adding the chilies, coz my kids who cannot take much heat, so I made little less spicy and I did pounded the coconut mixture in a mixie! Another interesting factor, which enhance the taste of any fish curry, stir fry, to perfection is the Earthenware/Clay-pot known as Manchatti/Chatti. Every house in Kerala will have at-least one Chatti /Clay-pot. So during my last visit, I brought back a chatti with me, inspite everybody in my house made fun of me ;( but, I'm happy I did that 🙂 so now I able recreate the authentic Nadan /Country style taste to dishes here.:-)
taste.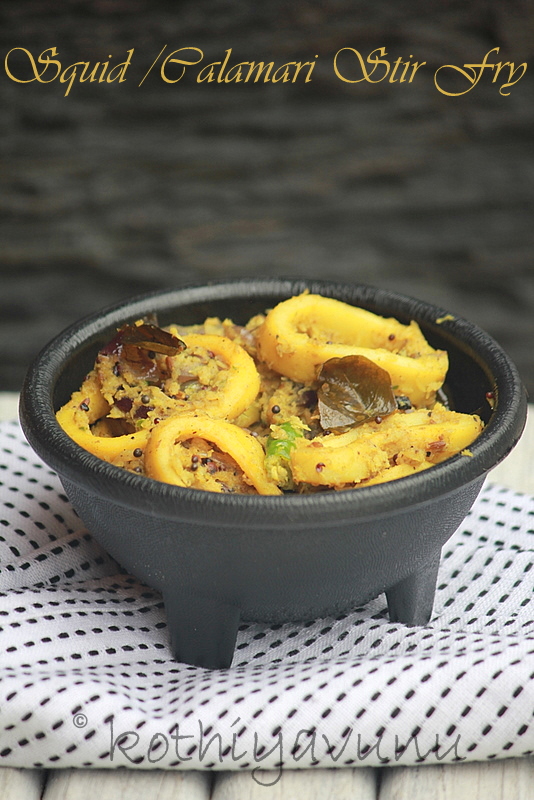 If you've never tried Squid/Calamari before, it's time to give it a try because this unbelievably easy-to-make recipe is packed with protein and flavor, no matter how old you are! You will really enjoy it.
So here comes the way of making Kanava/Koonthal Thoran, which my family absolutely love to have with boiled rice. Hope you all enjoy this simple yet tasty Squid stir fry as much as we did!
Kanava Thoran Recipe – Kerala Koonthal Thoran Recipe | Squid /Calamari Stir fry with Coconut
Preparation Time : 10 minutes
Cooking Time : 20 minute
Serves : 4
Ingredients:
Squid /Calamari/ Kanava /Koonthal : 2 lb /1kg (clean & cut into rings)
Turmeric Powder : 1/4 tsp
Black pepper powder :1 tsp (fresly grounded)
Salt to taste
For Masala :
Grated Coconut : 1 cup
Shallots / Cheriyaulli/Kochulli : 3-4
Ginger : 1" piece
Garlic : 3 cloves
Green Chillies : 4 or to your spice level
Cumin Seeds /Jeerakam :1 tsp
Fennel Seeds /Perumjeerakam : 1/4 tsp
Turmeric Powder : 1/4 tsp
Garam Masala Powder : 1/4 tsp (see notes)
Red chilly powder : 1/2 tsp
Fenugreek powder / Uluva Podi :1/4 tsp
Curry leaves : few
Tamarind : a very small piece or if using tamarind paste : 1/4 tsp
For Seasoning:
Coconut Oil :1 tbsp
Mustard Seeds : 1 tsp
Shallots /Small Red Onions : handful finely chopped
Dried Red chilies : 3 ( halved )
Curry leaves : 1 sprig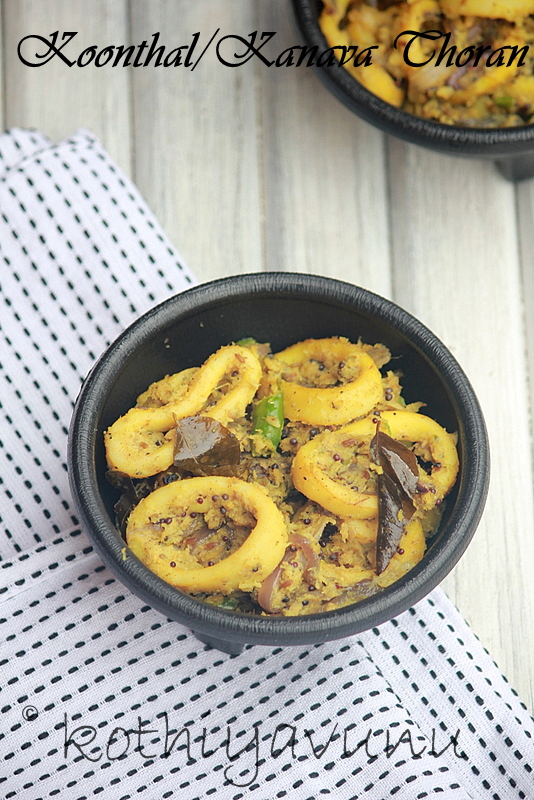 How to make Kanava Thoran – Kerala Koonthal Thoran – Squid /Calamari Stir fry with Coconut :
1. Clean and cut squid into 1" ring and in a Earthenware/Clay-pot/Manchatti; add the cleaned Squid/Kanava with freshly grounded balck pepper, turmeric powder and salt to taste (or) pressure cook it for one whistle. (Note : Do not add water, squid will give off water while cooking.)
2.When it done or when the pressure settled down open the lid and drain the all water from the cooked squid.
3. Meanwhile coarsely blend the above ingredients listed "To Masala" and set it aside.
4. Heat coconut oil in a
Earthenware/Clay-pot/Manchatti or pan and splutter mustard seeds, chopped shallots/small red onions, red chilies and curry leaves.
5. Add coarsely grounded coconut mixture; salt to taste and sprinkle little water over medium heat and saute until the raw smell disappears.
6. Add cooked squid and mix well, lower the flame and saute for 3-4 minutes on a low heat
7. Serve it with hot boiled rice along with curry and Enjoy!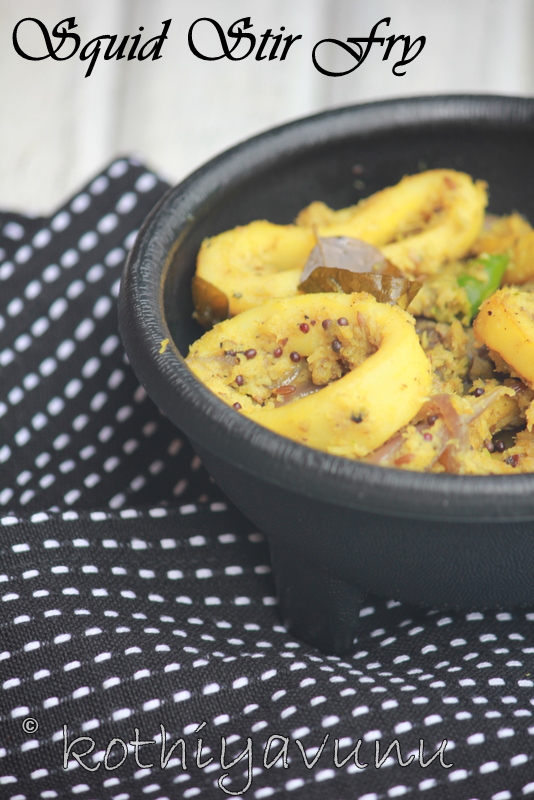 Notes:
Cooking in Earthenware /Calypot /Manchatti will enhance the authentic taste and flavor.
Add or reduce green chillies, chilli powder and pepper powder according to your taste.
Using homemade gram masala gives more taste and flavor to the dish…To Make Fresh Homemade Garam Masala : Fennel Seeds /Perum Jeerakam : 1 tsp, Cinnamon Stick/Karugapatta : 2 inch pieces, Cloves/Grambu : 2, Star anise / Takkolam : 2, Green Cardamom /Elakka : 2 pods (or) Use Store Bought Garam Masala : 1/4 tsp
Related Posts :