I've professed my love for homemade pickle several times recently, so it's probably not terribly shocking that I'm sharing yet another Tongue tickling pickle recipe today.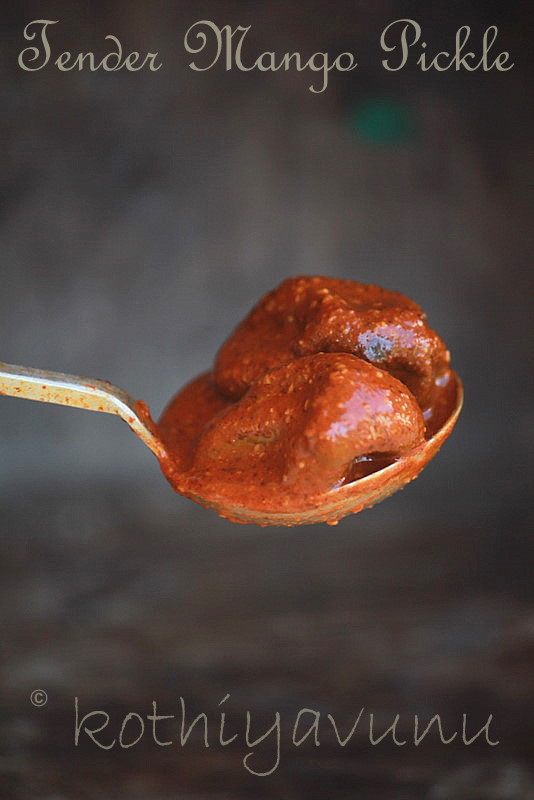 Kannimanga Achar /Tender Mango Pickle – I can say it is King of Pickles!!! whoa, Isn't it ? Yes I know…I can't take credit for these though. This recipe is made and shared by my cousin. Though there are lot of varieties of pickle from the land of Kerala, when you hear the word Mango Pickle /Achar; it is this particular variety, that comes to the mind of any Malayalee, as this is the most popular and it was absolutely fantastic. The heat of the spices, pure essence of the tender mangoes taste, which makes this pickle so special 🙂 Kannimanga refers to the smallest green baby mangoes.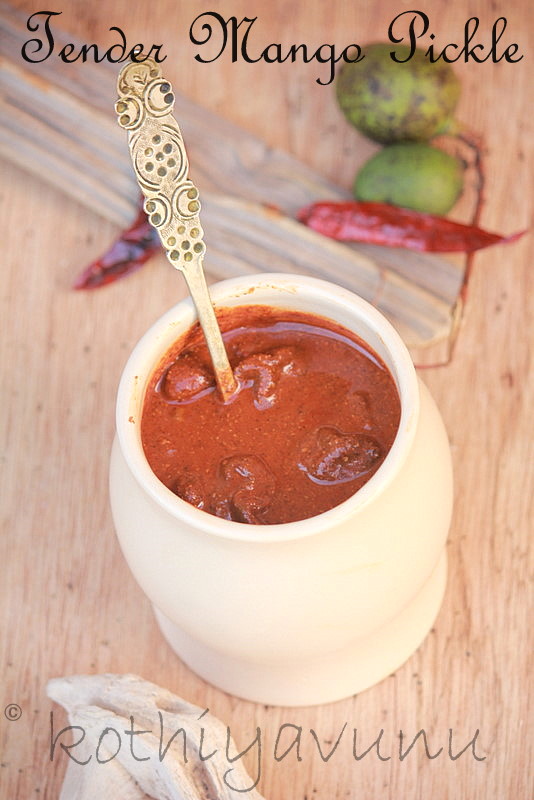 If you know my blog well, then you know about pickles, I used to talk about…yes our cousin Unni chettan who is a expert in his skills in recreating authentic pickles. His Pickles are very famous in our neighborhood back home. One day after seeing my interest in cooking he called me and shared the recipe. So here I'm sharing this to u all. Though my ammuamma (grandma) and amma (mom) prepare kannimanga /tender mango pickles at home in huge quantities…After my marriage, when I tasted my husband's cousin Unni chettan pickle preparation fist time, it had me swept away! from then till date no other pickle conquers my satisfaction…Yes! I bet those who have ever tasted atleast one varietie of pickle which he makes, would never forget the taste…I have already posted his recipe for Naranga Achar /Authentic Kerala Style Lemon Pickle…You can have a sneak peek n try out. It's all tried, tasted n tested 🙂
Here is yet another one shared by my cousin Unni chettan and this is one of the best from his kitchen…I always make sure to bring back few bottles every time we visit India…yes, I might be repeating, but I can't help emphasizing this point that it is always special to my family…I don't want to bore you anymore with the stories. So let me post the recipe for all my readers, Try this authentic kannimanga achar and don't forget to pour your feedback buddies 🙂
Kannimanga Achar Recipe-Kadugumanga Achar Recipe-Tender Mango Pickle Recipe-Authentic Kerala Style Tender Mango Pickle Recipe
Preparation Time : 10 minutes + Maturing Time : at least 3 months
Cooking Time : 10 minutes
Makes : One medium ceramic jar 'bharani' or 2 big glass jar
Ingredients :
Mustard Seeds : 1 1/2 tbsp
Fenugreek Seeds /Uluva : 1/2 tsp
Red chilly Powder : 4 tbsp or according to your spice tolerance
Asafoetida Powder/Hing /Perungaya podi /Kayam podi : 1/4 tsp
Sesame Oil /Gingely Oil /Nallenna : 2 tbsp
1. First prepare brining the tender mangoes/Uppumanga /Uppilitta Kannimanga…See the method of preparation
here
.
2. After having been in brine for 3 week. Now its time to make Pickle /Achar.
3. In a frying pan, on a medium-low fire, dry roast the mustard seeds and the fenugreek /uluva seeds for a minute or so, remove from the fire and allow to cool. When cool, grind to a powder and keep aside.
4. In same pan, add the red chilli powder and roast for couple of minutes. (Note : Care should be taken not to burn the spices while heating it, so keep stirring continuously.)
5. Add the ground mustard / uluva powder to red chilli powder and combine well.
6. Now pour the brine from the mangoes and bring to a boil remove from the fire. Adjust the salt and add more salt if needed. Let it cool.
7. When the gravy has cooled down, add the gravy to mangoes in bharani /glass jar and shake and mix well.
8. Heat sesame oil /gingely oil /nallenna for a minutes remove from the fire; cool them and pour on top of the pickle.
9. Tightly cover the mouth of jar with white cloth; close it with a lid and keep in a cool dark place for 2-3 month, atleast for 1 month. Then open and use whenever needed.
10. Traditional Kerala style Kannimanga /Kadugumanga achar /Tender Mango Pickle is ready!
11. Serve and Enjoy with anything as you wish! Pairs well with curd rice or with rice gruel!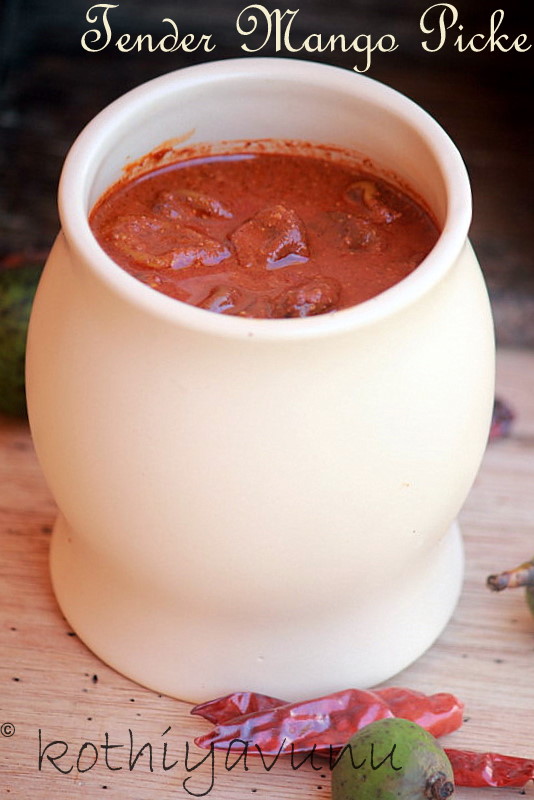 Notes :
Be cautious not to get the pickle in contact with water…Use only clean dry spoon to scoop the pickle from the jar. Do not use wet spoon which adds moisture and the pickle very easily get "fungus" and that spoils the whole pickle.
If you wish you can add any other oil, using sesame oil gives authentic & special flavor to the pickle and it helps pickle stay longer.
If the oil seems to less add boiled and cooled oil to the top of the pickle..This will prevent fungus.
Add or reduce the chilly powder to the pickle. If you adding more chilly powder then roast it before adding and mix well. It wont be spicy since the sourness of the mangoes will compensate its heat.
You can also opt not to boil the brine, just remove the tender mangoes from the bharani/jar and add the spice directly, mix well and then add the drained tender mangoes to it and follow rest of procedures same as above.
If mangoes are less sour add couple of tbsp vinegar to it…this step is purely optional.
Avoid using steel container for storing..Always store in dry ceramic jar /bharani or a glass jar and please note to clean the bottle and caps you planning to use for pickle with hot water and wipe and dry well without any water content.
Related Posts:
Happy Weekend!
Sangeetha