First I like to thank everyone for all the kind best wishes and emails, I received regarding my food pic published on the book! I am truly inspired by you all!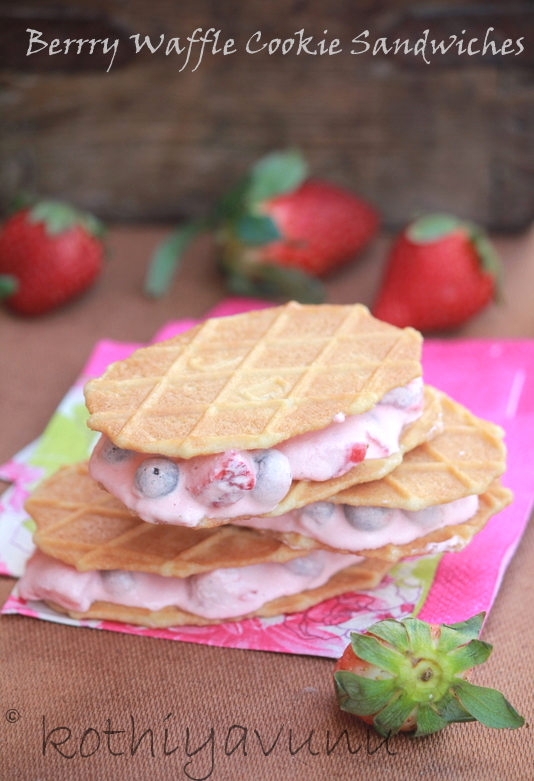 What Max & Ruby's Frozen Cream Berry Sandwiches…Yes, from the name you guessed it right.. kids-friendly! Having two young kids, I find it kind of funny how one will voraciously eat a certain food without pause and the other turns their nose up at it after the first bite and say naa…I know this happens a lot in our house!
Today together, I heard the sweetest words coming out of my picky daughter's when they were watching Nick Jr. "Amma, can u make this please please? This is Max & Ruby favorite and the yummiest treat we can ever have..bla.bla.bla" Hmmm…What can I say when I hear such sweet words? The moments like this is what bring good memories ever as a mom. As I had told many times; one of the greatest pleasures is getting to cook with my kids…Cooking activities that don't require the stove are a huge bonus, especially when I'm trying to get both kids involved in the same task at the same time. There was definitely after mess to clean up, but it totally worth every minute.
These are super cute to serve for parties and easy to make, the only thing that is it takes a bit of time to set. It's a knock-it-out-of-the-ballpark for both kids and adults…Enjoy!


Max and Ruby's Frozen Berry Waffle Cookie Sandwiches REcipe
Preparation Time : 10 minutes + Time to set : 1-2 hrs
CookingTime : No cooking
Makes : 4
Recipe Courtesy :
nickjr.com
Ingredients :
Strawberries & Blueberries : 1 cup
Strawberry Jam : 1 tbsp
Whipped Topping : 1 cup
Thin Waffle Cookies : 8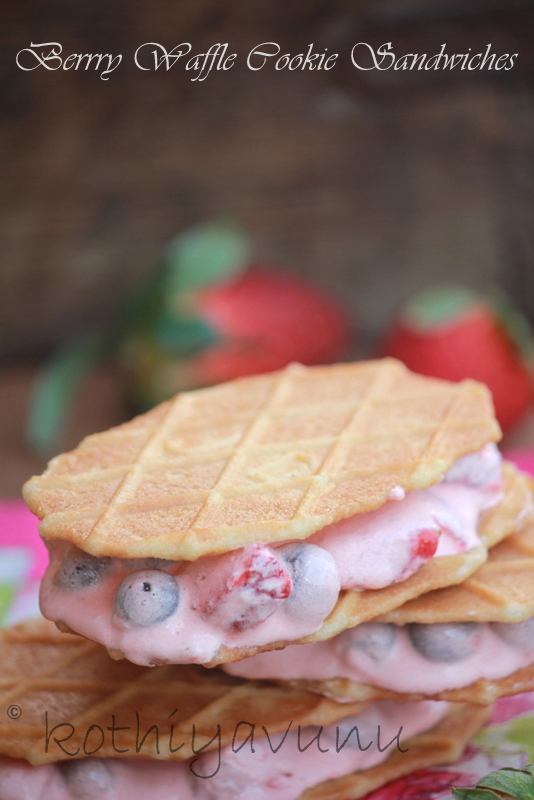 How to make Berry Waffle Cookie Sandwishes :
1. Line a cookie sheet with wax paper and place four cookies.
2. Combine the strawberries, blueberries and strawberry jam in a bowl; stir until well blended.
3. Add whipped topping to berry mixture and mix well using rubber spatula.
4. Spoon about 1/4 cup of the mixture on the top of each cookies and top with remaining cookies.
5. Cover baking sheet and sandwiches with plastic wrap and place in freezer at least 1-2 hours or until the filling is set. Remove from freezer and serve immediately and Enjoy!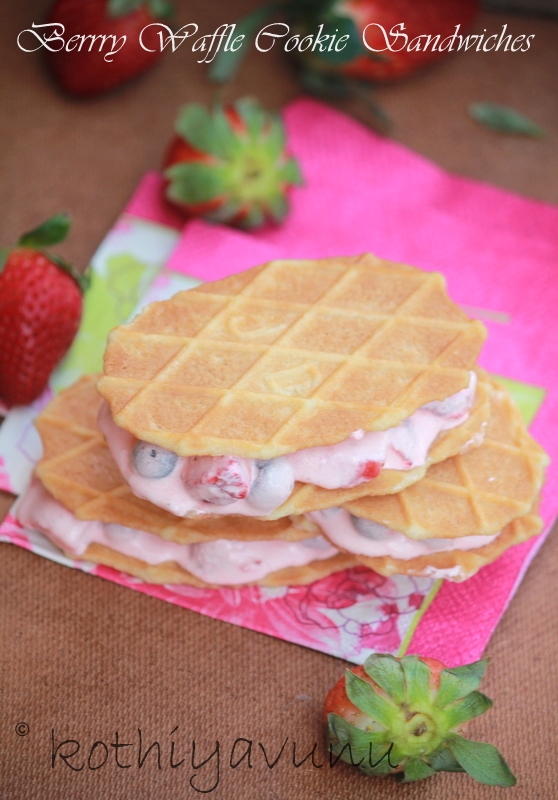 Good Day All!
Sangeetha