Everybody has few favorite recipes they grew up eating and I think that our childhood food memories play a major role in informing what foods we gravitate towards as adults…Isn't ?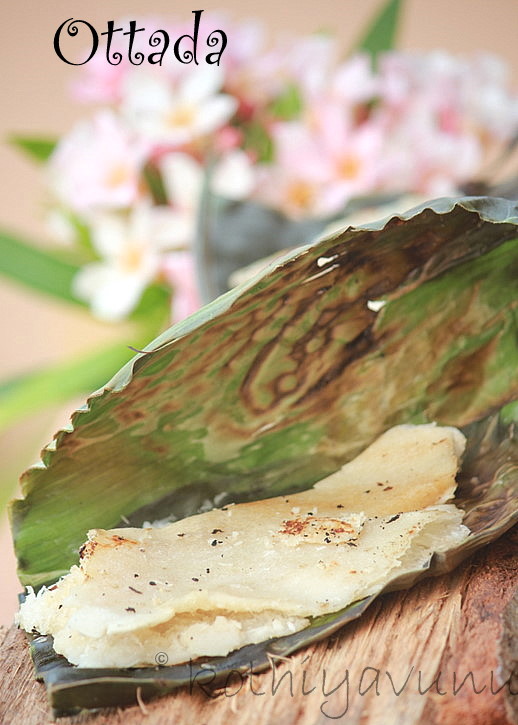 I and my husband use to discuss about this topic every time on the table, the things we used to love eating as well as the foods we hated as kids. Now that I'm cooking for my own family, I like to think back to the foods that I loved as a kid and try and recreate them in my kitchen.:-) so here come one of my childhood favorite Ottada /Rice Flour Parcel in Banana Leaf, a delicious snack that my grandma /achamma prepares, No matter what time of year it was, this snack always made me feel happy.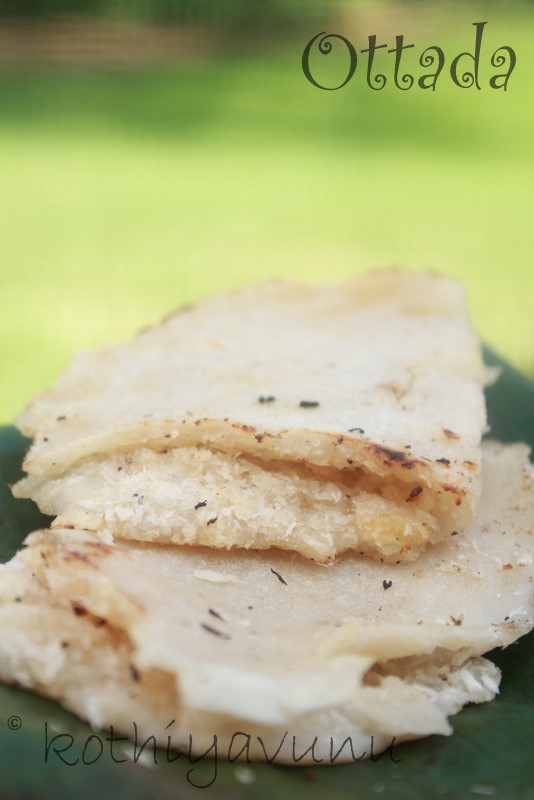 Ottada is a yet another Kerala delicacy, made of rice flour with sweet fillings, which is made of coconut and sugar, layered in banana leaf /vazhayila and roasted in manchatti /earthern pot or in tava. It is served as an evening snack or as part of breakfast. There are numerous varieties of ada/ rice parcels made from rice flour and sweet filling, to name few ela ada, poovada, ottada, each one has slight difference, to brief them; for ela ada, sweet filling is made with jaggery and grated coconut, for poovad filling is made of grated coconut, sugar, banana with touch of thumbapoo/small white flower and its prepared in tip end of the banana leaf, well, will talk more about it later! and these both kind of ada are steamed, whereas ottada filling is made of sugar and coconut and it's not steamed, it is roasted in tava or man chatti/earthern, so it has that slightly smokey, charred unique taste. In our part of Kerala, we usually prepare these on Thiruvonam /Onam day as a part of pooja ritual…Though the same ingredients are used all over the state, each community has its own style of preparation and specialties, but this is the way we make it and enjoy it! It pairs beautifully with tea or coffee, which makes it a nice tea time snack or breakfast where it will be eaten up in no time!
The smell of ottada slowly cooked in manchatti on open flame is…I have no word's to explain the unqiue taste…Do try it and find out what all the fuss is about!
Ottada -Oottada Recipe – Rice Parcel in Banana Leaf – Kerala Special
Preparation Time : 15 minutes
Cooking Time : 20 -30 minutes
Makes : 8-10 Ottada
Ingredients :
Roasted Rice flour : 2 cup
Boiling Water : 2 cups approximately
Grated Coconut : 1 cup
Sugar : 1/2 cup
Salt a pinch
Butter : 1|2 teaspoon
Coconut milk /Thenga pal : 1tsp (Optional)
Plantain Leaves /Banana Leaves : as required (slightly dried)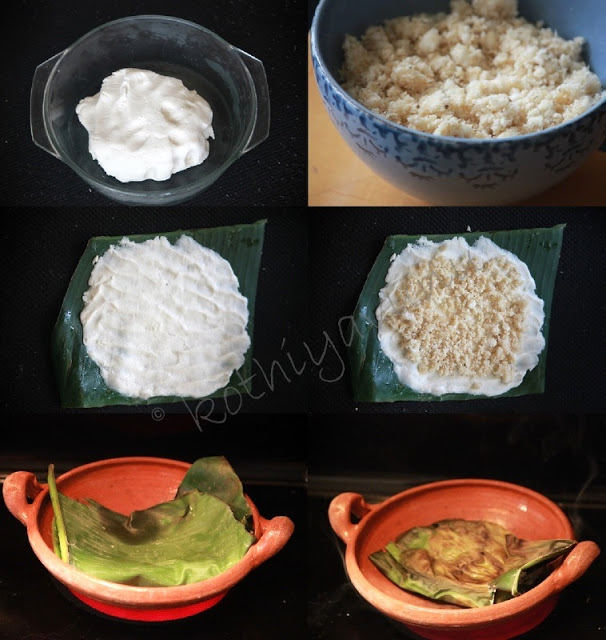 How to make Ottada -Oottada – Rice Parcel in Banana Leaf – Kerala Special :

1. Boil water in a pan, add salt to taste.
2. Pour the boiled water little by little to the roasted rice flour, using spoon stir and mix well thoroughly until to a smooth dough.
3. Cover and keep aside for 10 mins. When the dough is little warm and easier to handle.
4. Knead well with your hand into a smooth dough, adding coconut milk, knead into a soft but firm dough, adding some more warm water if necessary. (Note : It should not be too thick or too loose. The consistency should be little looser than the chapatti dough.)
5. Spread half tsp of butter all over the leaf with the finger. Place lemon size dough in the center of the leaf, flatten it with finger.
6. Mix sugar and grated coconut and spread the filling on it. Fold the banana leaf in half. Tuck the ends of the leaf.
7. Heat a earthern pot /manchatti or tawa. when its hot, place the ada and roast them on both side at medium flame till the banana leaves turns brown and charred little. when ada starts to detaches from the leaf. Remove from the fire…Serve hot with cup of tea/coffee and Enjoy!
Related posts :
Happy Cooking!
Sangeetha