Baby Mangoes looks beautiful & cute, don't they?
If you're a regular reader here you know well, my love towards pickle…I always bring atleast 4-5 bottles of variety pickles with all my visits to Kerala, but during last visit, I couldn' t bring Uppumanga /Brined Mango, but I did bring
Mango Pickle /Manga Achar
,
Lemon Pickle /Naranga Achar.
Having that disappointment, when I saw these Kannimanga/ Tender mangoes in our nearby Indian groceries stores, I could not believe my eyes. I looked again and sure enough I saw a little basket with baby mangoes all green and fresh waiting to be picked…no time it went straight into my shopping cart 🙂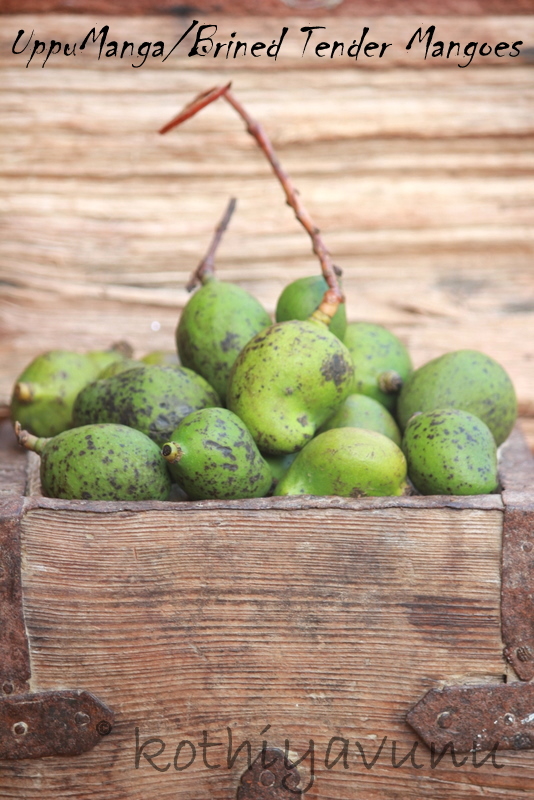 Yes you guessed it…but the kind I got is little different, the skin of these tender mangoes is thick compared to one we get and use for preparing Uppu manga /Brined mangoes, but something is better than nothing isn't?
It brought back wonderful memories of my childhood days in Kerala. Mango tree is abundant in every backyard of Kerala homes and mango season arrives in early summer i.e feb, march and you can see mango dishes everywhere. Our backyards mango trees will now be full of mangoes. When we were kids, we use to hunt the raw mangoes.:-) yes, I love to dip the raw mango with little salt and chilli powder for a blend taste…Oh yum, thinking the taste, now my mouth is watering 🙂 I'm sure you must have tried that combo! I can see you thinking of your beautiful brats time.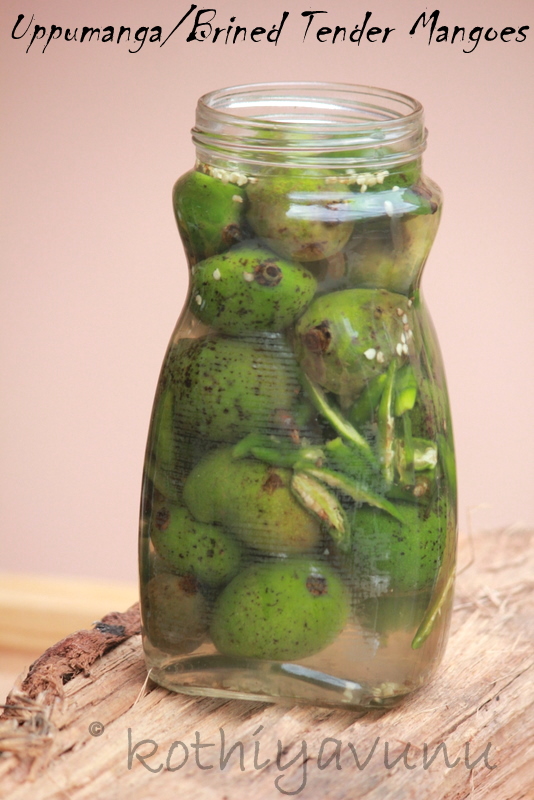 My mom preserve these mangoes in different forms for off-mango season. Usually it is preserved by brining or in form of pickles or they cut the mangoes into pieces and then sun dried it for couple of weeks and preserved. Traditionally these pickles are preserved in huge ceramic jars called 'Bharani', it is then used in curries, chutney, pickles, and many other mango-based dishes. This way we enjoy the taste of mangoes all around the year.For me nothing will be comforting than a bowl of Kanji /Rice gruel with uppumanga, on a cloudy and chilly day! This combo has been one of my all time favorites and comfort food. It is super easy to make and also freezes beautifully for those nights that you're just too tired to cook. I'm sure that just a few mom's I know can relate to that.
Now let see how its made…
Recipe for UppuManga /Uppilitta Kannimanga /Salted Raw Mangoes in Brine /Brined Tender Mangoes
Preparation Time : 10 minutes + Maturing Time : atleast 1 month
Cooking Time : 5 minutes
Makes : One medium ceramic jar 'bharani' or 2 big glass jar
Ingredients :
Whole Unripe Tender /Baby Mangoes /Kannimanga : 2 lb /1 kgs
Kandari Mulaku /Bird Chilies or Green Chilies : 20-25 (slit lengthwise) (optional)
Salt : 1 cup
Water : 3 cup or as needed (Water level should be above the mangoes and chilies)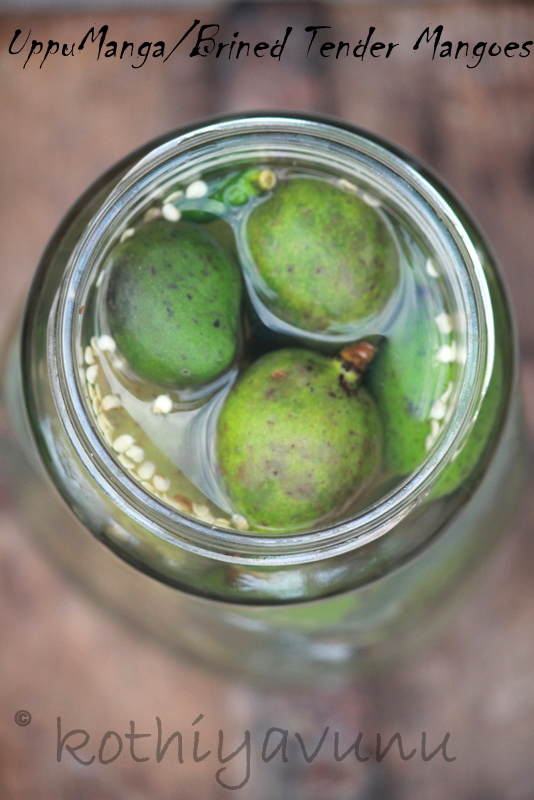 How to make Uppu Manga – Uppilitta Kannimanga | Salted Tender Mangoes in Brine :
1. Clean and wash the tender mangoes as bunches well, shook off excess water. Pat them dry using a dry kitchen cloth, taking care to keep the stems intact. Keep aside.
2. Boil water along with salt and allow them to cool completely.
3. Put the mangoes and green chillies in a big ceramic jar 'bharani' or into the clean, sterilized glass jar.
4. Pour the cooled brine solution over the mangoes into the jar. (Note : Water level should be
above the mangoes and chillies.)
5. Check the salt and add if needed. (Note : If you wish you can little more salt, it helps pickle stay longer)
6. Tightly cover the mouth of jar with white cloth; close it with a lid and keep in a cool dark place for atleast 1 month. Stir every two days, so that the essence of the mango gets drawn out because of the salt and it helps pickle stay longer…Enjoy!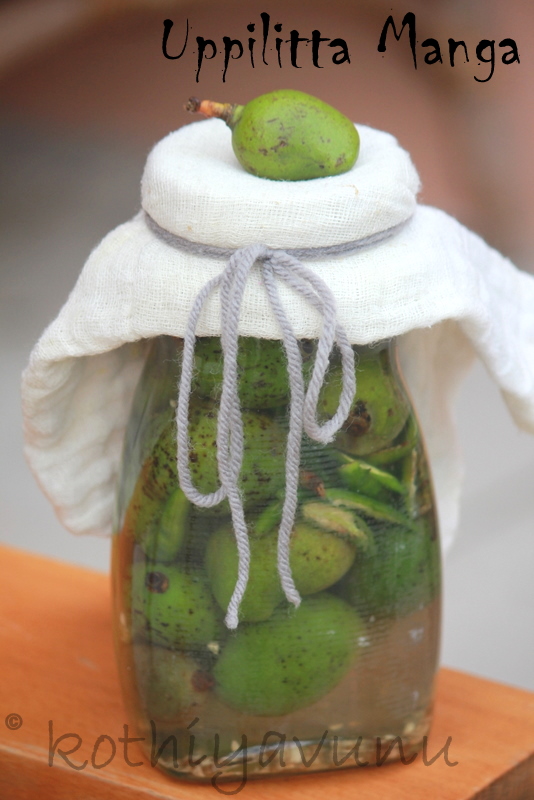 Notes :
Do not remove the stalk from the mangoes. Every tender mango had at least a cm of its stalk along with.
Avoid using steel container for storing..Always store in dry ceramic jar /bharani or a clean sterilize glass jar and please note to clean the bottle and caps you planning to use for pickle with hot water and wipe and dry well without any water content.
If you do not find tender mangoes, use raw mango pieces which taste just as good but do not look as pretty and these cuties.
If the peels of mangoes are so thin,then brine will take little more time to penetrate deeply inside.
When using always use only clean dry spoon to scoop the pickle from the jar. Do not use wet spoon which adds moisture and the pickle very easily get "fungus" and that spoils the whole pickle.
This pickle stay for 1 year, if they are conserved properly.
When raw mangoes are out of season, drain out these brine preserved mangoes and use them for preparing any curries, chutney, pickles, etc.
Related Posts:
Happy Cooking!