Some recipes are so good they are worth revisiting. This Varutharacha Kozhi-Chicken Curry is one among the old favorite recipe that deserved a little revamp, mainly in the picture department 🙂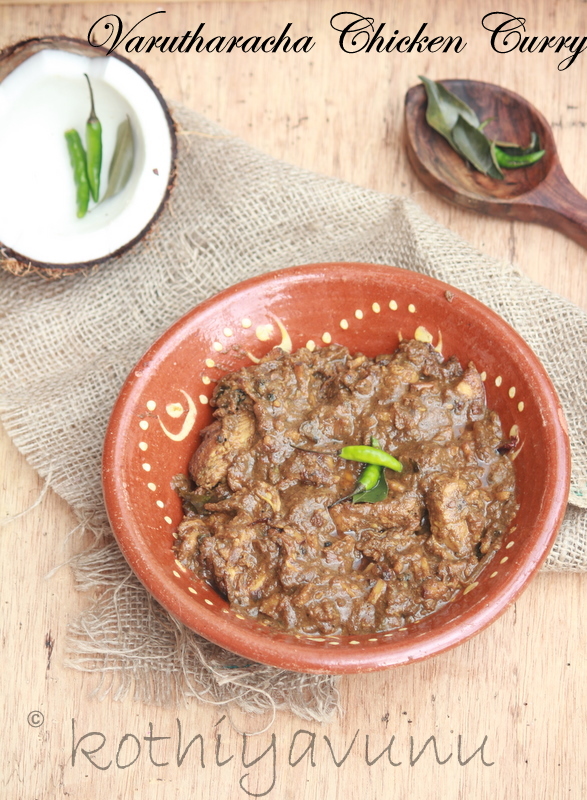 I just made this dish  last night, when my best friend Malavika and her husband visited us for dinner, and this curry happens to be one of her favorites.This particular chicken curry recipe have long been a favorite among my friends. I first brought them to a get-together and they were such a hit, they have been requested many times since. So, this post, especially is for those, who were lucky enough to have tasted this and also to the rest of you out there 🙂 Every time I do I'm reminded of why I love this Varutharacha Kozhi-Chicken Curry so much…simple, delicious, yet spicy! This curry is one that my mom makes at home quite often, I love it when she prepares it, she makes them to go with the famous  
Kerala Parotta
, or with 
Ney Pathiri
.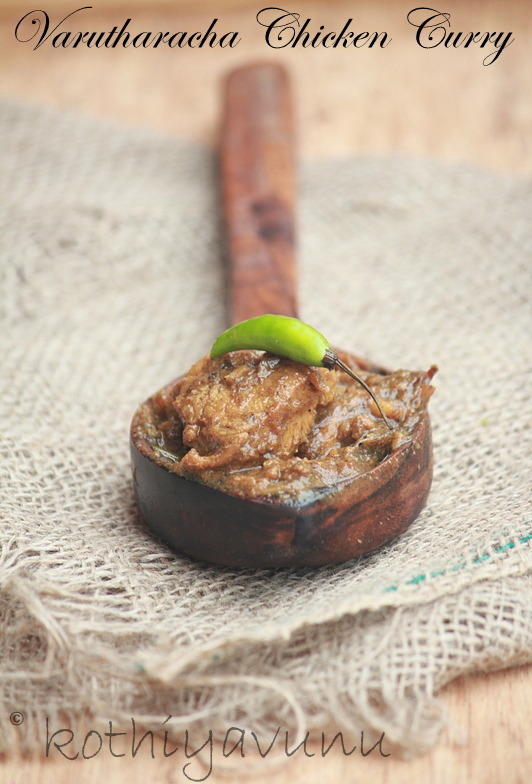 Coming to the recipe part now, Varutharacha Kozhi-Chicken Curry is a popular and the most basic chicken curry in Kerala (South India), prepared by adding roasted coconut with spices. The perfect blend of roasted coconut and spices gives a rich and aromatic flavor to curry. It could be made in millions of ways because each household has a recipe of their own! The curry goes well with almost all dishes prepared back home and is mainly served with Rice 
Kerala Parotta
,
Ney Pathiri,
Roti/Chapati
.It also pairs very well with
Kerala Appams
,
Noolappam /String Hopper
etc.If you love spicy chicken curry this is must try, I am sure it will be a wonderful addition to your "to do" list :)So here you go – an old favorite made even better. Enjoy!
Varutharacha Kozhi – Chicken Curry Recipe | Chicken in Roasted Coconut Gravy- Kerala Style
Preparation Time : 20 minutes
Cooking Time : 30 minutes
Serves : 4
Ingredients :
Chicken/Kozhi : 1/2 kg /1.1 lb
Grated Coconut : 1 cup
Thin Coconut Slices/ Thenga Kothu : 3 tbsp
Coriander Powder : 21/2 tsp
Whole Black Pepper : 1 1/2 tsp or to  your spice tolerance
Turmeric Powder :1/4 tsp
Red Chilly Powder : 1/4 tsp
Home made Garam Masala : 1 tsp (To Make Fresh Homemade Garam Masala : Fennel Seeds : 1 tsp, Cinnamon Stick : 2 inch pieces, Cloves : 2, Star anise : 2, Green Cardamom : 2 pods (or) Use Store Bought Garam Masala : 1 tsp)
Shallots : 2 cup or Onion : 1 large (thinly, sliced)
Ginger : 1 inch piece (crushed)
Green Chillies : 4-5 or as required
Warm Water : 1/4 cup
Coconut Oil : 2 tbsp
Coriander /Cilantro leaves : 4 tbsp (chopped)
How to make Varutharacha Kozhi-Chicken Curry:
To make Fresh Homemade Garam Masala :
1. Dry roast all the ingredients listed above for "To Make Fresh Garam Masala" and grind to fine powder and keep it aside. (Note : You can prepare this in bulk and store, but fresh masala taste too good or use store bought garam masala.)
Preparing the Varutharacha Kozhi-Chicken Curry:
1. Marinate the chicken with red chilly powder, 1/2 tsp coriander powder, garam masala, turmeric powders, salt and keep it aside for 1 hrs.
2. Heat a kadai/pan, pour 2 tsp coconut oil, add grated coconut and fry till it turns to golden brown in color, add 2 tsp of coriander powder and saute well.
3. Grind the fried coconut along with whole pepper, blend it well till it become smooth paste.
4. Heat a pan, pour coconut oil, add sliced onion, crushed ginger, green chilly and saute well till onion turns to translucent and golden brown.
5. Add marinated chicken and mix well, add the grounded coconut mixture with it and add 1/4 cup of warm water, adjust the salt; close and cook for 20 mins or until the gravy turns dark brown in color and the gravy thickens.
6. When its done, fry coconut sliced pieces in oil, scrape the roasted coconut pieces into the prepared gravy.
7. Remove from the fire; sprinkle little coconut oil on top and keep covered until its ready to serve.
8. Garnish with coriander leaves and serve with steamed rice or Kerala Parotta, Ney Pathiri, Roti or any Indian Bread and Enjoy!
Notes :
The color of curry depends on how well you roast the coconut and spices.
This is a very hot dish. Add or reduce chilli flakes and pepper powder according to your taste. Optional – To bring down the heat, you can substitute red chilli powder with paprika powder without effecting the consistency and flavor of the curry.
Using freshly ground pepper and homemade garam masala adds to it taste and I prefer to use shallots instead of onions as it gives a great flavor to dish.
Using Coconut oil enhance the flavor.
Take a peek and try out 
Kerala Parotta
 with this
Varutharacha Kozhi-Chicken Curry
…YUM! and don't forget to give me your feedback! 🙂
Good Day All!
Sangeetha