Hello all,
Hope everything is going good for you all…I know…it has been more than 2 weeks since my last blog update! Sorry for the hiding ;( What can I say? I've been really busy, our friends from CA were here, meeting after long time, so really got busy, had good fun, good foods, good talks etc…Oh My! the days went by in a flash. Wish I could freeze the time ! 🙂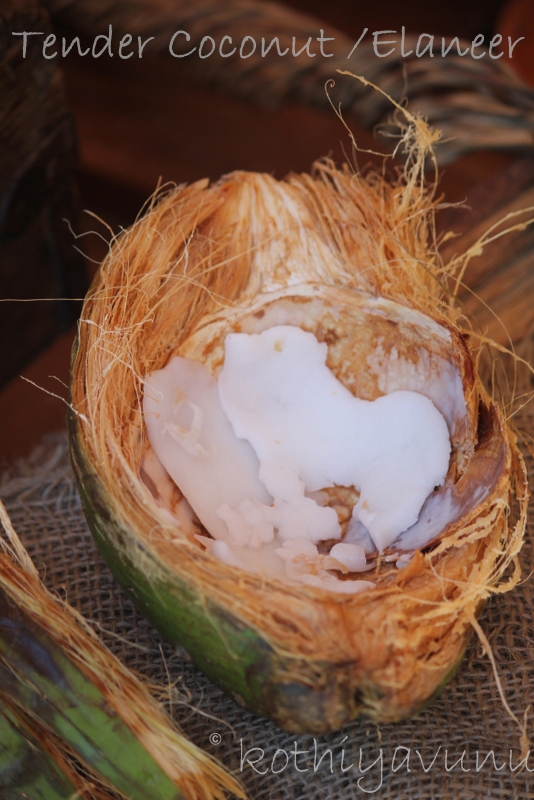 Ok now coming back to recipe, days back during my daily routine call to my sis, she said she is busy making this Elaneer Mezhukkupuratti – Tender Coconut Stir Fry, huh…what tender coconut stir fry/elaneer kondu mezhukkupuratti-yooo??? Yes, answered came from other side…sounds really interesting isn't it! I had never heard and tasted it before…but getting a whole fresh tender coconut /karikku is difficult here, so I had this recipe saved for quite a long time in my cook book, but unlike the majority of the recipes, where I am certain we will love it and just need to find the right time to make it.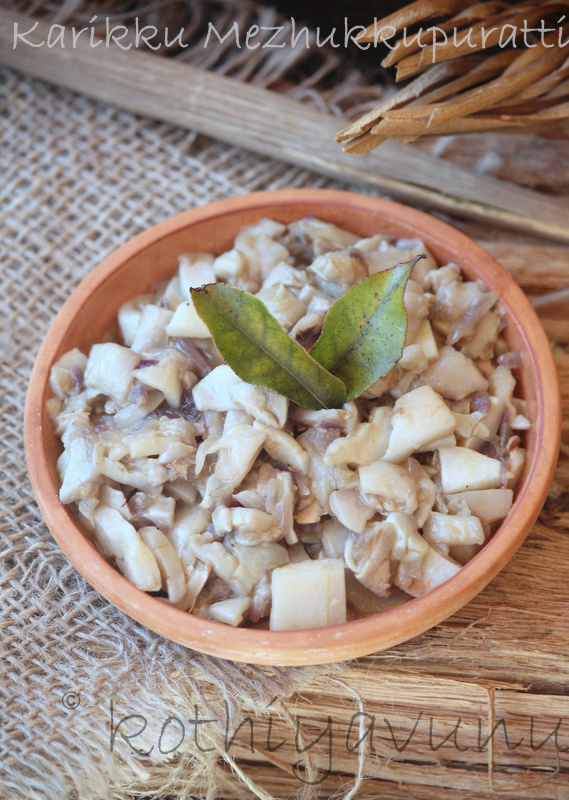 To my surprise on our trip to key west couple of days back, we saw lots of elaneer/tender coconut for sale and without second though we bought & enjoyed the juice and rest the pulp inside the tender coconut. Sure you guessed it right, coconut went into car trunk and no time it went straight into my kitchen to try this particular recipe 🙂 It was fantastic! easy! healthy! fairly quick and tasted wonderful and you don't need a lot of ingredients. Surely less spicy dish so everyone including children enjoys it…Now that we have found a winner, I cannot wait to have it again! Those of you who have not tasted it, do give a try if you get hold of fresh tender coconut, it is amazingly tasty.
So this is how this simple delicious & healthy dish goes…
Elaneer Mezhukkupuratti Recipe | Karikku Mezhukkupuratti Recipe | Tender Coconut Stir Fry Recipe
Preparation Time : 5 minutes
Cooking time : 8-10 minutes
Serves : 3-4
Ingredients :
Fresh Elaneer /Karikku /Tender Coconut Pulp : 1 1/2 cups or (see notes)
Small Red Onion/Shallots : 1/2 cup (crushed)
Red Chilli Powder or Crushed Red Chilli Flakes : 1 tsp or to your spice level (I have used Red Chilli Powder)
Curry Leaves : few
Coconut oil or Cooking oil : 2 tbsp
Salt to taste
How to make Elaneer – Karikku Mezhukkupuratti :
1. Chop the tender coconut pulp/meat into small pieces and keep it aside.
2. Heat oil (preferably coconut oil) in a pan; add crushed shallots/small onion and saute for couple of minutes, when they turns to light brown in color, add red chilli powder or crushed red chilli flakes and curry leaves and saute for a minute.
3. Add the chopped tender coconut /elaneer/karikku pieces; combine well and saute it on low-medium fire for 5 minutes or until it turns to little firm…Serve hot with rice and Enjoy!
Notes:
I perfer coconut oil for Mezhukkupuratti , since the coconut oil gives the dish a very unique flavor and taste.
If you don't get fresh tender coconut, you can try with canned Young Coconut Meat in syrup, which is sold in Asian grocery stores. Drain and discard all the syrup from the can and follow the above steps.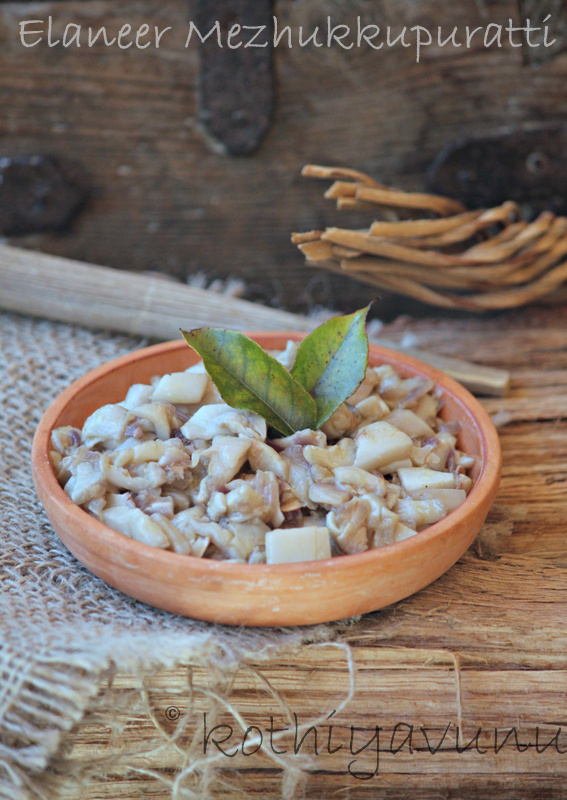 Related Posts:
I hope you all have a fantastic week; see you in couple of days with a yet another yummy treats!
Sangeetha