OK, who doesn't like a Banana chips? I can devour an entire bagful in one sitting. It's a familiar snack for most of them and for me it is yet another dish makes me feel so nostalgic, and takes me home in a fraction of a second, I will never forget the heavenly smell of freshly fried banana chips in coconut oil that would hit the whole house during Vishu/Onam seasons…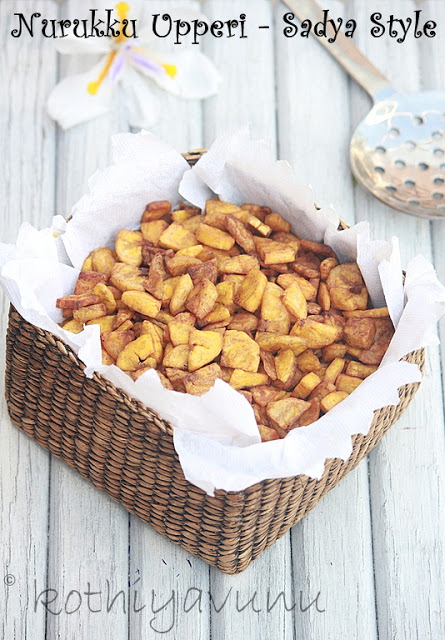 This Kaya Nurukku Upperi /Quartered Banana Chips is very popular in Kerala and one of the main ingredients on Sadya, the traditional feast of Kerala. No big traditional Kerala feast is complete without these chips. Talking more about banana chips it always reminds me of freshly fried chips in road shops, back in my hometown, Palghat. Ask any Malayali and he/she will tell you the best banana chips are to be found in Alathur, Palghat -Thirssur national highway…there thinly sliced banana is washed and cleaned up in a particular way and that method they keep it as a trade secret and is fried in coconut oil. Different varieties of chips like sarkara upperi /jaggery coated banana chips, and chakka upperi/jackfruit chips also are prepared there… the aroma of fresh fried chips into the roads luring the passerby. You can see lots of them buying a big bag full of chips for their family.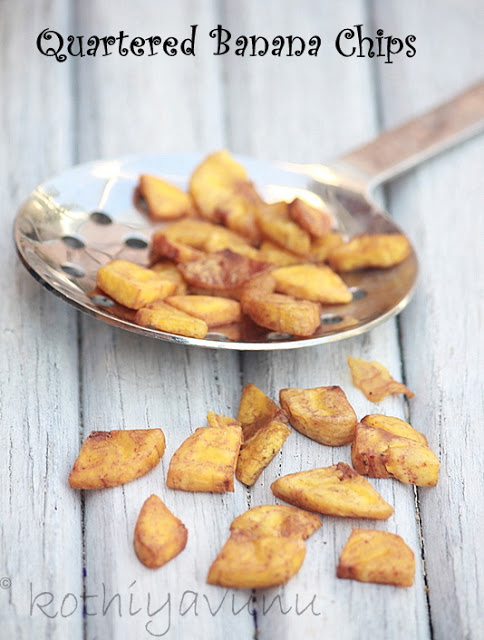 Sure, most chip makers offer "healthy" versions, but they're still not great for you and why spend the extra money when you can make even better ones on your own for a huge fraction of the price? these are very easy to make one.. but you have to fry it nicely otherwise it won't get that crispy texture and use the raw plantain only…do try and Enjoy!
Ethakka – Kaya Nurukku Upperi Recipe – Kerala Sadya Style | Quartered Banana Chips
Preparation Time : 20 minutes
Cooking time : 30 minutes
Serves : 4-6
Ingredients:
Raw Banana(Plantain)/Nenthran Kaya : 2 nos
Turmeric powder : 1/4 tsp
Salt water :1/2 tsp in 1/4 cup water
Cooking Oil for frying (For authentic taste use Coconut oil)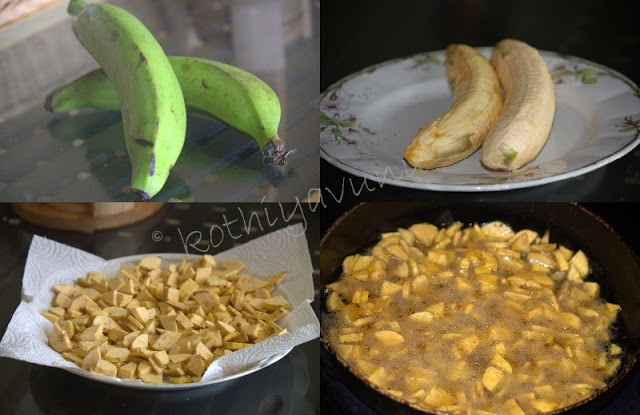 How to make Ethakka – Kaya Nurukku Upperi Recipe – Kerala Sadya Style
1. In a large pan, add water and turmeric powder and keep aside.
2. Peel the outer skin of the bananas and immerse them in the turmeric water for 20 minutes. (Note : This will remove the stickiness of plantain and preserve the color)
3. Slice it into thin quarter pieces. Just ensure that the pieces are not too thick or too thin and dry the sliced pieces in baking sheet or in a plate lined with kitchen tissue.
4. Heat the oil in a deep frying pan on medium heat.(Note: It should neither be too smoky nor dull).
5. Slide the sliced bananas into hot oil without overcrowding them. and occasionally give stir to flip them and keep them from sticking together.
6. When it is half done; approximately 8 mins. Minimise the flame to its lowest and sprinkle the saline solution; immediately close the pot with a lid. (this will prevent splashing) and remove the lid after a couple of minutes.
7. When the bubbling diminishes completely, turn over the flame to medium and gently toss them on every side. (Note : To see whether it's done, take one and crush it . If still soft or squishy inside it's not done, so simmer and fry in hot oil until it attains a crisp.)
8. Remove to a tissue paper and store in an airtight container. Serve and Enjoy!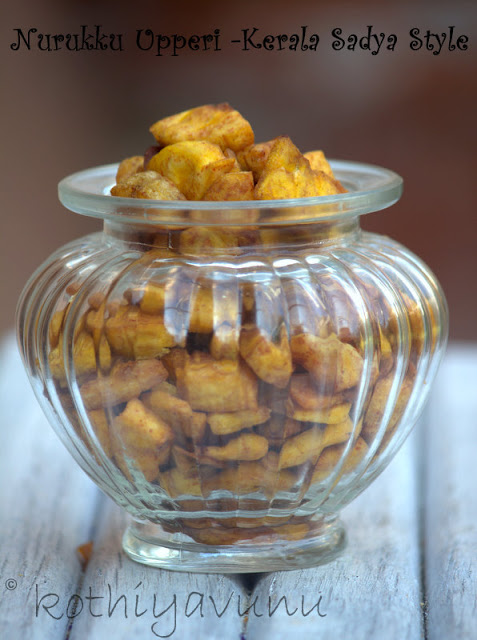 Related Posts :