Vishu Sadya Recipes and Vishu Kani!
Niraparayum Nilavilakum Grama Bangiyum Manasil Sookshikunna Oro Malayalikum Ormikkan Oru Vishu koodi… Ente Hridayam Niranja Vishu Aasamsakal! – Wishing you all a very Happy and Prosperous Vishu!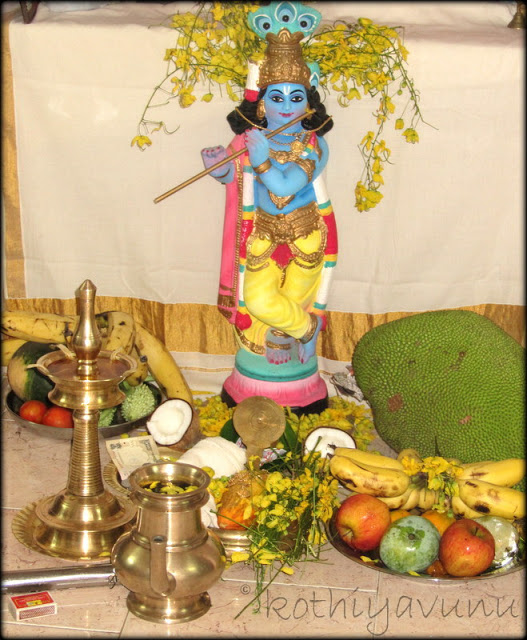 Vishu is an important festival celebrated in Kerala, South India. It marks the beginning of Malayalese New Year and is observed on the 1st day of the Malayalam month of Medam, usually it comes on April 14th or 15th every year. It is also an occasion to pay homage to Lord Krishna for all the blessings!
On this day, every malayali wakes up to see the 'Vishukani'.Visnukani is a traditional ritual of arranging several auspicious things to be seen on the Vishu day in the early morning. Which consists of an idol or photo of Lord Krishna, a decorated 'Uruli'- a shallow circular bell metal vessel that has raw rice, a gold ornament/ coin, yellow coloured cucumber, vegetables fruits, a mirror, betel leaves, yellow flowers- konnapoo etc,  like picture shown above…These things are kept in front of Guruvayoorpan /Sree Krishna late at night and in the early morning one of the elders make it to the room eyes closed and open the eyes in front of god and light the lamp and once they have seen vishukani, he/she guides the rest of the family.
Each member in the family is taken blindfolded and then they are made to see the Vishu Kani that's the first sight of the day and ask them to see all the things one by one and pray to god that let the year be of good health, prosper and happiness and then comes very exciting custom, 'Vishukkaineetam'.The oldest member of the family gives the 'Vishukkaineettam', which is traditionally coins; in olden days it was gold and silver coins; but now Vishukkaineettam comes in different shapes and sizes, to the delights of the youngsters! Then the children also burst a lot of crackers on this day. Everyone wears new clothes called Puthukodi for the occasion.
Then it's time everlasting agenda of the day, the traditional vegetarian feast, 'Sadya' served on plantain leaves, displaying the splendour and the cookery skills…I always loved this ritual as a kid and now I doing for my family, so I  happy to do that…So here I am sharing with you all the sadya dishes that I have prepared and posted till now. I thought vishu sadya recipes all in one place, will be helpful for those who are newbies to make sadya and for those who are looking new exciting vishu sadya recipes…some pics do not justify, so I will update it later…Hope you all like my Vishu Sadya  🙂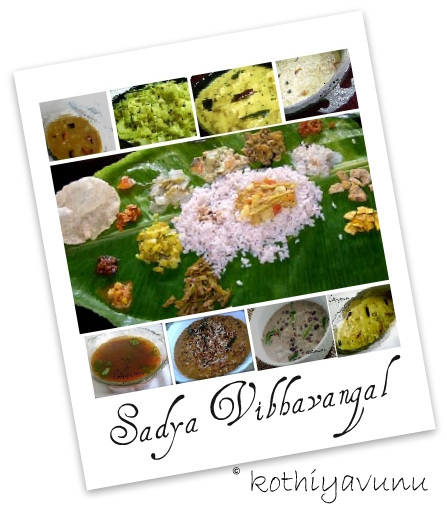 How to make and serve Vishu Sadya – Vishu Vibhavangal :
Click the Images for Recipe.
Breakfast
Traditional Breakfast for Vishu :
Vishu Kanji/Vishu Katta. Usually in our part of Kerala (Central Kerala), after seeing the vishu kani early in the morning we used to have Vishu kanji/Vishu katta for breakfast. Traditionally, we used to prepare it with freshly harvested rice from the field.
Sadya serving begins from the bottom left half of the leaf. In some areas a pinch of salt is kept on the leaf but some people avoid it.
On the bottom left half of the leaf a small banana is placed, next pappadam
Then sarkara varatti /jaggery coated banana chips and upperi/banana chips
Next from the top left half of the banana leaf
Thoran /Mezhupuratti (vegetable stir fry with coconut) (I have posted many different kinds of thoran but usually we prepare and serve these thorans for sadya.)
\
Next Pachadi's and Khichadi's
Next comes different kinds of Side Dishes
Now banana leaf is filled with all the side dishes and most people will have dipped their fingers in some of the delicacies to have a taste.
The rice is served at the bottom center of the banana leaf.
Then parippu curry is served along with ghee
Next  Sambhar is served (Some part Theeyal is also served)
Next Kalan, Kurukku Kalan, Puliserry, Moru Curry
Next served is Rasam
Then comes the most anticipated part the Desserts /Payasam's. 
Normally 2-3 varieties of payasam from the below list will be served to make sadya delicious.
oops! tried Is't?
The traditional sadya is not over yet….
Then Sambaram /Curd /Buttermik is served at the end  to help digestion and to complete the meal.
Most people stop with the dessert…This is the way we serve in our place. The ways of serving differs from region to region.
Hope you all enjoyed this traditional virtual Vishu Recipes – Vishu Sadya–Kerala Sadya /Feast
Wishing Everyone a very Happy & Blessed Vishu!
Sangeetha
Hungry for
?
Sign up, and get more recipes delivered directly to your inbox.