So the Vishu has come and gone. I hope everyone had wonderful time with loved ones and friends, and enjoyed great food! Our Vishu was a blast and everything went very well. Thank you all for the lovely wishes! Here is a picture of our Vishukkani for you 🙂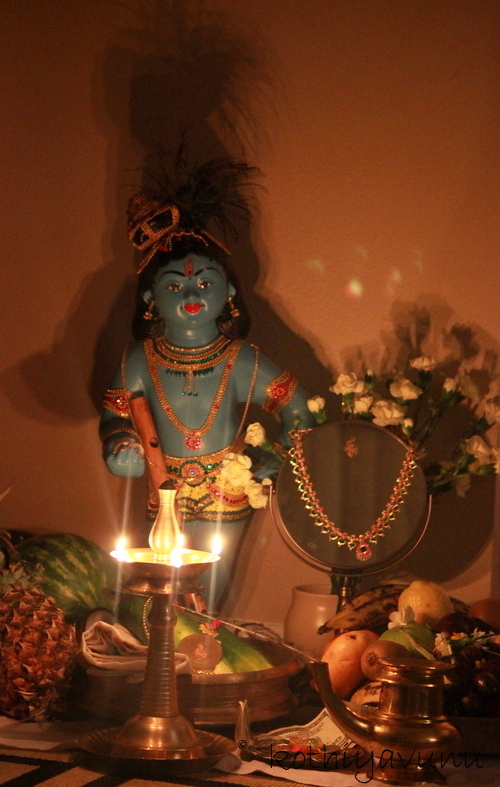 As I had promised earlier here comes another traditional dish, which is normally prepared only for the festival Vishu. So is the name Vishu Kanji!
Yes as I mention several times, Sadya is a major part of all Kerala festivals. However, Vishu Kanji is also more important for many during Vishu. Usually in Central Kerala, after seeing vishu kani early in the morning, Vishu Kanji/Vishu Katta is served for breakfast. In some parts of central Kerala, including my hometown, Vishu Kanji /Rice Porridge with coconut is prepared on the vishu day and others prepare Vishu Katta, which is also referred as Vishu Kanji by many. The method of making Vishu Katta is different from what I am sharing today. This Vishu kanji recipe corresponds around palghat/palakkad (a city in the Indian state of Kerala ) and it's served with Chakka Puzhukku /Steamed & Seasoned Jackfruit. In my hubby's place they prepare Vishu Katta, so I use to make both; switching according to time, but for this vishu, I did Vishu Kanji, later some day I will make the other version and will updated here 🙂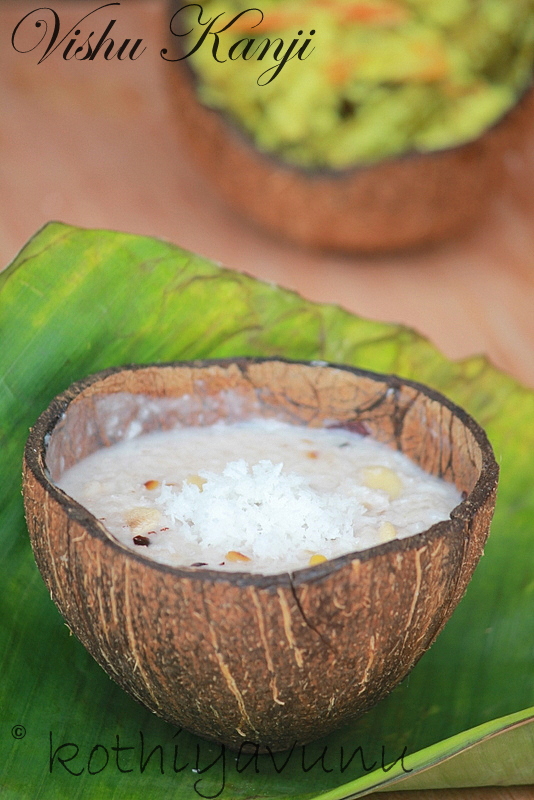 Traditionally, we prepare it with freshly harvested rice from the field, but here it's not possible, so did with rice I had, It is prepared with both long-grain and rose matta parboiled rices along with coconut milk, puliavarakka/mochapayaru/mochakottai and grated coconut.
Here come Vishu Kanji, which I learnt from my achamma/grandma and I hope you will like it 🙂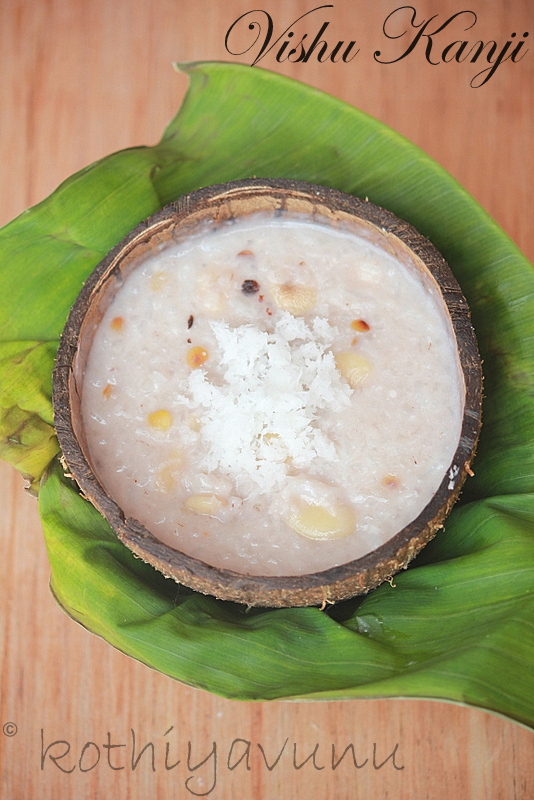 Vishu Kanji Recipe- Palakkad Style /Rice and Coconut Porridge.
Preparation Time : 10 minutes
Cooking time : 20 minutes
Serves : 4-6
Ingredients :
Parboiled Rice (preferable rose matta) : 1/2 cup
Long Grain Rice /Raw rice : 1/2 cup
Mung dal (optional) : 1/4 cup
Puliavarakka /Mochapayaru/Mochakottai : 1/4 cup ( quick google search led me to the English names of this beans. Field beans, Lima beans, Dried vaal, Fava beans, Butter beans.)
Coconut Milk : 2 cups
Fresh Grated Coconut : 1 cup
Salt to taste
How to make Vishu Kanji Recipe- Palakkad Style /Rice and Coconut Porridge:
1. Dry roast puliavarakka/mochapayaru and moong dal (if your using) separately for 5 minutes or till you can smell the aroma and set it aside.
2. Separately wash 1/2 cup each of long-grain and parboiled rice until the water runs clear and cook them separately with 3 cups of water for each variety of rice until very soft. (Note : Always cook the rice separately, because the parboiled rice takes more time to cook.) When the both rice are cooked; combine both together and set aside. The mixture will thicken as it sits.
3. Meanwhile cook the roasted
puliavarakka/mochapayaru and moong dal with 2 to3 cups thick coconut milk, untill the beans are cooked.
4. Add the cooked beans along with coconut milk to the rice pot with salt and cook for couple of minutes.
5. Add the grated coconut and stir gently before serving. (Note : If needed thin out with boiling water as required.)
6. Serve with Chakka puzukku or Aviyal and pappadam. Serve and Enjoy!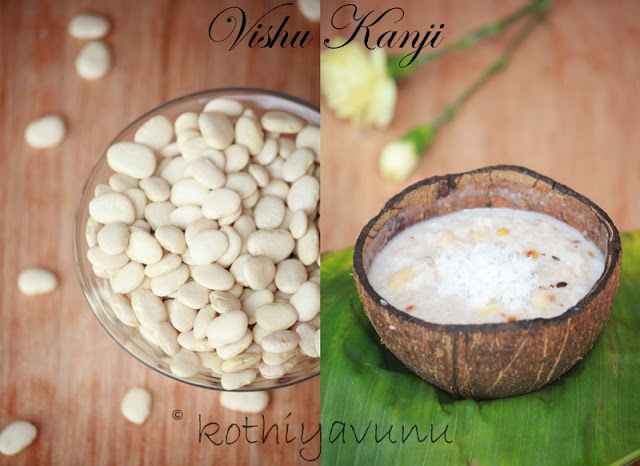 Related Post :
Pal Kanjiyum Payarum Chutta Pappadamum
Cheers!
Sangeetha