Aval Varattiyathu – The desserts of God !
I guess, I don't have to explain to a Malayali what Aval Varattiyathu (Sweetened Beaten Rice Flakes) is. Yes, most of us from Kerala love this delicious snack but to all those who not familiar with it, let me lure you in.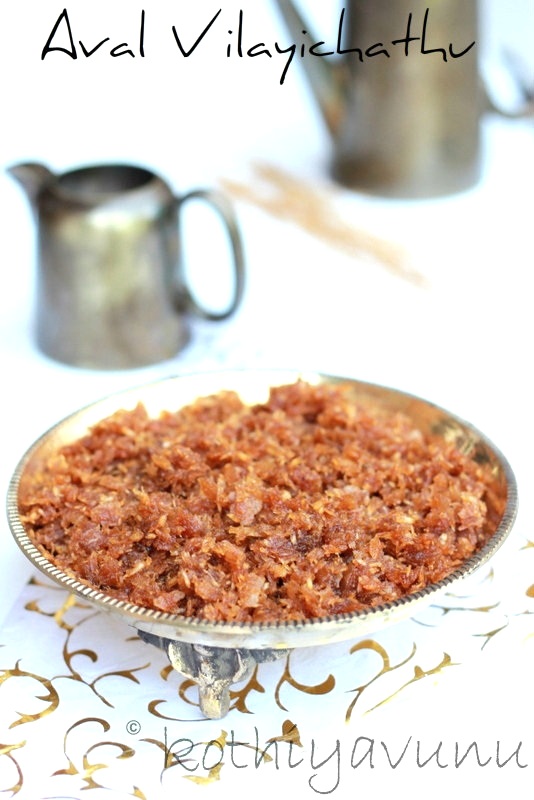 Aval /Poha is a versatile ingredient, its nothing but the simple beaten rice flakes. Most South Indian households stock up on beaten rice falkes/aval. It's healthy and easily digestible and can be prepared into a savory or sweet dish.
Aval Varattiyathu/Sweetened Beaten Rice Flakes is a simple snack prepared especially in the state of Kerala (South India). Beaten rice flakes, sweetened with jaggery along with grated coconut, flavored with dry ginger and cardamom is truly divine and soothing. It's is a common Prasadam /Neivedyam (offering to God Lord Krishna). Ripe banana slices are added to this snack and eaten which enhances the taste. Traditionally this authentic dish is made with brown variety of aval /beaten rice but you can also prepare it with white variate.
I have already shared Aval Nanachathu recipe, which almost similar to this recipe, but process of the making is different. Some people call this Aval varattiyathu while others call it as aval vilayichathu, Whatever be the name or ingredient and recipe followed for this is common.Give a try and enjoy this heavenly treat in no time!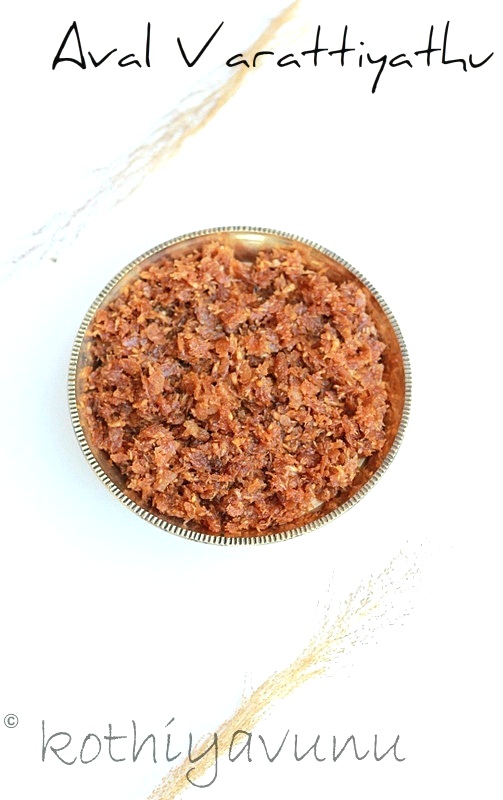 Aval Varattiyathu Recipe – Aval Vilayichathu Recipe – Sweetened Beaten Rice Flakes
Preparation time : 10 minutes
Cooking time : 15 minutes
Serves : 6-8
Ingredients:
Aval /Poha /Beaten rice flakes (brown/white) : 2 cups
Jaggery (grated) : 1 cup (more or less according to your taste)
Fresh Grated Coconut : 1 cup
Cardamom Powder : 1/2 tsp
Ellu /Black Sesame Seeds : 1 tsp
Dry Ginger Powder /Chukku : 1/4 tsp
Chana Dal /Split Chick Peas /Pottukadala /Kadalapparippu : 2 tbsp (Optional)
Ghee/Clarified butter : 2 tsp
1. In a thick bottomed pan; melt the grated jaggery with water on low flame. Strain this to removes any impurities.
2. Now reheat the strained syrup on a medium heat, stirring frequently till it reaches one thread consistency. (
Note :
Take a drop of the jaggery solution in a spoon. Let it cool a bit and then touch it with a clean forefinger and then touch your forefinger and your thumb together and pull them apart gently. If the solution forms a thread between your two fingers, then it has reached thread consistency.)
3. Add grated coconut and continue to stir till all the water is absorbed from the coconut.
4. Add the beaten rice flakes, mix and cook over a low flame; stirring constantly to coat the beaten rice with jaggery and coconut.
5. Add cardamom powder/elakka podi, dry ginger powder /chukku podi. When the mixture thickens turn off the fire and set it aside.
6. In a small pan, heat ghee; when it is hot; add chana dal and roast them golden brown. Remove the chana dal from ghee and add to the sweetened beaten rice flakes mixture. (
Note:
In this recipe I didn't add the chana dal.)
7. Add sesame seeds to the hot ghee and roast lightly. (
Note :
Be careful not to burn the seeds.)
8. Pour the ghee and sesame seeds on to the sweetened beaten rice flakes mixture. Mix everything well.
9. Serve with plantain or as it is and Enjoy!
This can be stored in the refrigerator for a month. But before you store let it cool completely. Store this in an airtight container. You can take out required quantities and steam or warm in a microwave and use.
If feel that jaggery is more and its very sticky, then add couple of tsp of sugar and mix well. This will make it get dried.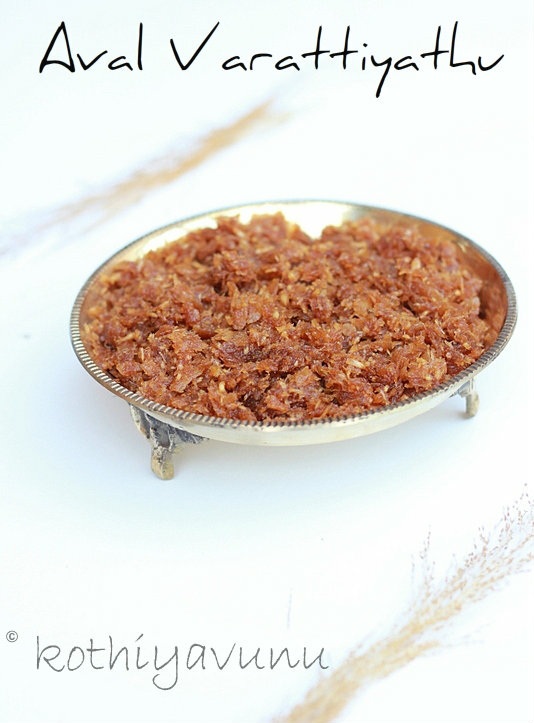 Related Posts :
Happy Cooking and Happy Eating!
Sangeetha