Hate Brussels Sprouts? Then this Brussels Sprouts Thoran -Stir Fry recipe will make you fall in love.
Some people like this veggie and some may not, I happen to love 'em and this recipe elevates the humble, often kept behind vegetable.
Earlier I wasn't aware of many veggies that is commonly found in US, like artichoke, brussels sprouts, boy chok, asparagus, etc…I am so glad to have introduced to all these veggies.
I am a huge fan of Brussels Sprout, for its countless good side. Wondering why should we eat this? These Brussel Sprouts are very low in calories and packed with cancer-preventing phytonutrients and fiber. Usually I make brussel sprout masala or roast them, but this is another way to enjoy this wonder veggie. I loved the texture of the shredded brussels and added with grated coconut. These are all lovely stir fry and they are a bit different than those usually stir fry found on our dinner tables.So why not try out this healthy Brussels Sprouts Thoran -Stir fry recipe? …don't forget to give me a feedback though!
Other Healthy Thoran-Stir Fry You Might Like Also :
How to Make Brussels Sprouts Thoran -Stir Fry Recipe – Stir Fried Brussels Sprouts in Coconut
Brussels Sprouts Thoran-Stir Fry Recipe
Hate Brussels Sprouts? Then this Brussels Sprouts Thoran -Stir Fry recipe will make you fall in love.
Ingredients :
Brussels Sprouts : 1 lb (shredded or finely chopped)
Small Red Onions /Shallots or Onion : ¼ cup (finely, chopped)
Grated Coconut : ½ cup
Garlic : 2 pods (crushed)
Cumin Seeds : ¼ tsp
Green Chillies : 3-4 (slit lengthwise) or to your tolerance level
Turmeric Powder : a pinch
Mustard Seeds : ½ tsp
Curry Leaves : a sprig
Salt to taste
Oil : 2 tbsp
How to Make :
Wash and clean the Brussels Sprouts and cut off the hard bottom and remove the outer leaves then slice them into halves and pulse in a food processor.
Using your hands mix grated coconut with turmeric powder, shallots, cumin seeds, crushed garlic or you can just pulse 1 time everything together coarsely in blender.
Heat oil in a pan and splutter mustard seeds and when it starts to splutter, add curry leaves and saute for a minute.
Add the shredded Brussels sprouts; saute and close and cook for a minute.Add the coconut mixture and mix everything together.
Cover the pan and cook on low heat, stirring occasionally; after 5 minutes remove the lid and stir fry for another couple of minutes. Remove from the fire.(Note : Do not over-cook - this is very important! They should still be crispy firm but tender.)
Serve as side dish with Rice or Chapati/Roti's and Enjoy!
Notes
Brussels Sprouts should never be overcooked, it tastes good when it is slightly crunchy.
Do not add water while cooking Brussels Sprouts; it will turn soggy.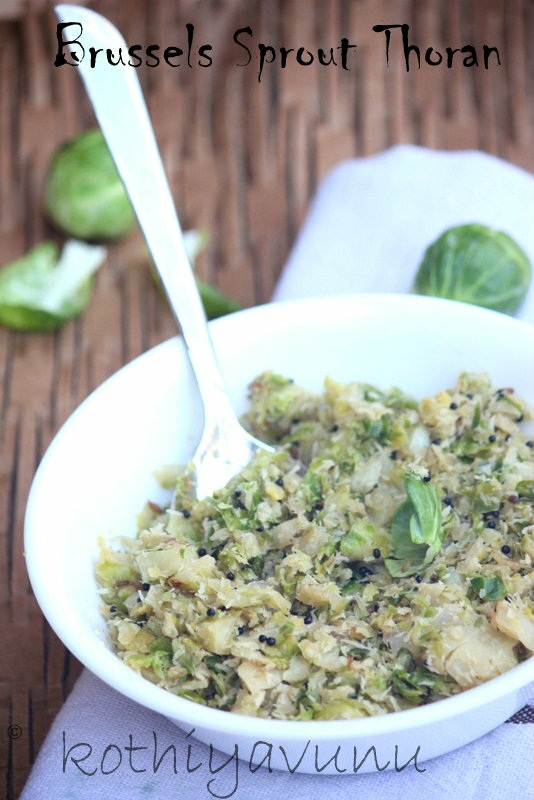 Don't forget to share your opinions after trying this Brussels Sprouts Thoran-Stir Fry recipe.
Happy Cooking!
Sangeetha
Like this Recipe? Sign up, and get more recipes delivered directly to your inbox.