Happy Mother's Day to all the Mom's out there 🙂 so what's your plan to honor your mom? Beautiful flowers? Yummy food? Special gift?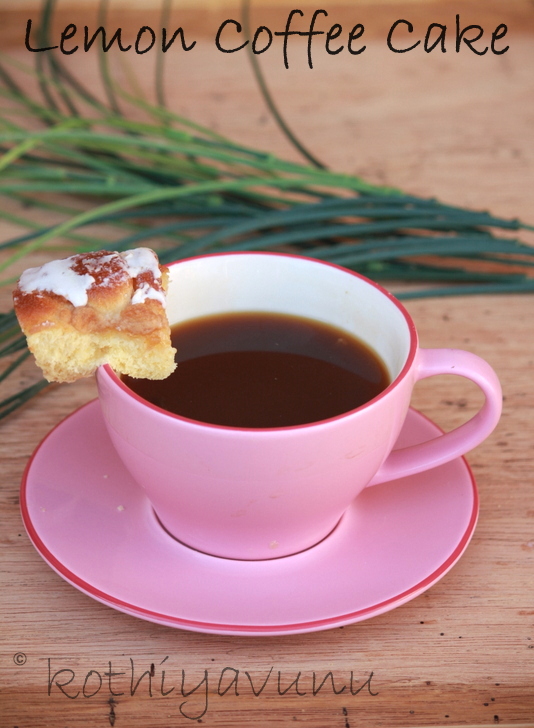 Yes Mother's Day always makes me miss my mom, more than usual ;( I won't see her until next June; of course I'll call her… so today's post is dedicated to my mom and all mom's around the world !
This is my friend, Erma's recipe, when we were talking about the mother's day treat the other day. She told that, she is going to suprise her mother by making this and on my request she shared the recipe for me and it was too wonderful not to share with you. Thanks Erma for sharing wonderful recipe with us.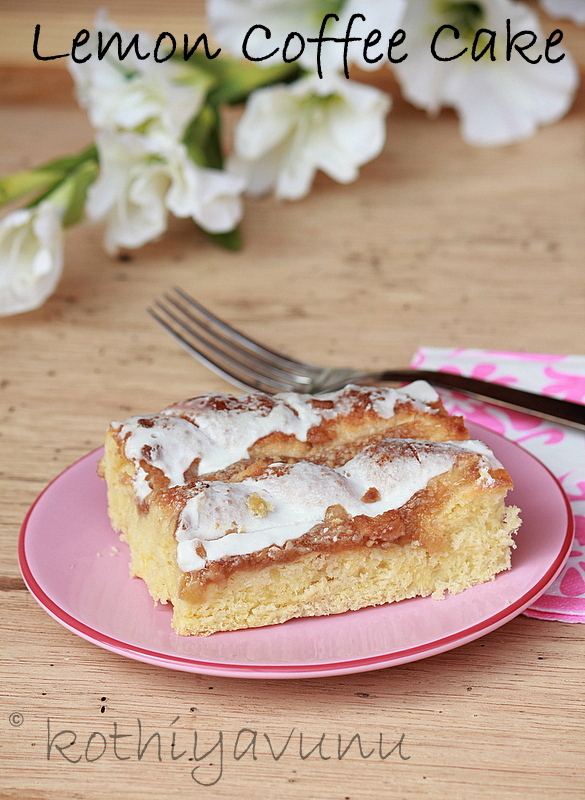 If you've never had lemon coffee cake or you have and they weren't very good, this is the recipe for you! It's a simple, easy, moist, flaky and lemony..Yum! Its perfect when matched with a hot cup of brewed coffee or tea.
A great brunch, an afternoon treat or as a simple dessert to make for Mother 's Day, or anytime you're feeling young and happy! Enjoy!
Lemon Coffee Cake Recipe
Preparation Time : 15 minute
Baking Time : 60 minutes
Serves : 6
Recipe Adapted From : My friend, Erma Rodriquez
Ingredients :
For the Topping :
All Purpose flour : 1/2 cup
Brown Sugar : 1/3 cup
Unsalted butter : 3 tbsp (room temperature)
Dessicated coconut : 1/2 cup (optional)

For Coffee Cake:
All Purpose Flour : 2 1/4 cup
Sugar : 1 cup
Baking Powder : 1/2 tsp
Baking Soda : 1/2 tsp
Salt : 1/2 tsp
Unsalted Butter : 1/2 tsp (softened)
Egg : 1
Vanilla Yogurt : 2 cup or substitute with sour cream : 1 cup
Freshly grated Lemon Peel : 1 tsp
Freshly squeezed Lemon Juice : 1 tbsp
Lemon curd or Lemon pie filling : 1 cup (I have used lemon pie filling)
How to make Lemon Coffee Cake Recipe :
1. Preheat oven at 350°F; butter and flour a 1 (8 x 4)-inch loaf pan. (I used a bigger loaf pan so my cake is flattened than it is supposed to be.)
2. Make the topping by mixing together the flour, brown sugar and salt (use either a pastry cutter or your hands) until small clumps form. Stir in coconut.
3. In a large mixing bowl, combine flour, sugar, baking powder, baking soda and salt. Stir to combine.
4. Add remaining ingredients, except lemon filling, and beat until well combined.
5. Pour and spread 1/2 the cake batter into the pan. Sprinkle on half of the topping and spread on the lemon curd or filling, to within a 1/2 inch of the edges.
6. Pour on remaining dough and remaining topping.
7. Bake at 350 degrees for 50-60 minutes, until golden brown and set. Let cool for at least 10 minutes. Remove from the pan.
8.While cake cools, stir together powdered sugar, lemon juice and water and until you have a glaze consistency.
9. Poke the cake with a toothpick inserted all the way. Pour over the glaze on the cake and let it soak and set.
10. Cut coffee cake into squares and serve with tea or coffee. Enjoy!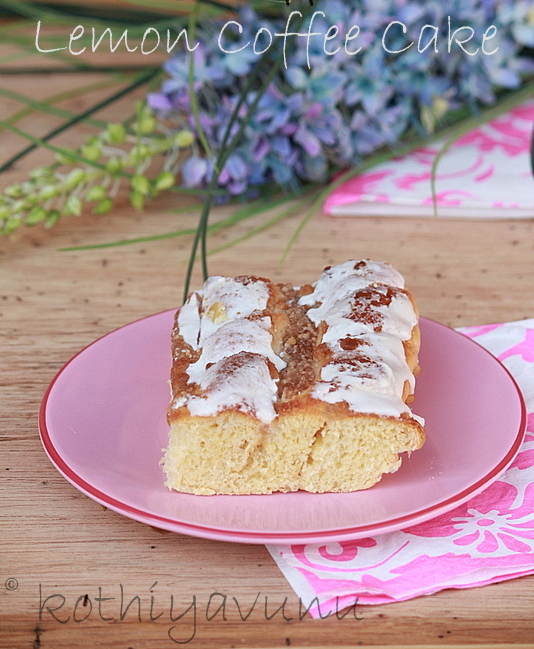 Related Posts :
Happy Mother's Day!
Sangeetha