Have you tried this Easy, Healthy Pumpkin Blossom Stir Fry?
Hope all moms had a wonderful Mother's day! I had a fantastic one…My cuties pampered me with breakfast in bed and gave me best surprise gifts, even though my hubby was out of town. I really appreciate my kids efforts. I think the biggest reward I receive as a mother is when my kids make correct choices or do something above and beyond.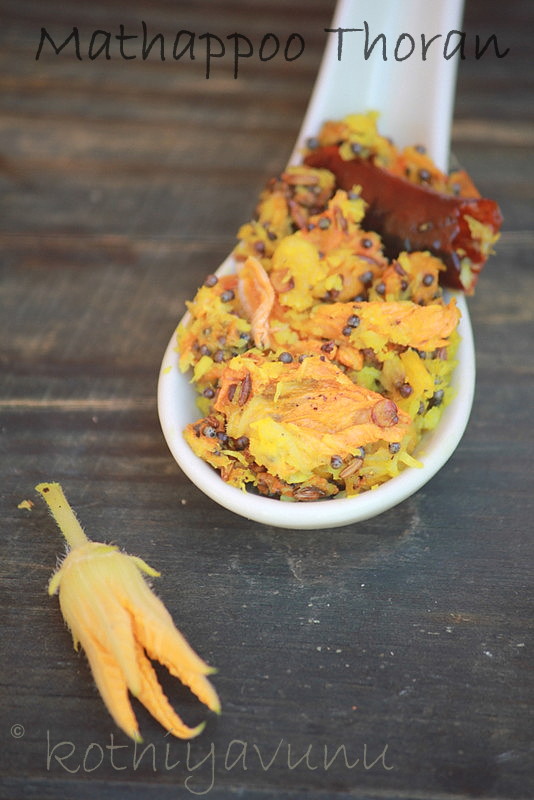 Yes they know their mom loves gardening and they gifted me pot with sunflower seeds and decorated the pot with their own creativity…Of course I love gardening and I am lucky enough to have micro garden. I still can't believe how fast everything is growing in our garden. Watching them grow everyday brings me so much pleasure 🙂 My favorite part of having a garden is picking the produce when it is ready with my family and figuring out together what we should make with our harvest.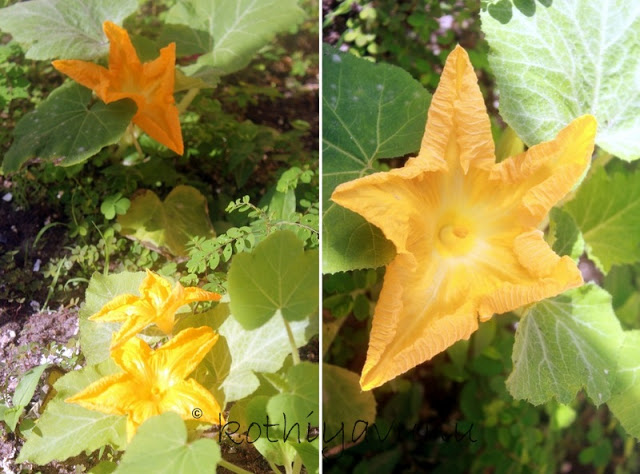 There is a surprising number of blooms that are a true delight to eat and they offers several nutritional benefits. Frying pumpkin flowers-blossoms and chopping them in salad is a popular way, but here I am sharing easy, healthy stir fry with pumpkin blossom straight from my garden. Don't worry! If you didn't grow your own pumpkin plant, pay a visit to your local farmer's market and pick up some fresh blossoms, and cook up this easy stir fry for a truly healthy and delicious treat! Enjoy!
Mathappoo Thoran Recipe-Pumpkin Blossom Stir Fry Recipe-Pumpkin Flower Stir Fry-Kerala Style
Ingredients :
Pumpkin Flowers /Mathappoo : 1 cup (chopped)
Grated Coconut : 1 tbsp
Dried Red Chillies : 1 (or according to your taste)
Garlic : 1 clove, (crushed)
Cumin Seeds : a pinch
Mustard Seeds : 1 tsp
Turmeric Powder : couple of pinches
Coconut Oil or Cooking Oil : 1 tsp
Curry Leaves : few
Salt to taste
How to make Mathappoo Thoran – Pumpkin Blossom Stir Fry:
1. Wash and chop the flowers finely. Mix chopped pumpkin flowers with grated coconut, a pinch of salt
2. Heat oil in a pan, splutter mustard seeds; add cumin seeds, crushed garlic, dried red chillies and curry leaves, give a quick stir.
3. Add the chopped flowers and grated coconut mixture and mix well.
4. Add the turmeric powder, at this point; flowers will shrink into 1/4th of the initial quantity. Cook for 2 mins or until its dry.Serve hot with steamed rice and Enjoy!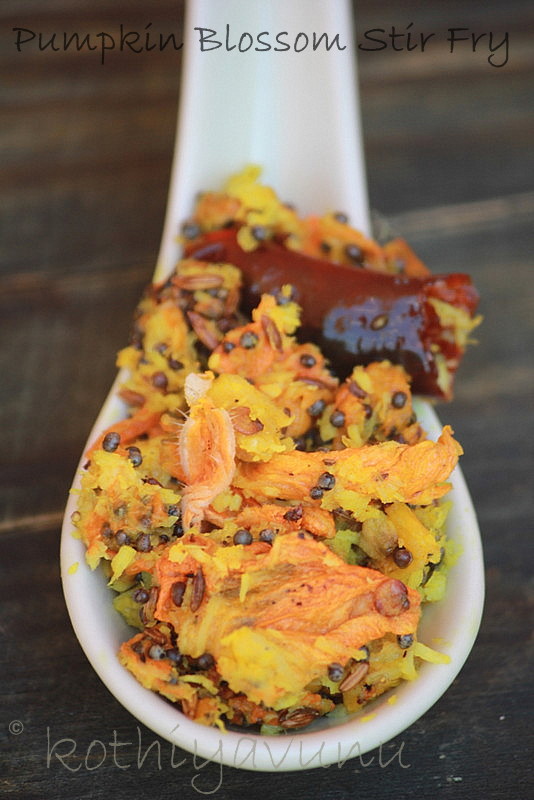 Have a Good Day!