Tired of regular Idli? need a change ? then try this quick, soft and spongy Rava Idli …
Well, let me share some of my first food memory and it's not a pleasant one 🙁 As a kid I never used to like Idli. I am very picky eater 🙂 My mom use to make different varieties of breakfast and she make sure we never skip breakfast. Of all Idli showed up on my plate more often. Needless to say, that made me sick and tired of eating it day in and day out and did I mention the lunch boxes? In our house our dinning table is placed near the window and I like to sit near the window, so I can threw the food away ;( yes I did that…After repeating this for many times, My mom caught me in the act, and she was not pleased…and you know what happens…. Yes, I realized my mom's difficulties to satisfy me only when I became a mom 🙂 Being far away from home does wonderful things to quite a many, not that I am proud to call myself one!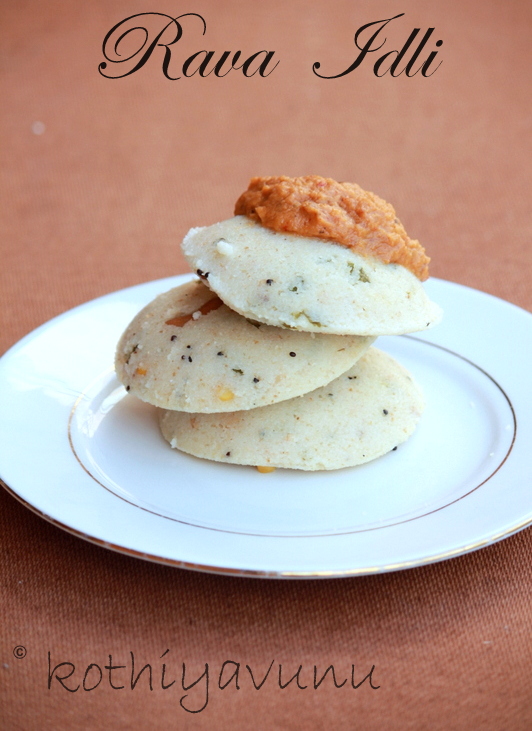 My stories apart, this Rava Idli (Steamed Semolina Dumplings) recipe is very easy and simple to make and delicious to eat. Unlike the traditional
Idli
, this does not require any beforehand planning, soaking, elaborate grinding, fermenting for hours and can be prepared in a jiffy and it can be prepared plain or using any vegetables you like, and the key part of this recipe is the yogurt used in this dish and seasoning to this dish gives it an extra soft, taste and flavor. This Rava Idli recipe is a keeper and I recommend you all try this.Hope you will all try this and let us know how you liked them!


Rava Idli Recipe – Steamed Semolina Cake Recipe – Semolina Idli Recipe
Preparation time : 30 minutes
Cooking time : 10 minutes
Makes : 14 Idli's (approx)
Ingredients :
Semolina /Cream of Wheat /Rava : 1 cup
Thick Yogurt /Curd : 1 cup (well beaten)

Mustard Seeds : 1/2 tsp
Urad Dal /Black Gram : 1 tbsp
Channa Dal /Bengal Gram : 1 tbsp
Carrots : 2 (grated)

Ginger : 1″ grated
Green chilies : 3 (finely, chopped)
Curry leaves : 5-6 (finely, chopped) (optional)
Fresh Coriander Leaves : 2 tbsp (optional)
Grated Fresh Coconut : 1 tbsp
Water : 1/4 cup
Cashewnuts : 2 tbsp (roasted) (optional)
Baking Soda : 2 pinch (optional)

Ghee/Oil : 1 tbsp + for greasing Idly mould
Salt to taste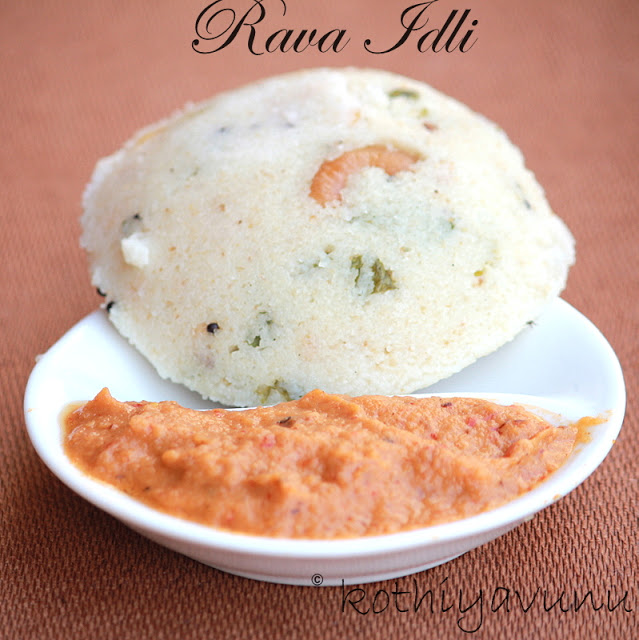 How to make Rava Idli – Semolina Idli :
1. Heat ghee or oil in a pan/kadai, add the mustard seeds and when they splutter, add the urad dal, chana dal and saute till the dal turns golden brown and nice aroma comes out.
2. Add the green chillis, curry leaves and grated ginger.
3. Now add the rava; reduce the flame on low to medium heat stir fry and roast the rava constantly for couple of minutes. Remove from the heat and let it cool.
4. In a large bowl, mix the roasted rava, beaten curd, grated carrot, coriander leaves, grated coconut, baking soda, water and salt; mix well and make thick batter.
5. Keep aside a few roasted cashews and add the rest to the batter. Close with a lid and let it sit for at least 30 minutes.
6. Place the idly maker and grease the idly mould with oil.
7. Place a roasted cashewnut on each of the greased idli plates and pour the rava batter over the cashewnut. Don't let the batter fill till the brim.
8. Steam the rava idlis on medium flame for around 10 mins. Turn off heat and let it sit for 5 mins.
9. Remove the rava idlis carefully and serve hot with
chutney
of your choice or with
sambar
…Enjoy!
Notes:
A dash of ghee poured on the top of Rava Idli adds to the overall taste.
You can add vegetables of your choice like bell pepper, corn, peas, beans etc.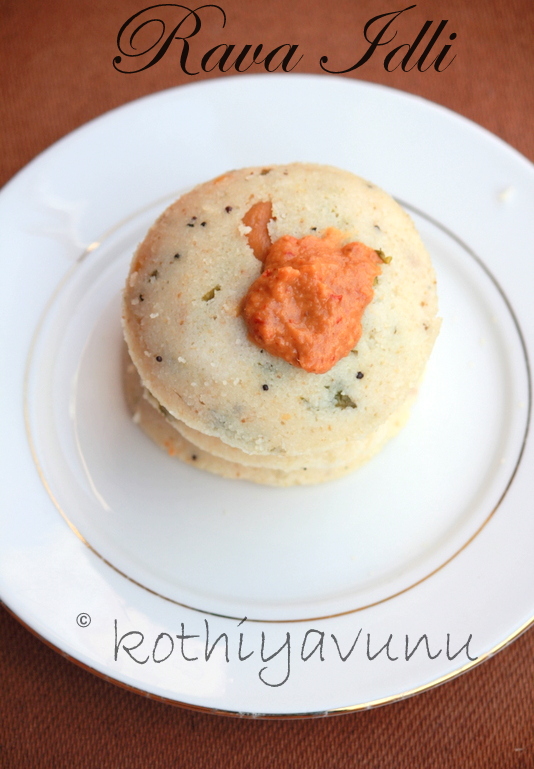 Related Posts :
Happy Cooking!
Sangeetha