An easy and yummy dessert for a summer party!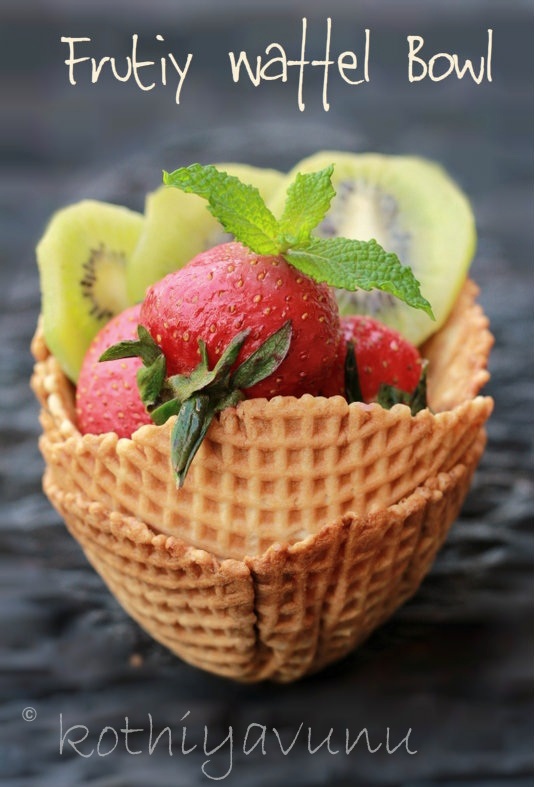 Before we get into the recipe, I have small note to all my dear readers. As we are in the process of cross country move. I'm totally busy, haven't got time to check mail's last few days. My inbox is overflowing 😉 Please don't take it personally if you don't hear back from me. I read each and every email I receive, and thanks for taking the time to write and for continued support.
Coming to recipe! Today we're making Fruity Cheesecake Tart. No cooking, No preparing the crust, or No baking…sound good? Let's go!
Take all the lisited ingredients below and stick it in the fridge for a few hours and EnJoY a delicious treat that will COOL off your kids and family!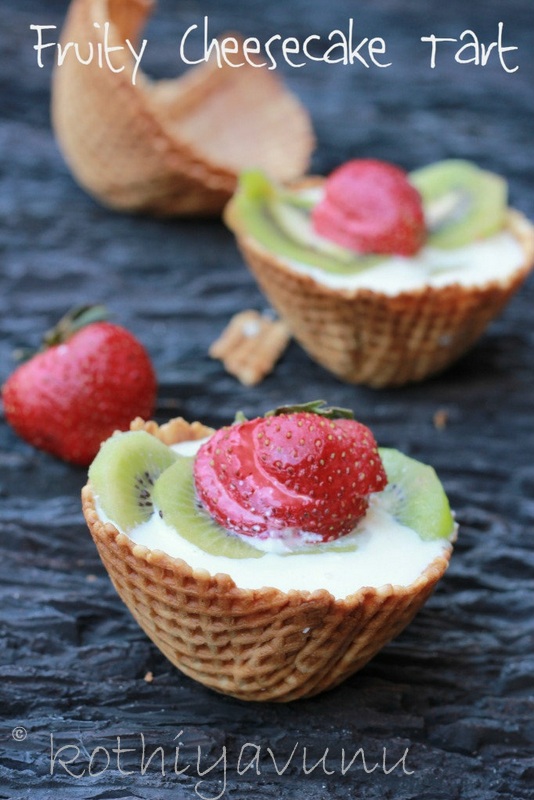 Fruity Cheesecake Tart in Waffel Bowl Recipe
Preparation Time : 10 minutes + Time to set : 1-2 hrs
Cooking Time : No cooking
Serving : 6
Recipe adapted from keebler waffel bowls packet.
Ingredients :
Cream Cheese : 1 package (8 oz.), (softened)
Sweetened Condensed Milk : 1 can (14 oz.)
Vanilla Extract : 1 tsp
Lemon Juice : 1/3 cup
Waffle Bowls : 6
Fresh Whole Strawberries : 6
Fresh Kiwi : 2 (sliced)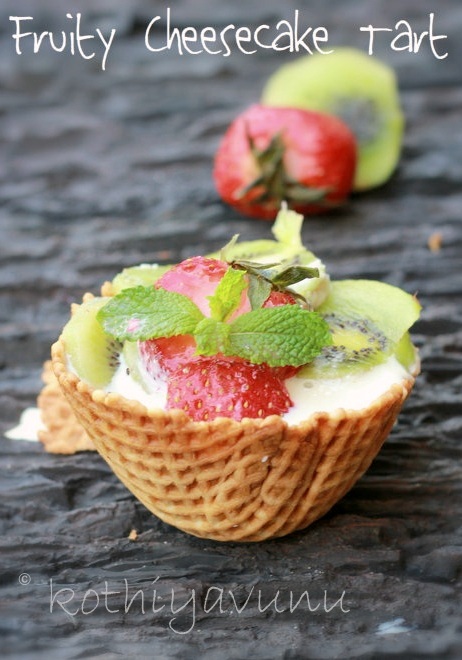 How to make Waffel Bowl Fruity Cheesecake Tart :
1. In medium bowl beat cream cheese until smooth and creamy.
2. Mix in sweetened condensed milk and vanilla extract until well blended. Stir in lemon juice.
3. Refrigerate about 1 hour or until mixture has thickened.
4. Spoon 1/3 cup cheesecake mixture into each waffle bowl. Top each bowl with fresh fruit of choice, such as sliced kiwi, blueberries, raspberries, strawberries.
5. Serve immediately or if a cold filling is desired, refrigerate until ready to serve and then fill cups just before serving…Enjoy!


Notes :
Instead of waffel bowls, you can use baked pastry shells or waffel cones.
If a less flavored cheesecake is desired, replace the sweetened condensed milk with 8 oz frozen whipped topping to the ingredients.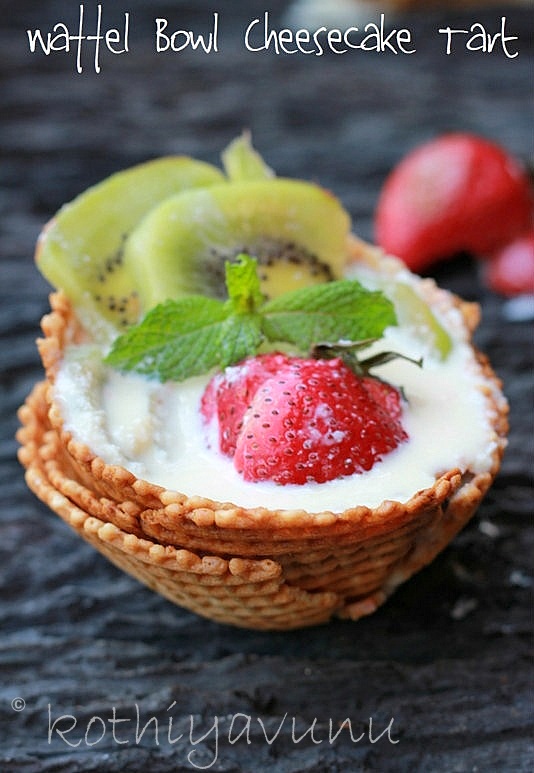 Related Posts :
Max & Rubys Frozen Berrry Waffle Cookie
No Bake Oreo Cheese Cake
Click here for more Frozen Treats
Happy Eating!
Sangeetha