Hello to all! First of all I need to thank you all for the best wishes and kind words. I am truly inspired by you all and I sincerely appreciate your daily visits and valuable comments. Thank You!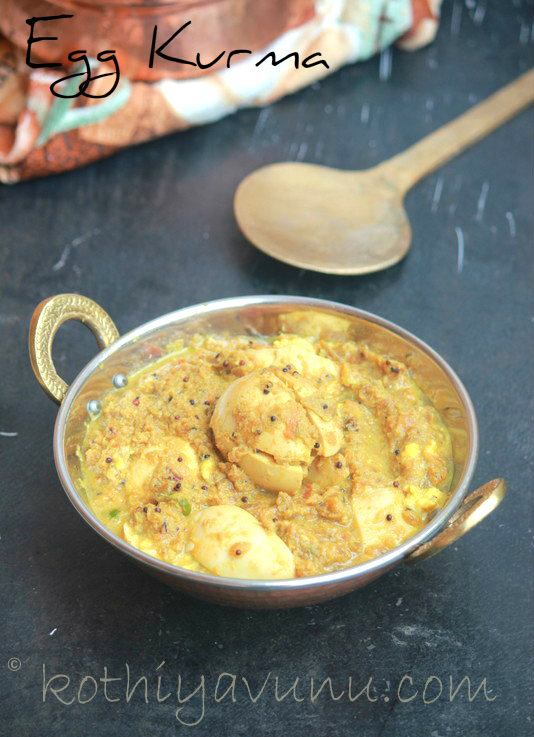 Well, Today I'm going to cut the crap of my usual blah blah stories and spare you some eye workouts. Straight to the point! This egg kurma is a classic or old fashion egg kurma, it may not be a very fancy recipe but it's definitely one of our favorite side dishes and it doesn't take much of your time either. Best of its kind in less work! You must try out this simple yet tasty egg kurma and let me know what you think! Enjoy!
Egg Kurma – Korma Recipe | Mutta Kurma Recipe – Kerala Style Egg Kurma
Preparation Time : 15 minutes
Cooking Time : 15-20 minutes
Serves : 4-6
Ingredients :
Hard Boiled Eggs : 6 (de shelled)
Onion : 1 large /1 1/2 cup (minced)
Tomato : 1 large /1 cup (finely chopped)
Red chilli powder : 1 tsp
Coriander powder : 1 tbsp
Garam Malasa : 1 tsp
Coriander leaves : 1/4 cup
Mint leaves : 1/4 cup
Curry leaves : few
To Temper :
Mustard Seeds : 1/4 tsp
Cinnamon : 1″ stick
Cloves : 3
Cardamom : 2
To Grind :
Grated coconut : 1/4 cup
Fennel seeds : 2 tsp
Poppy Seeds/Khus Khus /Couscous : 1 tsp
Garlic : 4-6 cloves
Ginger : 1″ piece
Cashewnut : 4 (optional)
How to make Egg – Mutta Kurma – Korma | Kerala Style Egg Kurma :
1. Grind the all the above listed ingredients "to grind" to fine paste and set it aside.
2. Heat a oil in pan, when its hot, splutter mustard seeds, add the cinnamon, cloves and cardamom and saute till the aroma rise, now add the sliced onion and statue till it turns to translucent and light brown in color.
3. Add the ground coconut masala paste and curry leaves; saute and cook till the raw smell of masala goes.
4. Now add red chilli powder, coriander powder and garam masala, and salt; saute for couple of mins.
5. Add the chopped tomatoes and sauté till the oil separates on the sides of the pan.
6. Add coriander leaves, mint leaves and give a stir. Add 1 cup of water,cover the pan and
allow to boil for 5 mins.
7. Add the boiled egg and let it boil for 3 mins. Remove from the fire and serve hot with steamed rice,
Appams
,
Noolappam /String Hopper
,
Kerala Parotta
,
Ney Pathiri,
Roti
, Puttu, or with
Indian Bread
…Enjoy!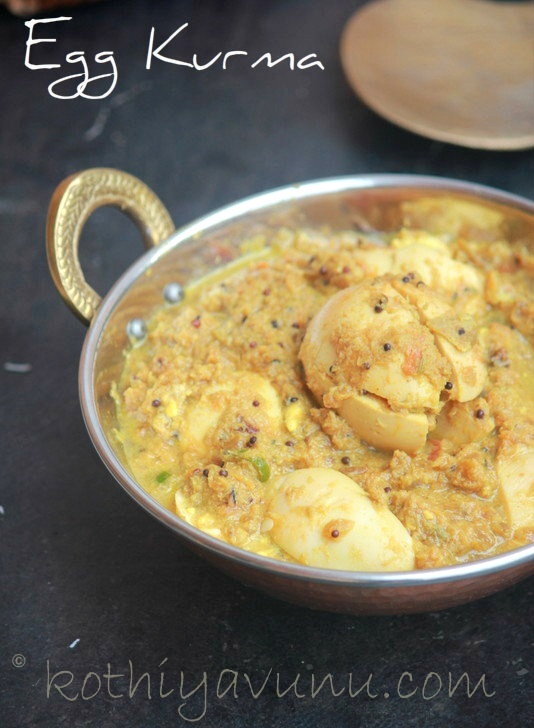 Related Posts :
Poached Egg Stew
Mutta Thenga Pal Curry /Egg in Coconut Milk Curry
Egg /Mutta Aviyal / Egg in Thick Coconut Paste
Egg /Mutta Curry
Have a great week ahead!
Sangeetha