This foodie is back in business 🙂 It's been almost a week since we moved into the new house. I am officially unpacking the kitchen boxes and it has been going well…I am in love with my new kitchen and this move certainly tested my patience and appetite.We were eating in hotels and store bought frozen food, salads abusively and my tongue was just dying for something homemade, anything would have been a feast but then, I was planning to make
Kappa Puzhukku /Mashed Tapioca
, for which I needed a fiery and tasty side dish and this is what triumphed.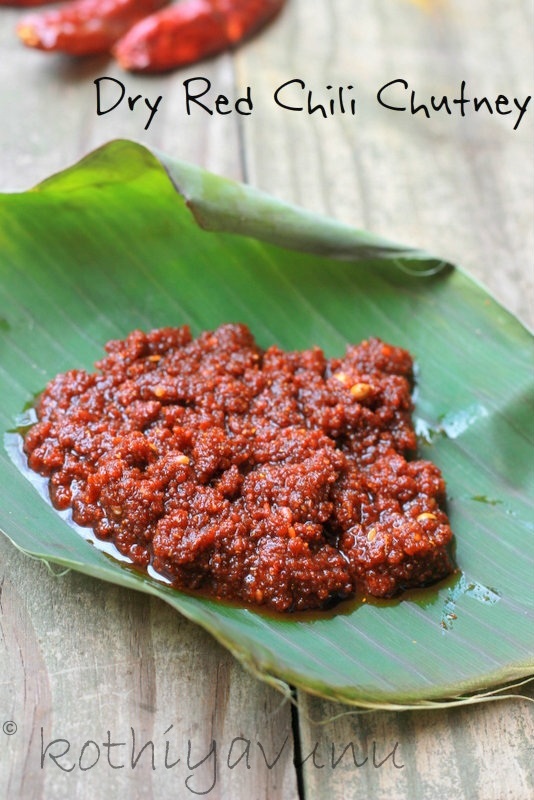 This is a very hot chutney. Add or reduce red chillies according to your taste. Optional – To bring down the heat, if you want can substitute red chilli powder with kashmiri chilli powder. It goes very well with Kappa Puzhungiyathu /Boiled Tapioca or with Idili /Dosa or with Rice greul /Kanji or as a relish with curd rice.
Today recipe is requested by Sonal Samson long back… I know I'm yet to post few recipe requests, but something kept me postponing…Sorry and thanks to all who requested for recipes and waiting so patiently. I will surely put up all your request in couple of week's time.So here you go Sonal Samson the recipe you request for…I know it's a long time since you requested. But I finally got around to making this. Hope all of you enjoy trying out this version and don't forget to give me your feedback 🙂 Enjoy!
Preparation Time : 5 minute
Cooking & Grinding Time : 5 minutes
Serves : 4
Ingredients :
Dry Red Chilies : 8 or substitute with Red Chilly Powder : 11/2 tsp (use it according to your torelance level.)
Red Small Onion /Shallots : 4-6 or Onion : 1/2 of 1 small (finely chopped)
Turmeric Powder : 1/4 tsp
Tamarind /Vaalan puli : a small sized ball (small gooseberry sized) or use Tamarind paste : 1/2 tsp or substitute with Vinegar : 1 tsp
Hot Water : 1 tbsp
Curry Leaves : few
Salt to taste
Oil : 2 tsp (preferably coconut oil)
How to make Mulaku Chammanthi – Dry Red Chilli Chutney :


1. In frying pan; pour little oil and roast dry chilies, chopped shallots or onions and saute for couple minutes until dark brown. (Note : Take care not to burn chilies.) Remove from heat, add the turmeric powder and allow to cool completely. If your using red chilli powder then add them after removing from the fire along with turmeric powder.
2. Grind roasted chilies and shallots to a coarse paste, without adding water.
3. Transfer the ground mixture into a bowl and mix tamarind paste or vinegar, hot water, salt, and oil and Let it stand for 5 minutes for the flavors to set in.
4. Serve it with Kappa Puzhungiyathu /Boiled Tapioca or Idili /Dosa or with
Rice greul /Kanji or as a relish with curd rice.Enjoy!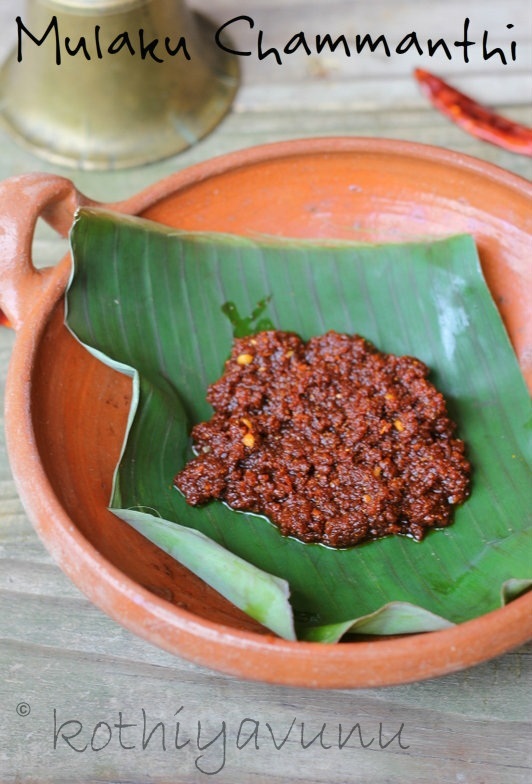 Have a Great Day!
Sangeetha