So yes, I've been missing in action ;( I am so sorry, my friends. I seriously want to catch up on everything. Hopefully I will be able to do that soon. Until then, I will share this simple and delicious Chena Mezhukkupuratti (aka) Upperi / Sauteed Elephant Foot Yam, which is healthy, simple and makes a yummy side with rice.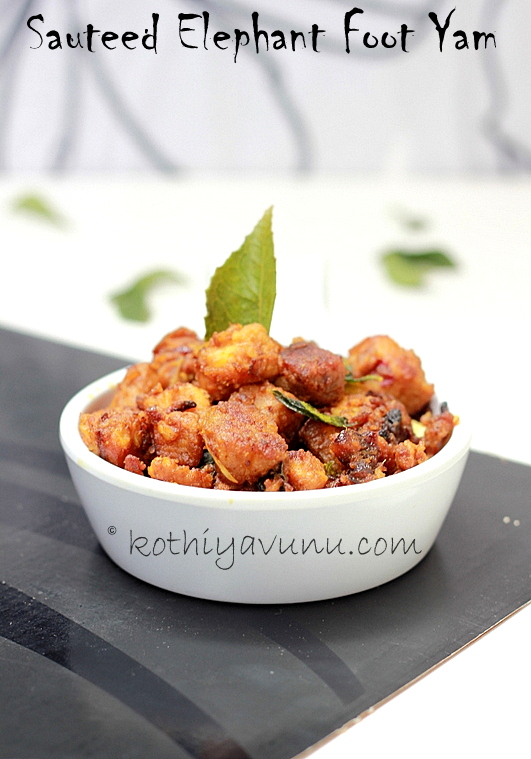 This is one of the veggies that I loved ever since I was a kid. This was one of the top recipes I got from my mom during my early learning stages of cooking. As always, I love my mom's cooking. But after my marriage I rarely cooked this veggie coz 'S' was never huge on Chena/Elephant Yam. I have always been a great fan of this veggie and to my surprise lately 'S' has joined me too. So last week, I made this and we all enjoyed it with curd rice. The best thing about this dish is that it doesn't have too many ingredients added to it, yet it tastes so delicious.
Hope you all will enjoy this simple classic dish as much as we do! Have a good day.:)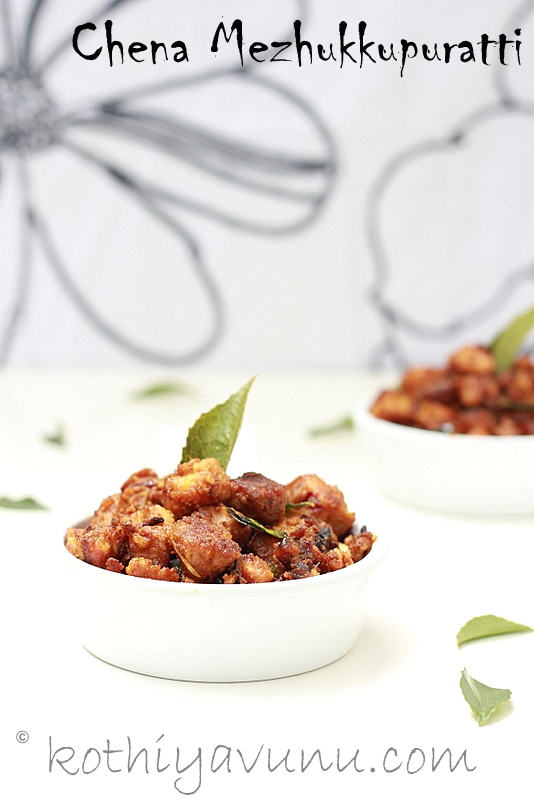 Chena Mezhukkupuratti Recipe – Chena Upperi Recipe – Sauteed Elephant Foot Yam Recipe
Preparation Time : 15 minutes
Cooking Time : 10 minutes
Serves : 2-3
Ingredients :
Chena /Elephant Yam : 1/2 lb /250 grams /(approx) 2 cups (cleaned and cut into 1 inch cubes)
Shallots/Small Red Onion: 10-15 nos /1/2-3/4 cup (sliced)
Garlic : 3 cloves /11/2 tsp (crushed)
Turmeric powder : 1/4 tsp
Red Chili Powder : 11/2 tsp or to your spice level
Perumjeerakam /Fennel powder : 1/4 tsp
Curry leaves : 1 sprig
Coconut Oil or Cooking Oil : 2 tbsp
Salt to taste
How to make Chena Mezhukkupuratti (aka) Upperi – Elephant Foot Yam Stir Fry :
1. Boil the cleaned chena/elephant yam with enough water and salt; keep it aside.Make sure that you do not over cook them.
2. Heat coconut oil in a wide pan. When its hot, add the sliced shallots, few curry leaves and saute until it turns to translucent and brown in color. Add crushed garlic and saute for couple of mintues.
3. Add the cooked chena/elephant yam and saute for a minutes, now add the turmeric powder, red chilly powder, fennel powder and combine well.
4. Add a little more oil and fry the chena/elephant yam on low flame for 5-8 minutes or until they are well-browned on the outside.
5. Add the remaining curry leaves and drizzle some more oil; gentle mix well and saute for 2 more minutes and remove from the fire.Serve with curd rice or rice of your choice & enjoy!
Notes :
You may adjust the spiciness by increasing or cutting down amount of chili powder according to your taste.
Using coconut oil enhance the authentic taste and flavor.
I prefer to use shallots instead of onions as it gives a great flavor to dish.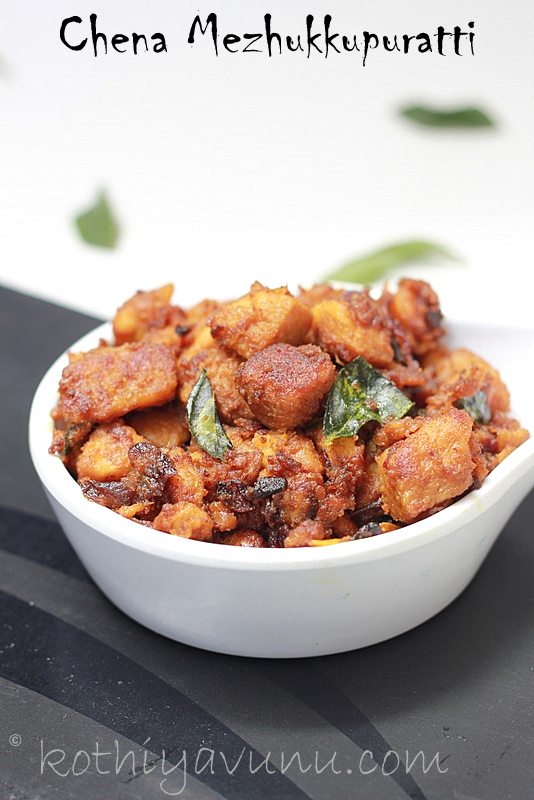 Related posts:
Urulakkizhangu Mezhukkupuratti (aka) Upperi /Spicy Potato Fry
Baby Potato Roast /Urulakkizhangu Roast
Have a Good Day!
Sangeetha