Did you all have a fun weekend? We did! travelling and meeting wonderful friends, all mingling, joking, and of course enjoyed great food. I am still walking around with a smile on my face.:) Being together with so many friends makes me so grateful. Hope you guys had fun weekend too.:)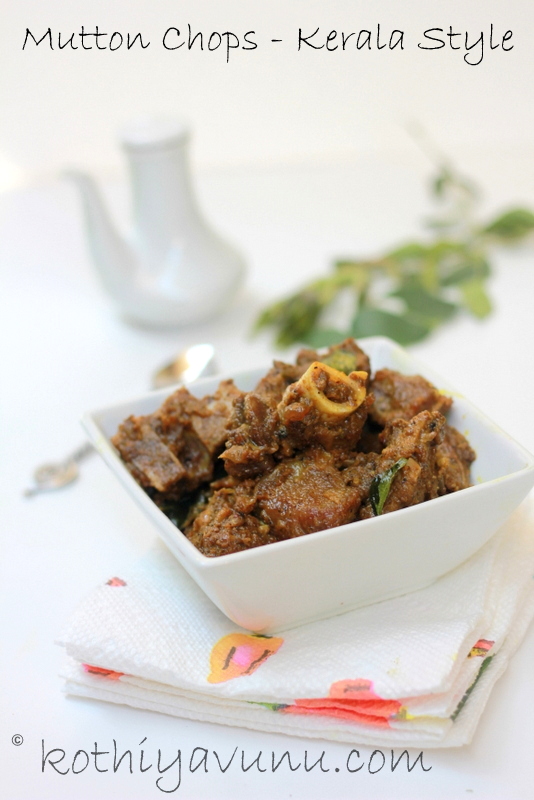 Stories apart, coming back to today's recipe. During last visit to Kerala, I bought few cookbooks.Yes, I love cookbooks; they're like treasure to me.Each book are tons of recipes just waiting to be tried.:)
This recipe is from Flavours of the Spice Coast by Mrs. K.M.Mathew. Though I started with the recipe on book, but ended with little different version to suit my family taste buds and I'm happy with the end result. I have tried this mutton chops so many times. The best part of this recipe, is the flavor of freshly grounded spices and it was well seasoned. It may be served as a thick curry by adding a bit more water or as a dry dish.It was easy, fairly quick, tasted wonderful and it is a quite spicy! So please feel free to adjust the spice level to suit your requirements.
I share only the best with you, because you deserve only the best ! This recipe is a definitely a keeper !…So go ahead and try this and enjoy it with some rice or
Chapati/Roti
…Enjoy!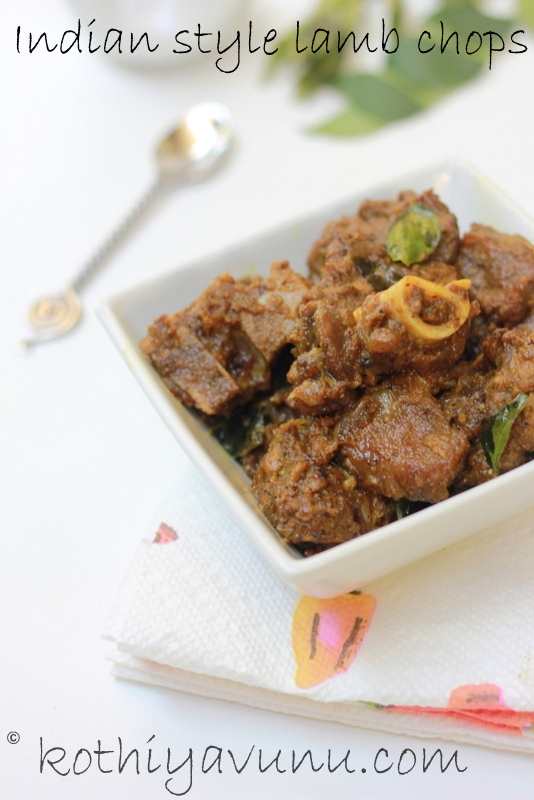 Mutton Chops Recipe – Kerala Style – Kerala Mutton Chops Recipe
Preparation Time : 15 minutes
Cooking Time : 30 minutes
Serves : 4
Ingredients :
Goat /Mutton (with bones) : 1.5 lb /3/4 kg (cut into large cubes)
Red Small Onion /Shallots : 25-30 nos /1 cup or Onion : 2 (medium) / 1 cup (thinly sliced)
Garlic : 4-5 cloves /1 tbsp (crushed)
Ginger : 1″ piece /1 tbsp (crushed)
Red Chili Powder : 1 tbsp or to your spice level
Whole Pepper Powder : 1 1/2 tbsp or to your spice level
Turmeric powder : 1/4 tsp
Lemon juice : 1 tbsp
Curry Leaves : 1 sprig
Coconut oil or Cooking oil : 1 1/2 tbsp
Hot Water : 1/2 – 1 cup (as needed)
Salt to taste
To roast and grind the Spice Powder:
Fennel seeds : 1 tsp
Cumin seeds : 1/2 tsp
Star anise: 1
Cardamom Pods : 4
Cinnamon : 1/2″ stick
Bay Leaves : 1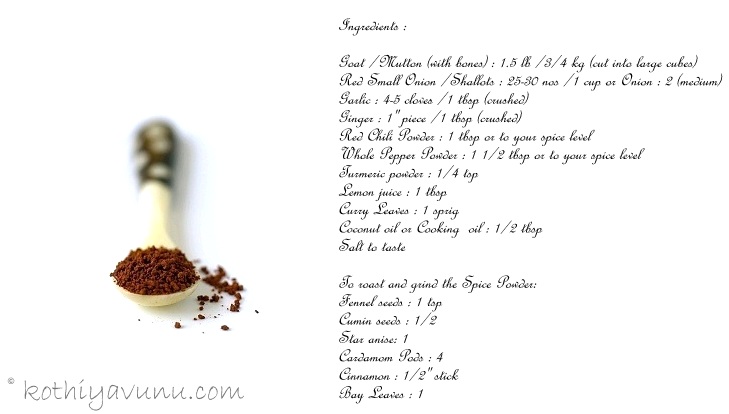 How to make Mutton Chops – Kerala Mutton Chops :
1. Wash and cut mutton in to large cubes, and place in a pressure cooker. Add 1/2 cup of hot water and salt to taste; cook for about 8 minutes after the first whistle (after it comes to full pressure) reduce the fire to medium and then switch of the flame and let it cool naturally. Alternatively, mutton can be cooked in a regular pan; In a pan; cover and cook the meat with 1 cup of hot water for about 20 to 30 minutes or till the mutton is soft.. This water will help cook the meat as well as ensure that it does not get charred. At the end of the cooking, there should be at least 1/2 cup of liquid remaining in the mutton.
2. Meantime in a small frying pan; lightly roast all the ingredients listed " To roast and grind the spice powder" and powder it using a mortar and pestle or coffee grinder till smooth.
3. While the mutton is getting cooked; heat 2 tbsp of oil in a kadai, add 1/2 of the grounded spice powder (leaving ½ behind for final sprinkling) and sauté for a minute. (Note : Make sure not to burn the spice, stir continously to avoid burning.) now add few curry leaves and the small red onions or onions till it turns to translucent and brown in color.
4. Add the crushed ginger paste and garlic paste and sauté for a few minutes.
5. Mix the chili powder, pepper powder and turmeric powder with a tbsp of water to make a paste. Add this paste to the pan and sauté for a few minutes till the whole mixture turns to dark brown colour.
6. At this stage, remove the cooked mutton pieces with a slotted spoon and add to the pan. Reserve the stock.
7. Mix well and keep sauteing till the mutton pieces are well coated with masala and becomes dry and starts taking a light blackish/dark brown colour.
8. Now pour the reserved stock (or add water if not enough stock) into the pan and mix well. When the gravy starts to thicken, add the remaining curry leaves, the rest of grounded spice powder and stir well . Continue cooking for another 5 minutes or till almost all the liquid is gone from the pan and the mutton pieces are well coated with the remaining gravy.
9. Add the lemon juice and mix well and immediately remove from the stove.The dish will get a darker shade once it rests.
10. Serve hot with chapati or with curd rice,
paratta
or any
roti varities
, etc…Enjoy!
Notes :
I recommend using small red onions for the more flavour and taste. Also if you prefer cooking typical Kerala style, use coconut oil
You may adjust the spiciness by increasing or cutting down amount of chilli powder and pepper powder.