Hello everyone, How are you all? Happy 4th of July to all readers in the USA 🙂 Have any big plans for the 4th of July?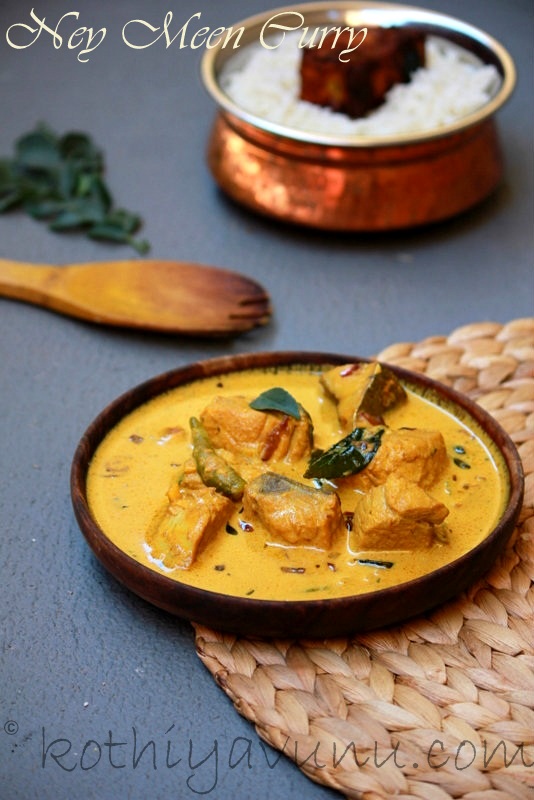 I wanted to share fish curry that I made a while ago. Yes you guessed it right, I have already shared with you the different version of
fish curry/meen curry recipe
. Here's another take on it and tastes delicious and very easy…Ok…I know i had declared my previous
Kerala Fish Curry /Meen curry
recipe to be the easiest ever. Trust me folks…this is equally easy and what I loved the most about this recipe is that it's bit tangy, mildly flavored and the texture of the gravy. So pleasing to the palate that it leaves a persisting desire to reserve yourself as soon as you finish it!
This particular dish was handed over to me by my cousin sister Simi. As I have mentioned before, she is an excellent cook. I have already shared few of her recipes in this space. She took part in a cookery show conducted by a Malayalam TV channel and this Seer Fish /Ney meen curry was one of her dishes which was appreciated by all. Every time I added seer fish to my shopping cart I would think I would give this recipe a try, but I always ended up making something else. Finally I tried out the recipe and I really enjoyed cooking it.These days, this dish has been a regular visitor on our table. We loved it so much. Follow the ingredients closely and the outcome will be really good. Do try and don't forget to pour your feedback…Enjoy!
Ney Meen Curry Recipe – Seer Fish Curry Recipe | Kerala Ney Meen-Seer Fish Curry
Preparation Time : 15 minutes
Cooking Time : 15-20 minutes
Serves : 4
Ingredients :
Seer Fish /Ney Meen : 1.1 lb /1/2 kg (cleaned & cut into medium pieces)
Ginger : 1tbps (crushed)
Green Chillies : 3-4 or to your spice level (slit lengthwise)
Tamarind pulp/Vaalan puli : a lemon sized ball or 1tsp tamarind paste
Shallots /Small Red Onions : 5
Curry leaves : 3 leaves
Cumin Seeds : 1/2 tsp
Thick Coconut Milk : 1 1/2 cup
To Grind :
Red Chilli Powder : 2 tbsp
Corainder Powder : 1 1/2 tbsp
Turmeric Powder : 1/2 tsp
To Temper :
Shallots /Small Red Onions : 5-6 (chopped)
Curry Leaves : 1 sprig
Coconut Oil : 1 tbsp
How to make Ney Meen Curry | Kerala Ney Meen-Seer Fish Curry :
1. Soak tamarind pulp in hot water. Squeeze out the extract (or) dilute the tamarind paste in 1/2 cup hot water and keep aside.
2. Grind the above listed ingredients 'To Grind' to paste using 1/4 cup of water and set it aside.
3. Crush coarsely the cumin seeds, small red onion/shallots and curry leaves in a motor and pestle or just pulse them 1 time everything together coarsely in a food processor or in a blender and set it aside.
4. Take a manchatti' an earthen pot or pan; add crushed ginger, green chillies, tamarind water and grounded spice paste, wipe out the leftover spice paste in the bowl by using 1-2 tbsp of water and add to the pan.
5. Now add the chopped seer fish, salt and mix everything well.
6. Switch on the flame and keep the pan or manchatti /earthen pot on medium-high heat; cover and cook for 10 minutes or until the fish is cooked.
7. Meanwhile add the coarsely crushed cumin-shallots-curry leaves paste into thick coconut milk and mix everything well.
8. Now open the lid and swirl the pan/earthen pot in such a way that everything is mixed well. (Note : Do not use a spoon to mix from this point, as it will break the fish pieces.)
9. Add the spiced coconut milk; swril the pan or meen chatti and cook at medium-low heat for 5 mins. (Note : Adjust the gravy according to your consistency.) Turn off the stove.
10. In a frying pan; heat coconut oil, add the chopped shallot/ small onions, curry leaves and saute till the small onions turns to golden brown. Remove from the fire and pour it over curry.
11. Keep the curry covered for at least 10-20 minutes before serving so that the gravy absorbs all flavors…Serve with piping hot plain boiled rice or with Appam, Puttu and Enjoy!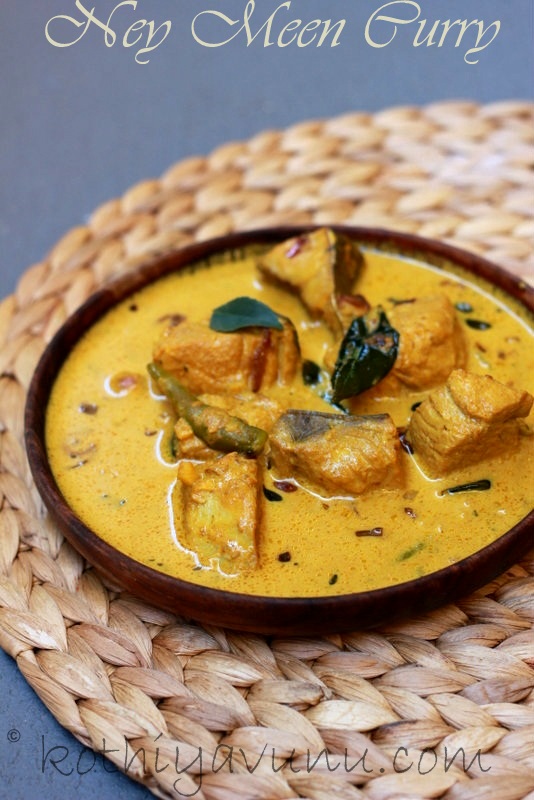 Related Posts :
Varutha Ayala Curry /Fried Mackerel Curry/Ayala Curry
Kerala Fish Curry
Meen Manga Curry /Fish Mango Curry
Meen Vevichathu /Kottayam Style Fish Curry/Spicy Fish Curry
Varutharacha Meen Muringakka Pacha Manga Curry /Fish with Raw Mango & Drumstick in Roasted Coconut
Fish Molee /Meen Molee /Kerala Style Fish Stew with Coconut Milk
Nadan Mathi Chaala Curry /Kerala Sardiness Curry
Meen Thengapal Curry /Fish Coconut Milk Curry
Until next time, Bon Appetit,
Sangeetha