Oh Yeah! Its been so long, since I baked some desserts, cos of the healthy diet regime.The other day my lil peanut longed for something chocolately, but didn't feel like baking
regular chocolate cake
, coz if I bake, I eat all of it. As I've said before, I've been trying to curb those cravings 🙂 but this time letting myself splurge a little bit. I turned to these Nutella Mug Cake.
This recipe is one that has been circulating the blogosphere for quite a while now. I have read many, many raves about this particular recipe on the message board frequently, so I finally gave it a shot. So easy,quick and absolutely yummy! It took about 2 mins to make the batter, then pop in the microwave for another 1.5 mins and best of all this recipe does not require any fancy equipment just whip, microwave and enjoy! It's the perfect portion if you are trying to watch what you eat.
It's fantastic plain, but you could put a scoop of ice cream on top,whipped cream, fresh fruit, etc to spice it up. Try this fool proof quick, yummy gooey gooey mug cake in no time…Enjoy!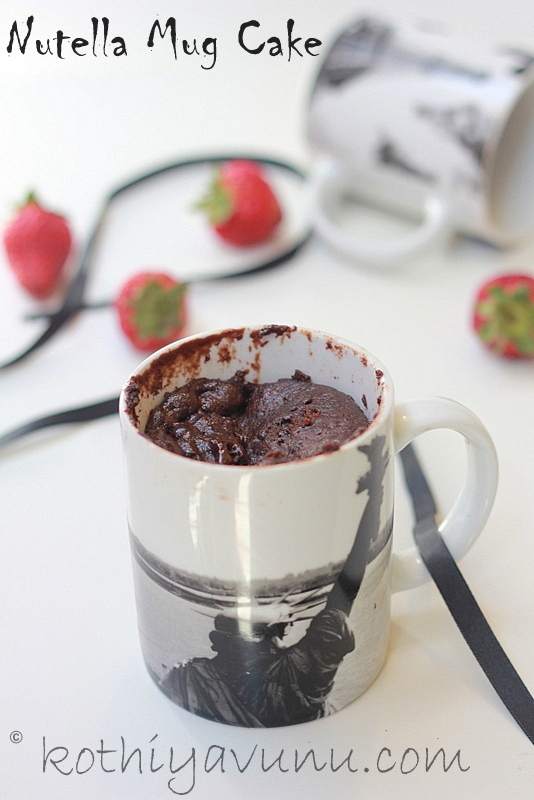 Recipe for Nutella Mug Cake /Nutella Lava Mug Cake
Preparation Time : 2 minutes
Cooking Time : 11/2 to 3 minutes
Serves : 2 (depending on size of the mugs)
Adapted from :
here
Ingredients :
Self Rising Flour : 4 tbsp
Granulated sugar : 4 tbsp
Egg : 1
Unsweetened cocoa powder : 3 tbsp sifted 
(I used Hershey's cocoa powder)
Nutella : 3 tbsp
Milk : 3 tbsp
Olive oil or Vegetable oil : 3 tbsp (I used Olive oil)
For Whipped Cream Topping (Optional):
Heavy cream :
½ cup
Sugar : 1tbsp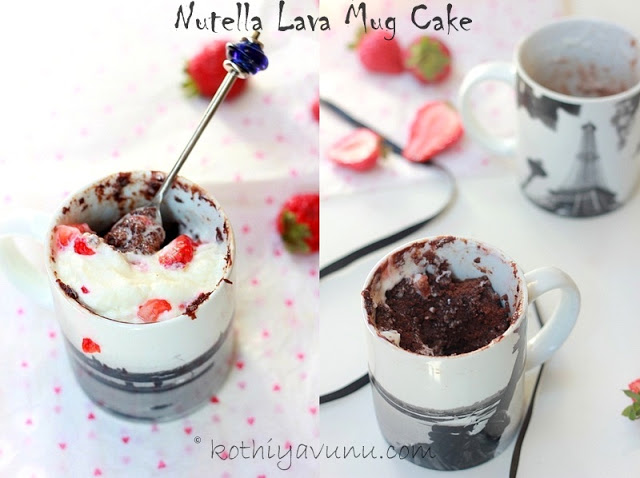 How to make Nutella Mug Cake – 5 minute Nutella Mug Cake :
1. Combine all ingredients in a bowl and whisk well with a fork until smooth but be careful as to not overmix else you will get a rubbery, tough texture.
2. Divide the batter between 2 medium mugs or into one large mug. (Note : Just fill mugs up to 3/4, if not the cake will overflow when it rises.)
3. Microwave on high for 1 1/2 – 3 minutes. (Note : Time depends on microwave wattage. so you will have to figure out how long you want to microwave. For me the cake is done after 1 min 30 sec.
To Make Whipped Cream Topping :
1. Add heavy cream to the bowl of a stand mixer fitted with a whisk attachment or with electric hand mixer and whip on medium-high speed until almost stiff.
2. Add sugar and beat until heavy cream forms stiff peaks.
Top Mug Cakes with scoop of ice cream or with whipped cream and fresh fruit, or with little chocolate sauce, if desired.
Grab a spoon and gobble it up!
Notes:
Cooking time may vary depending on the wattage of microwave so adjust the timing accordingly.
If your cake comes out dry and rubbery, its been in the microwave for too long or you mixed it too much.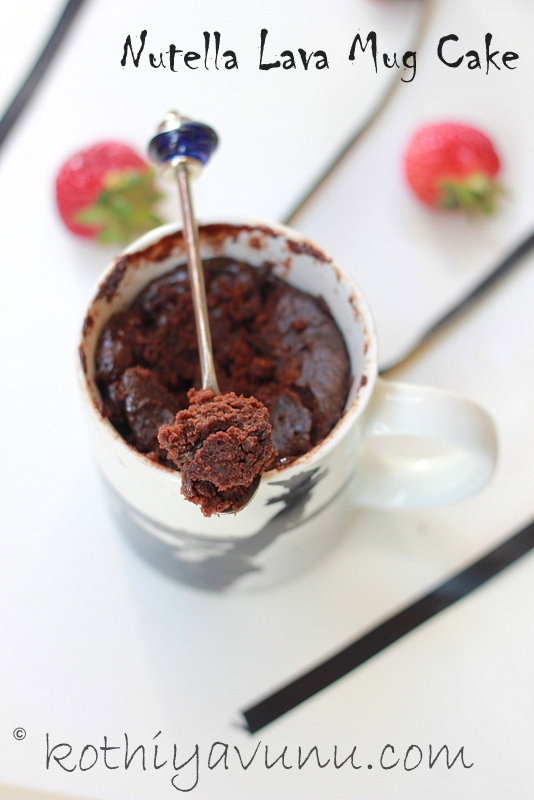 Related Posts :
Nutella Chocolate Vanilla Panna Cotta
Microwave Chocolate Cake
Have a lovely weekend ahead

Sangeetha