Well, well, it's two week since my last blog update! What can I say? finally the summer vacation is over ;( and my cuties back to new school and as for me, I'm in my high spirits today and hope the same for you all too! 🙂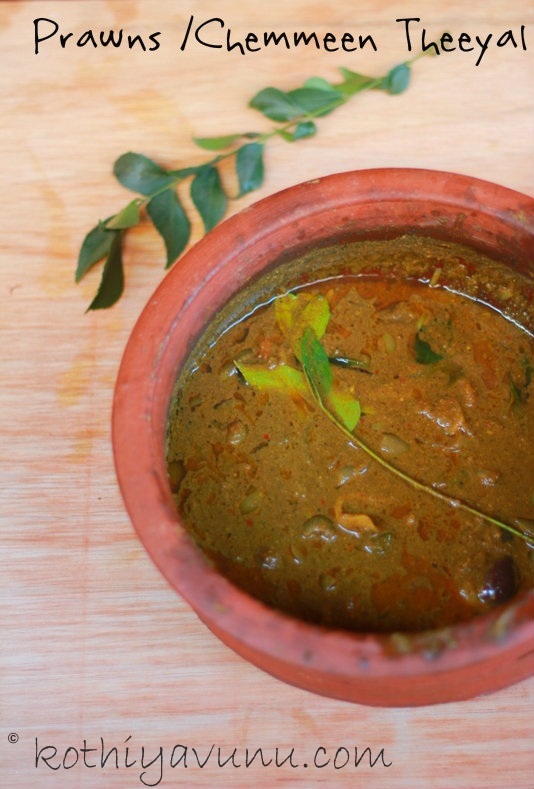 Now, how I came to try this recipe … I always believe that the most challenging task for any home maker would be deciding on the day to day menu…Believe me, I start thinking the previous day what to cook for next day! On one such confused day, I started skimming through my mom's old collections of recipes and ended up making this.
Theeyal is yet another famous delicacy in Kerala cuisine, it's basically roasted coconut gravy with different kinds of veggies. I have already shared few
theeyal recipes
here, but today it's a mixture of prawns/shrimp /chemmeen and shallots /kunjulli in fried coconut with slightly thick gravy that is simply delicious with just plain rice and pappadam / pappad. This curry also pairs well with
dosa
,
appam
,
puttu
and pathiri too. So why do you want to wait friends do give it a try and Enjoy!


Recipe for Chemmeen Ulli Theeyal Recipe – Ulli Konju Theeyal Recipe – Prawns and Shallots in Roasted Coconut Gravy
Preparation Time : 20 minutes
Cooking Time : 20 minutes
Serves : 4-6
Ingredients :
Prawns /Shrimp /Chemmeen /Konju : 1/2 kg /1.1 lb (cleaned and deveined)
Shallots / Small Red Onions /Kunjulli : 250 grms /1 cup /25-30 nos (thinly sliced)
Tamarind pulp /Vaalan puli : a goose berry sized ball (soaked in the water) or Tamarind Paste : 1 tsp or according to your taste
Asafoetida : a pinch
Fenugreek Powder : a pinch
Sugar : a pinch (optional)
Curry Leaves : 1 sprig
Dry red chilies : 2 nos
Coconut oil /Cooking Oil : 1 tbsp + 1 tsp for tempering
Salt to taste
For Roasting and grinding:
Grated Coconut : 1 cup
Shallots : 4-6
Turmeric Powder : 1 tsp
Red chili Powder : 3 tsp (adjust according to your tolerance)
Coriander Powder : 2 tsp
Fennel seeds /Perumjeerakam : 1/2 tsp
Whole Black Pepper : 1/2 tsp
Whole dry chilies : 2 nos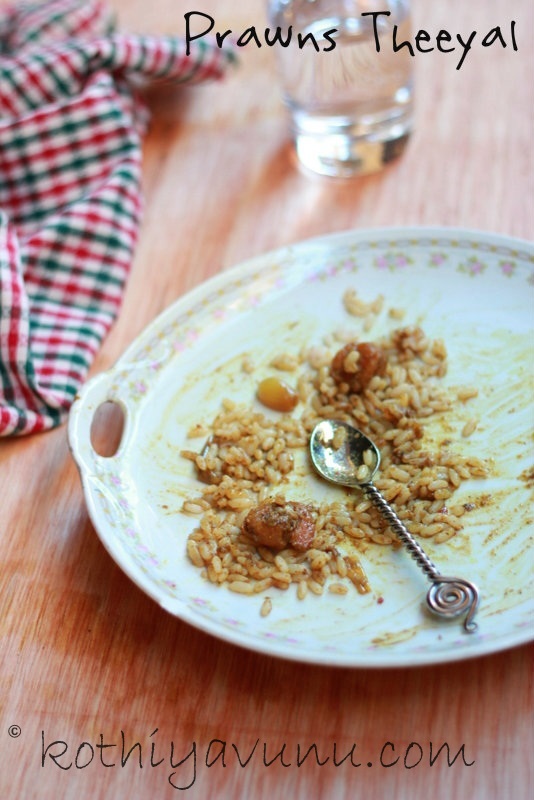 How to make Chemmeen Ulli Theeyal Recipe – Prawns Shallots in Roasted Coconut Gravy Recipe:
1. In the pan, add the cleaned prawns, turmeric powder, salt along with 1/2 cup of water and cook till the prawns is half done. It takes only 2-3 minutes.
2. Meanwhile in a heavy bottom skillet, add grated coconut along with fennel and black pepper. Roast till it reaches golden brownish color. Now add dry red chilies and simmer the flame.
3. Add all spice powders one by one and dry roast it till the raw smell goes and dark in color. (Note : Take care not to burn the spices while roasting.)
4. Let this mixture cool and then grind it to a fine paste using little water.
5. In a manchatti or in a pan (preferably manchatti) , add 1 tbsp of coconut oil; add and saute the sliced shallots, curry leaves till it reaches light golden color.
6. Add asafoetida, salt and fenugreek powder into it and saute for a while.
7. Add tamarind extract into it and allow it to boil for 4-5 minutes by stirring occasionally. (
Note :
Add 1/2 cup of water if needed)
8. To this add half cooked prawns, and the roasted ground paste and sugar into it; adjust the salt and simmer for further 3-4 minutes or till the gravy thickens to a curry consistency. (
Note :
You can see oil starts floating in the top.)
9. Heat the coconut oil in small frying pan and add curry leaves and dry chillies, saute for a second and pour the spice-infused oil over the curry.
10. Remove from the fire and cover it; allow it to stand for 10-20 minutes before serving. (
Note :
This will help the dish to absorb the flavor of curry leaves and coconut oil.)
11. Serve hot with steamed rice, pappadam or with
dosa
,
appam
,
puttu
and Enjoy!
Notes :
The curry tastes better if you are having on the next day, don't refrigerate. Just leave it in counter top and slightly reheat it and keep overnight. its taste more yummy!
Prawns require very little cooking time. Do not overcook as the prawns will get rubbery in texture,so be very mindful of the cooking time when making prawns.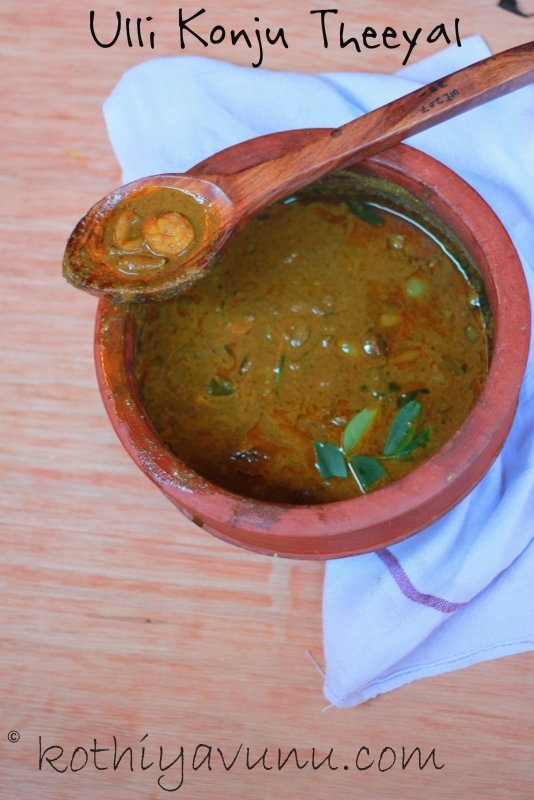 Related Posts :
Try this…Hope you will all enjoy, but don't forget to share your feedback!
Happy Cooking!
Sangeetha