Revisiting old recipe with new Pictures!
Onam is almost here! What Plans for this Onam ? I am sure you all have strated prepration for grand sadya. In this joyful festival, I wish you all a very Happy Onam! We haven't planned any lavish celebration, I do intend to cook a mini-sadya. so started make-ahead Onasadya recipe…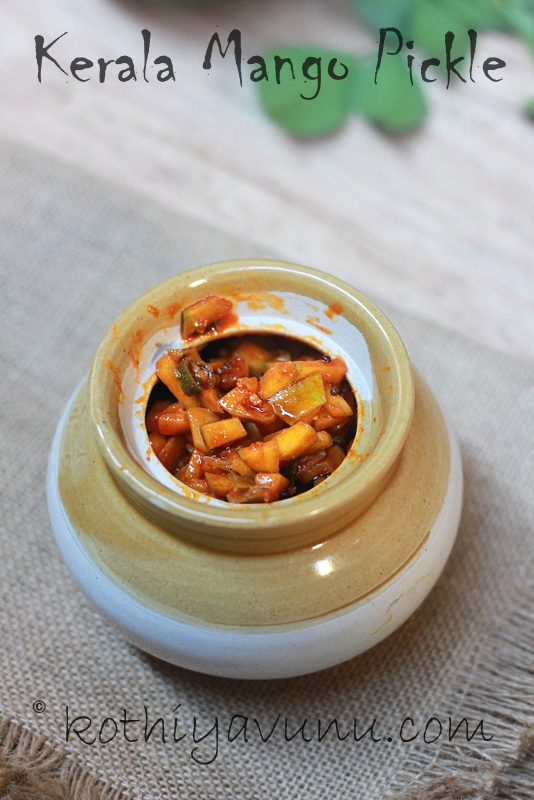 So here comes one the very popular and a must for sadya Kadumanga acha /Instant Mango Pickle…Yes I originally posted this recipe in 2008 and the old photo is still in regular rotation in the banner…I'm re-posting this recipe today with more appealing pics.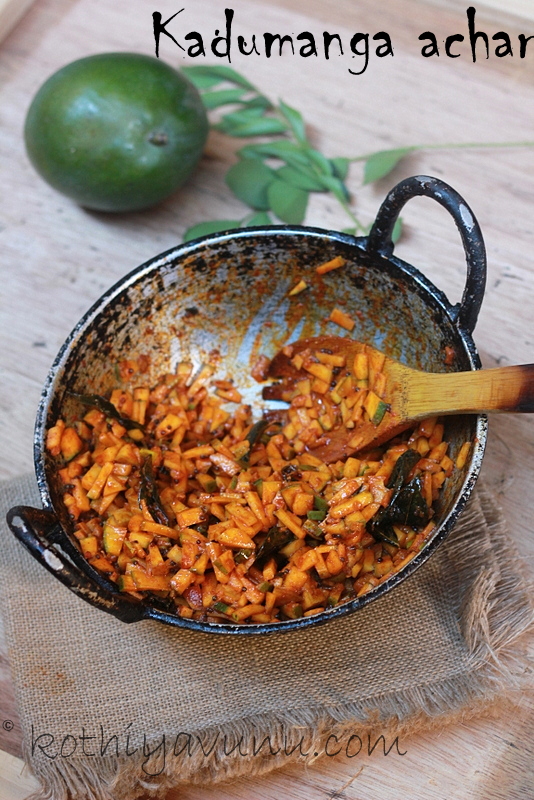 Pickles are a delicacy that is eaten in almost all parts of the world. There are countless versions of mango pickle in India with each region having its own host of recipes.Their spicy and tangy taste is liked by all and hence it is such a famous dish.This one is from Kerala (south India), which I learned from my grandma /ammuamma. This Fresh Mango Pickle is called Kadumanga Achar or Manga achar or Uppillittuthu in malayalam…Try this simplest, easy mango pickle and let me know how it turned out buddies 🙂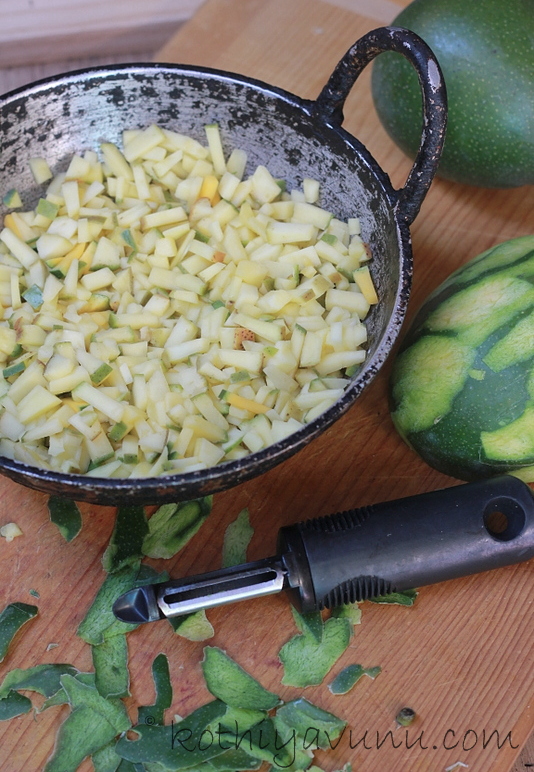 Manga Achar Recipe – Mango Pickle Recipe – Kerala Mango Pickle Recipe – Instant Mango Pickle Recipe
Preparation Time : 10 minutes +6-8 hrs for soaking the mangoes
Cooking time : 5 minutes
Serves : 1 medium bottle
Ingredients :
Raw Mango : 2 cups /1 large sized (lightly pared and diced small)
Ginger : 1 tbsp (finely chopped)
Garlic :1 tbsp (finely chopped)
Green chilly : 2-3 nos
Curry leaves : 1 string
Mustard Seeds : 1 tbsp
Water : 1 cup
Red Chilly powder : 4 tbsp or to ur spice level
Turmeric powder : 1 tsp
Asafoetida powder : 1/4 tsp
Fenugreek powder : 1/4 tsp
Gingelly Oil : 3 tbsp
Optional – Vinegar : 1 tbsp or adjust to your taste
Salt to taste
How to make Manga Achar – Kadumanga Achar | Mango Pickle :
1. Using a peeler, slightly pare the dark green skin of mango without peeling the skin completely and cut the mango into small pieces.
2. Add salt in to the pieces, mix well and set aside for 6-8 hours, preferably overnight. (Note : By doing this step, it dehydrates them slightly, so that the mango pieces retain their crispness when pickled.)
3. On the following day heat oil in a kadai, splutter mustard seeds and curry leaves.
4. Reduce the fire to low and add finely chopped ginger ,garlic and green chilly, saute till the raw smell goes.
5. Add red chilly powder, turmeric powder, asafoetida powder and fenugreek powder and saute for couple of minutes.
6. Add salt and pour in water and bring to boil over low heat untill it is fairly thick.
7. Remove from the heat, add mango pieces and mix well. Taste and add salt if needed.
8.Optional – If the mangoes are sour; then if needed add vingear. Let it cool.
9. Transfer it to parani (porcelain jar) or glass bottle…Goes well with Curd rice or Kanji or any other bland preparation.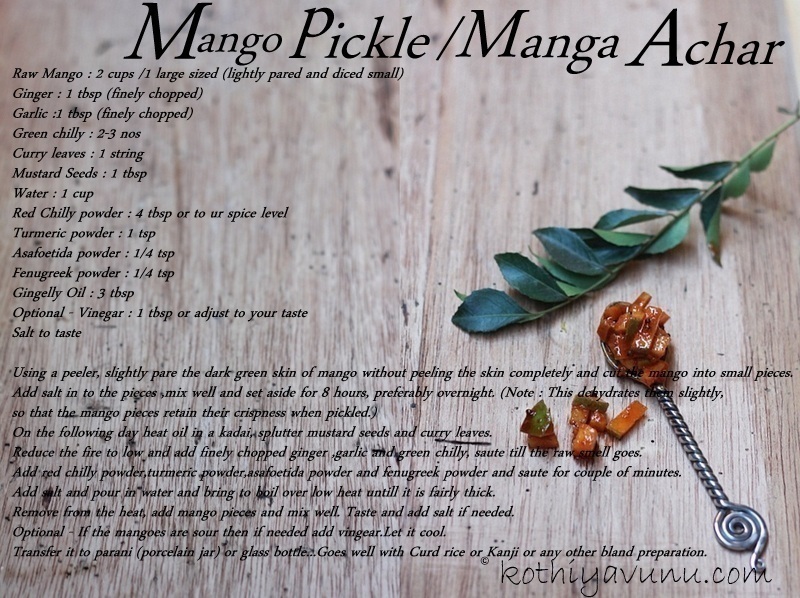 Notes :
Cautious not to get the pickle in contact with water…Use only clean dry spoon to scoop the pickle from the jar. Do not use wet spoon which adds moisture and the pickle very easily get "fungus" and that spoils the whole pickle.
If you wish you can add any other oil, using sesame oil gives authentic & special flavor to the pickle and it helps pickle stay longer.
If the oil seems to less add boiled and cooled oil to the top of the pickle..This will prevent fungus.
Add or reduce the chilly powder to the pickle. If you adding more chilly powder then roast and cool it before adding and mix well. It wont be spicy since the sourness of the mangoes will compensate its heat.
Kashmiri chilly gives you pickle deep red color and its less spicy; the opposite applies to its regular counterpart.
Buy firm mangoes that are sour in taste.
Avoid using steel container for storing..Always store in dry ceramic jar /bharani or a glass jar and please note to clean the bottle and caps you planning to use for pickle with hot water and wipe and dry well without any water content.