Hi friends, Did you have a good weekend? I had a busy but lovely weekend 🙂 So today it's time for another simple yet healthy delicious post and I really hope you like today's recipe.
On our regular Indian grocery shopping, we saw Muringayila /Drumstick leaves waiting to be picked 🙂 And yes, I was too excited when I saw muringa ila /drumstick leaves, sitting in the corner isle of the stores…no time it went straight into my shopping cart 🙂 since that can wash away my homesickness.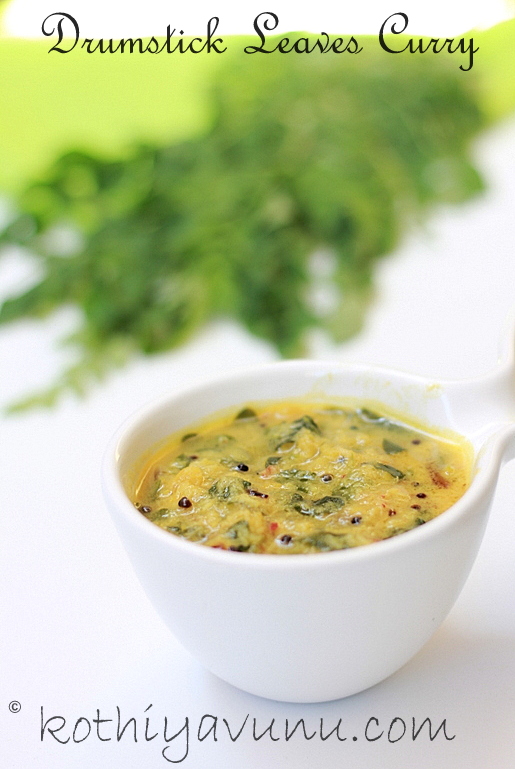 The drumstick tree is a common sight in the backyards of homes in South India. Almost all parts of the drumstick tree have medicinal value. This wonder small, round leaves has lots of health benefits, it serves as a excellent source of Iron, potassium, protein, vitamins, and calcium; all of which are very important for all age group, especially best for the growth of growing children.
Muringayila Curry /Drumstick Leaves Curry always awakens fond memories from my childhood days.I guess most of us love this simple, yet delicious dish and to me and my family, it's one of favorite curry.This recipe is very simple to make, but the leaves have to be plucked without the stems, which is time consuming …though its quite a labor intensive process, believe me it's taste divine 🙂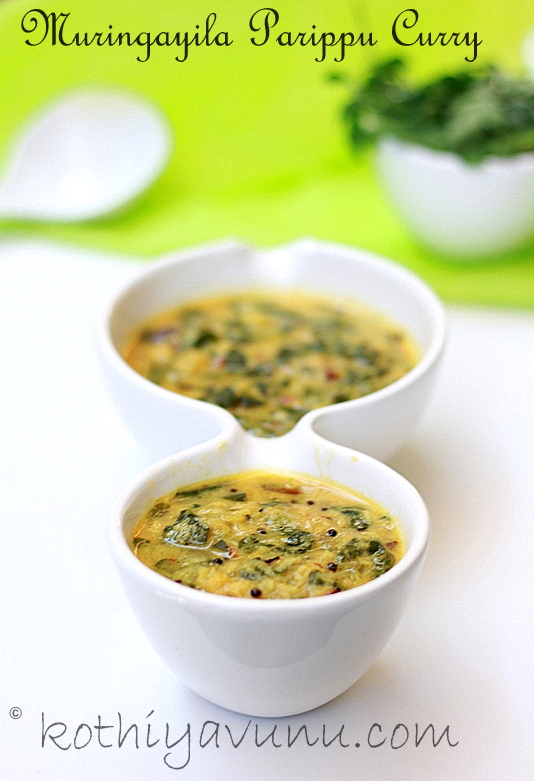 After two long years, I'm tasting this dish and I have to say, it was lip-smacking good, light, delectable, healthy and yum! This curry, with a dollop of ghee in hot rice along with lemon pickle makes a lip smacking combination.
Hope you all will enjoy this simple dish as much as we did 🙂


Muringayila /Muringya Ila Parippu Curry Recipe – Drumstick Leaves Curry Recipe

Preparation Time : 40 minutes
Cooking Time : 15 minutes
Serves : 4-6
Ingredients :

Drumstick Leaves : 2 cups
Toor Dal : 1/2 cup
Green Chilies : 2 nos (or as per your spice level)Red Chili Powder : 1 tsp (or as per your spice level)
Turmeric Powder : 1/2 tsp
Salt to taste
For Grinding :
Coconut Grated : 1 cup
Cumin Seeds : 1/2 tsp
Shallots /Red Small Onion : 2-4 nos
Dried Red Chillies : 2 (or as per your spice level)
Garlic : 1 clove
For Tempering :
Mustard Seeds : 1/2 tsp
Shallots /Red Small Onion : 8-10 (very thinly sliced)
Curry leaves : few
Coconut Oil : 1 tbsp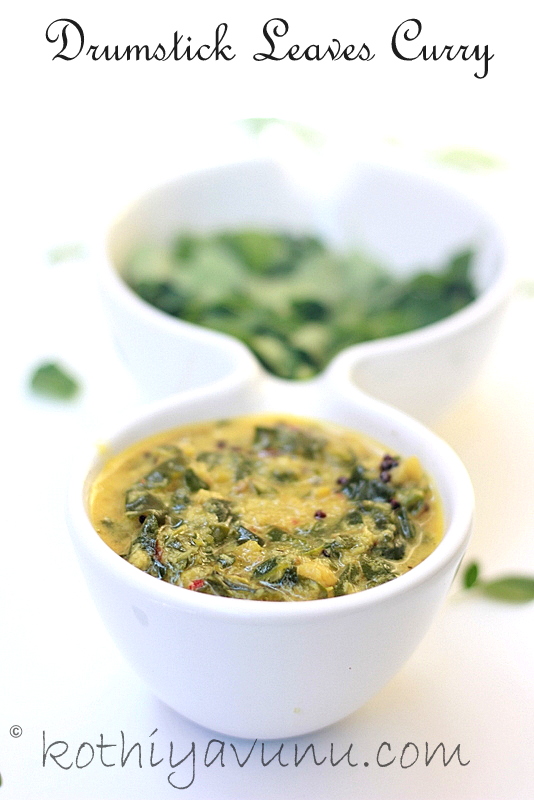 How to make Muringayila Parippu Curry Recipe – Drumstick Leaves Curry with Toor Dal :


1. Pressure cook toor daal,when its done; remove from the fire and settle down the pressure and mash the dal and keep aside.
2. Clean the drumstick leaves by removing the leaves from the stem and discarding the yellow leaves. Wash couple of times and allow it to drain (Note : Take care not to have any bits of the stem.)
3. In a pan; cook the drumstick leaves with the slit green chilies, turmeric, chili powder and salt in 1 1/2 cup water for about 10 minutes over medium heat.
4. Meanwhile grind the ingredients listed above 'For Grinding' into smooth paste and set it aside.
5. Add the cooked and mashed toor daal into it and bring to a boil.
6. Add the grounded coconut paste to the cooked drumstick leaves-dal mixture; mix well and allow to boil, adjust the salt and
7. Heat the coconut oil in a pan, Splutter mustard seeds, add the sliced shallots /red small onions and fry the shallots till light brown and then add the curry leaves. Pour the seasoning to the curry and mix well.
8. Yummy Muringayila /Drumstick leaves curry is ready. Serve with hot rice and pour drop of ghee on top & enjoy!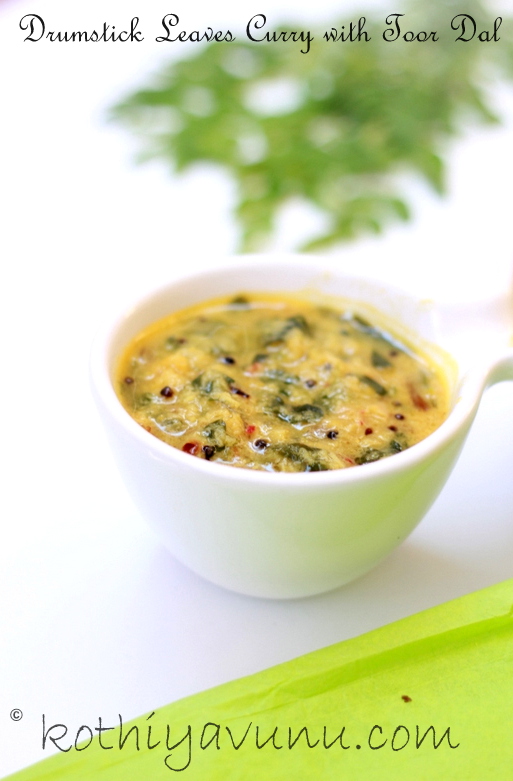 Notes :
If you wish, you can cook this curry without Toor dal.
Using coconut oil enhance the authentic taste and flavor.
Try this…Hope you will all enjoy, but don't forget to share your feedback!
Happy Cooking!
Sangeetha