In the mood for Snack? I have a super easy, crisp and delicious snack recipe today. Check!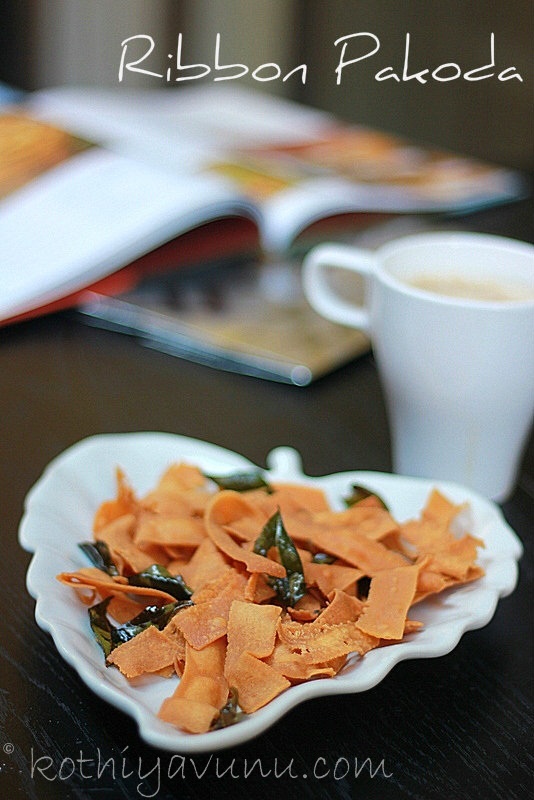 If your been here for while now, you know I often use to talk about food in regards to childhood memories. I'm adding one more thing onto my list of things that make me think of my childhood – this Ribbon Pakoda Snack. Growing up, we had a rotation of snack recipes that my mom would make for evening snack. One of those snacks and one of my sis favorite's was this savory Kerala Pakkavada snack.
I could still remember those wonderful days…My sis and I after coming from the school, we would run straight to kitchen and explore for the snacks…I guess you can imagine how hungry one is coming back from school? Yes, like all other mom's do, my mom too know our 'hunger calls'…. So to stuff our hungry stomachs my mother used to make a lot of snacks that can be stored for a long time…to name few
Pappada Vada
,
Karasev
, Ola Pakkavado, Mixtures, list goes on…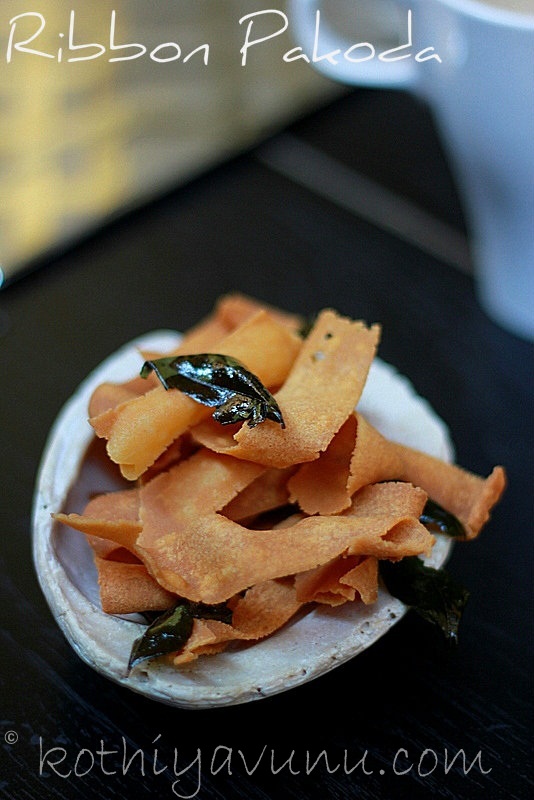 My sis is very slow eater whereas myself will finish everything in seconds and will try to grab her share..gee:) Crazy me! I use to fight for silly little things, and it was the best thing I ever did to her, but now I miss her very much ;( Those were days! So I am dedicating today's post to her…Chechi this is for you, I hope your reading this 🙂 …
My ramblings apart, the dish I present today is Ribbon Pakoda one of the very famous South Indian snack and it goes by different names in Kerala, like Ola Pakoda/Pakkavada, Ribbon Pakoda,Tape Pakkavada or Kerala Pakkavada. This crispy, crunchy, spicy snack is made of rice flour, gram flour, chilly powder, asafoetida, and salt. Trust me! It is very tasty with little heat and spice on it. Don't let the heat scare you; it's not burn your mouth hot, but it leaves a hint of heat in the back of your mouth, and it will keep you coming back for more and more! It is super quick to make – you can have it on the table for snack time! Give it a try, let me know what you think! Enjoy!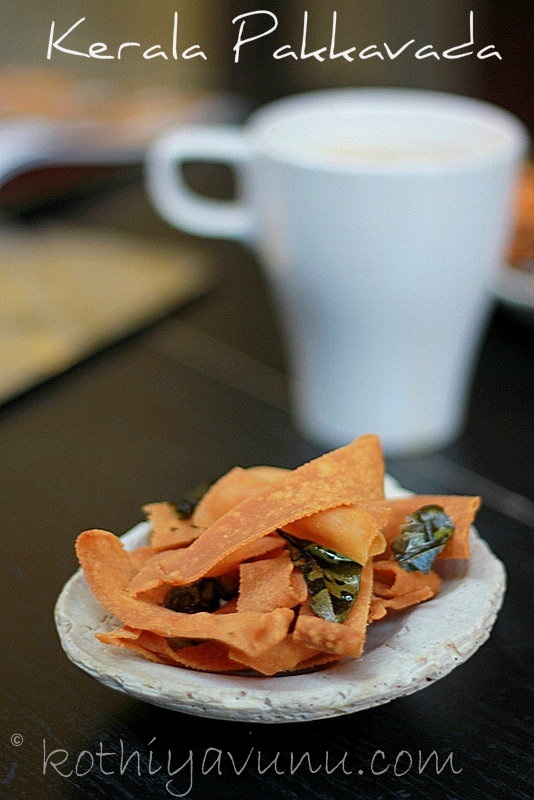 Ribbon Pakoda Recipe – Ola Pakkavada Recipe – Kerala Pakkavada Recipe


Ingredients:
Roasted Rice flour : 1 cup
Besan/Gram flour : 2 cup
Red chilli powder : 1 1/2 tsp or to your spice level
Asafoetida : 1/2 tsp
Melted Butter : 1 1/2 Tbsp
Curry leaves fried for garnishing
Water : 11/2 cup (approx)
Oil for frying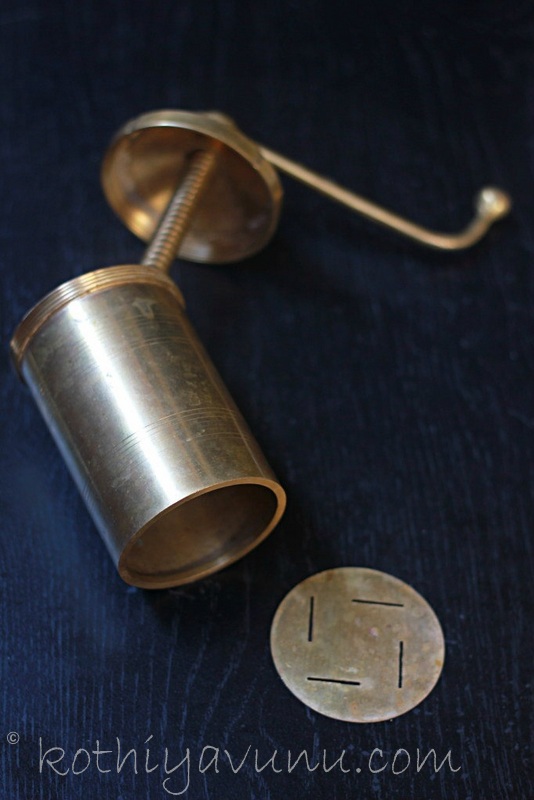 How to make Ribbon Pakoda – Ola Pakkavada – Kerala Pakkavada :
1. In a mixing bowl, sift and add the rice flour, gram flour/besan, salt and red chilly powder. Mix well and drizzle melted butter.
2. Combine well and knead this into smooth dough by adding water little by little. (
Note :
It may stick to your hands at first but the butter will help to get smooth dough as you progress with kneading. The consistency that is little bit looser than chappathi dough.) Set aside.
3. Meanwhile heat oil in a deep frying pan. When hot check by adding a piece of the dough, if it comes to the surface promptly, oil is hot enough.
4. Fill the seva/idiyappam mould with the dough after putting the narrow slit disc/ pakkavada/ribbon pakoda disc in it.(picture shown above)
5. Press the the dough to hot oil in circular motion, Fry until, it gets a golden color and drain the excess oil onto a colander or paper towel and let cool completely.
7. Just before switch off the heat, slowly slide in some curry leaves into the hot oil, Caution : it will splutter so close the pan immediately with a lid till all the splutters end. Drain them too and mix with the pakkavada.
8. Serve and enjoy with hot cup of tea in the evening or store in airtight containers and Enjoy!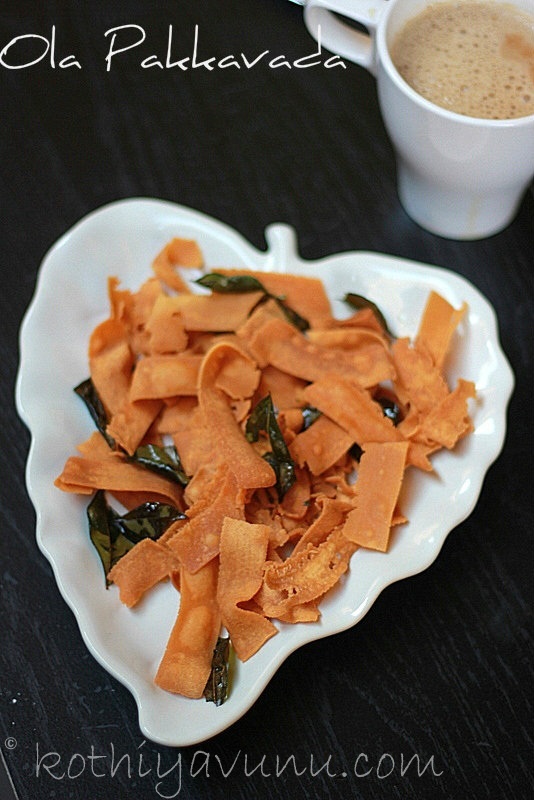 Related Posts:
Pappada Vada /Pappad Fritters /Crispy Lentil Flatbread Fritters
Karasev
Omapodi /Sev
Nurukku Upperi /Quartered Banana Chips -Kerala Sadya Style
Happy Cooking!
Sangeetha