How are you all? I have been having a bit of a blogging block lately. I think I got used to too much of lethargic lazy days; rest, lethargy, get-together's, fun,outings, etc… just haven't been able to post anything for some reason or the other…lazy me! 😉 So what's news with you all?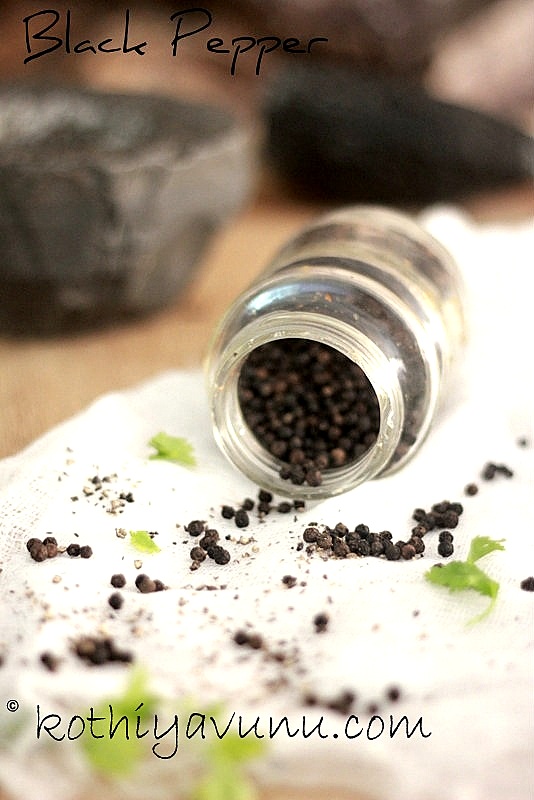 My affair with the apron & knife began after my marriage and I guess there are plenty out there like me. I never bothered to peek into kitchen those days when my mom used to cook for us. Even making coffee was a huge task for me and needless to say everyday cooking was a challenge. All changed slowly and steadily and from then on there was no looking back.:)
The dish I present today is Kerala style chicken pepper fry, which is 'S' one of favorite dish and this is one dish, I used to make often in my earlier days of cookings, coz I'm sure this recipe never fails for me 🙂 He is a great fan of Black Pepper and he just love any dish with black pepper. I have already shared some fail proof recipe like
Pepper Chicken with Gravy
,
Chettinad Pepper Chicken
,
Cashew Pepper Chicken
some time back, which is some of the most popular posts on this blog. Here's another take on it… Do give it a try. You are going to love this rich flavorful curry and Trust me folks you will never go wrong with this recipe …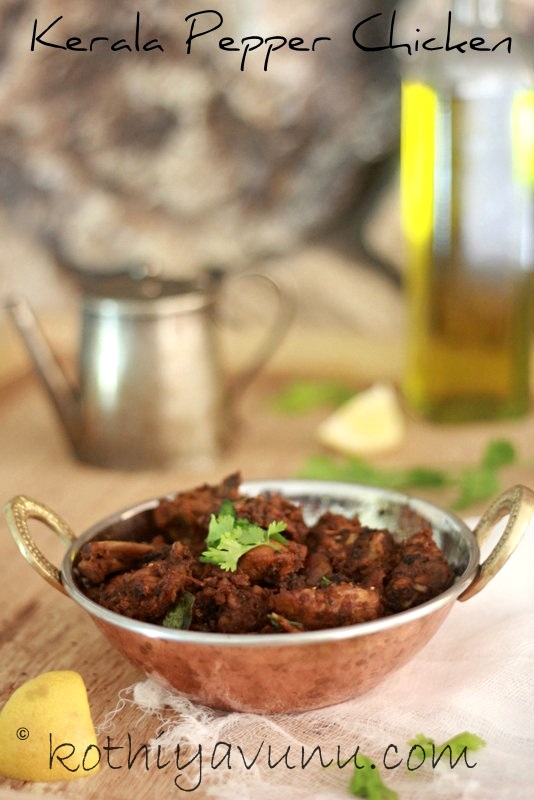 Kerala Pepper Chicken Fry Recipe – Nadan Kurumulaku Kozhi Fry Recipe
Preparation Time : 30 minutes
Cooking time : 30 minutes
Serves : 4
Ingredients :
For Marination :
Chicken with bones : 1.1 lb /1/2 kg (cut into medium size pieces)
Turmeric Powder : 1/4 tsp
Freshly crushed Whole Black Pepper Powder : 1/2 tsp
Lemon juice : 3/4 tsp
Salt to taste

For Masala :
Shallots /Red Small Onion /Kochu ulli : 25-30 nos or Onion : 1 large ( finely sliced )
Garlic : 6 cloves (crushed )
Ginger : 1 medium sized pieces (crushed )
Green Chillies : 2-4 nos ( slit lengthwise)
Tomato : 2 medium sized (chop and grind it to a paste )
Turmeric Powder : 1/4 tsp
Freshly Grounded Black Pepper Powder : 2-21/2 tsp or to your tolerances level
Homemade Grama Masala : 1/2 tsp (To Make Fresh Homemade Garam Masala : Fennel Seeds /Perum Jeerakam : 1 tsp, Cinnamon Stick/karugapatta : 2 inch pieces, Cloves/Grambu : 2, Star anise / Takkolam : 2, Green Cardamom //elakka : 2 pods (or) Use Store Bought Garam Masala : 1/4 tsp)
Coriander powder : 2 tsp
Grated coconut : 1/2 cup
Curry leaves : 2 sprig
Salt to taste
Coconut oil : 2tbsp
How to make Fresh Homemade Garam Masala :
1. Dry roast all the ingredients listed above for "To Make Fresh Garam Masala" and grind to fine powder and keep it aside. (Note : You can prepare this in bulk and store, but fresh masala taste too good or use store bought garam masala.)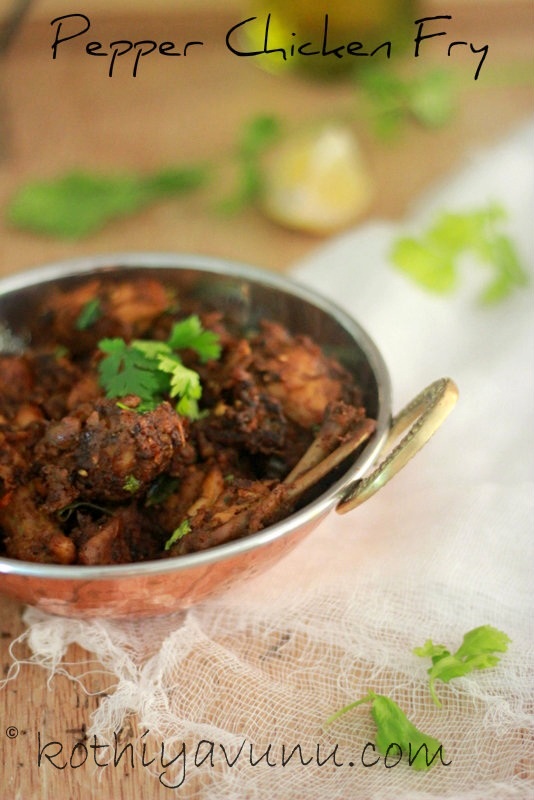 How to make Kerala Pepper Chicken | Nadan Kurumulaku Kozhi Fry :
1. Clean and wash the chicken pieces with turmeric powder and drain it.
2. Marinate the chicken for 1/2 hr to 1 hrs with above listed ingredients 'For Marination' and set it aside.
3. Heat 1tbsp of coconut oil in a pan; add few curry leaves followed by crushed ginger, crushed garlic and saute for couple of minutes. Now add finely chopped shallots (or) onion (whichever you use) and green chillies; saute it over medium-low heat till it turns to translucent.
4. Add coriander powder, turmeric powder and saute for a minute. Add ground tomato paste along with coupled of tbsp of water and cook till the tomatoes are nicely cooked and almost all water is evaporated.
5. Add marinated chicken pieces, mix it nicely and make sure that chicken pieces are coated with masala; adjust the salt and cook covered for around 20 minutes without adding water.
6. Now open the lid and then cook uncovered for another 10 more minutes. Now add freshly crushed black pepper powder, homemade garam masala, grated coconut and 1sprig of curry leaves. Combine everything well and cook it in a low flame till the chicken pieces dry and have attained the light brown color (Note : Stir in between to avoid burning and it takes 10 minutes approximately.)
7. At this point add 1 tbsps of coconut oil and
dry roast it till browned up . Do not close the lid after adding oil to roast the chicken.
8 Once the chicken meat starts to fell apart and have attained the dark brown color then remove from the fire. Keep covered for 10-20 minutes, let the flavor set.
9. Tasty Kerala Pepper Chicken is ready to serve. Serve as a side dish for
steamed rice
,
roti
,
appam
, or with any
Indian Bread
. Enjoy!
Notes :
This is a very hot dish. Add or reduce black pepper powder according to your taste.
Using freshly ground pepper and coconut oil enhance the authentic taste and flavor.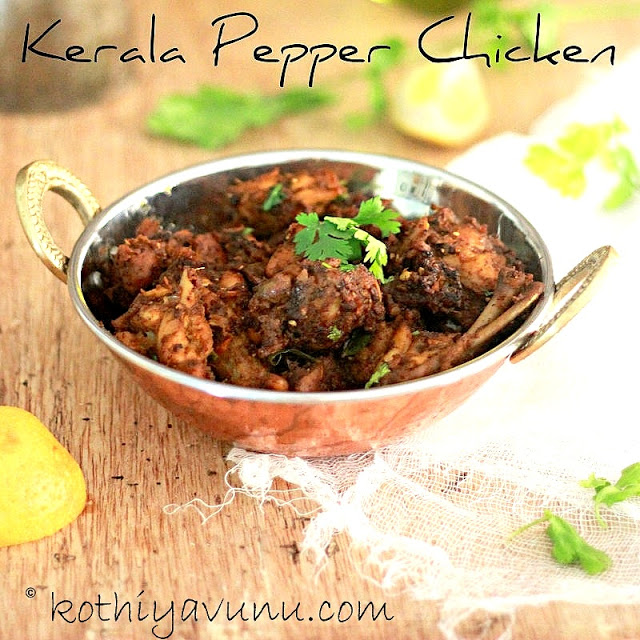 Related Posts :
Nadan Pepper Chicken Curry /Kerala Pepper Chicken Curry
Chettinad Pepper Chicken
Cashew Pepper Chicken
Easy Masala Chicken Fry /Kozhi Masala Varattiyathu
Chicken Ularthiyathu /Sauteed Chicken
Have a Wonderful Day!
Sangeetha