Hi everyone, How was Onam for you all? Hope it was as wonderful as mine was. Yes I prepared a mini-sadya like I told you. So the recipe for today is 'Parippu Pradhaman/Kerala Parippu Payasam' – a part of the sadya recipes.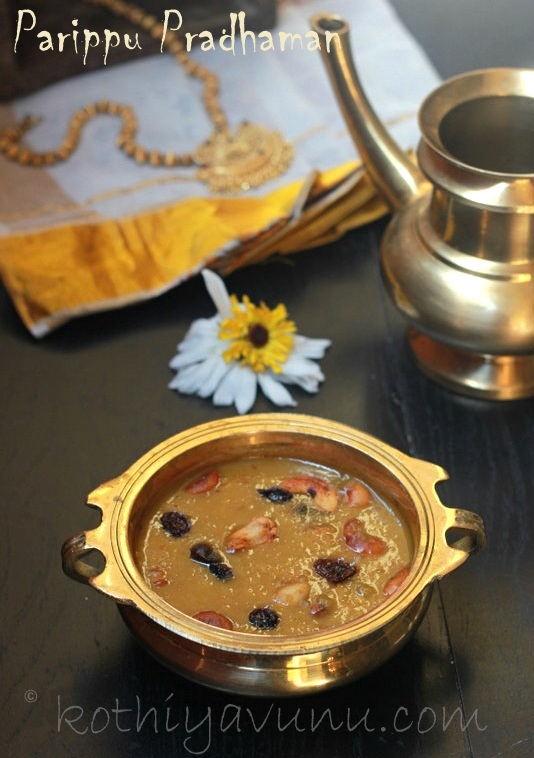 Oh Yeah! Onam truly evokes a sense of togetherness and unforgettable sweet memories. Like most of you one of my best Onam celebrations was during my childhood. Even though I grew up outside Kerala, every year my parents make sure that we celebrate onam in our tharavadu (means ancestral house) in hometown. All the distant family members and close friends coming over. I remember we children used to wake up early, collect beautiful, vibrant and colorful flowers like thumbapoo, (beautiful small flowers snow-white in colour) and many other wild flower from all corners of the streets and get back to arrange the pookalam (flower carpet). It was a competition at our house, among all the cousins who would assemble to see who collected the most.
Now of course, we get so many beautiful flowers in the market, but back then we wouldn't buy, it was all collected from around the home. Another exciting part is when everybody in the family comes together to put up a Onam oonjal (swing) outside the tharavadu and the women's and girls in the family dancing Thiruvathirakali (traditional dance form of Kerala) in the house. Then comes quintessential aspects of the festivity, Onasadhya (Kerala traditional feast). Those were the days!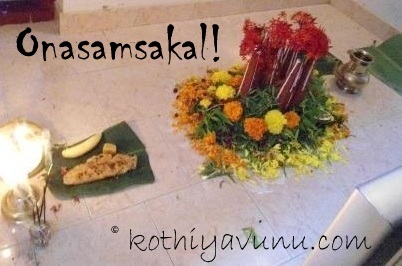 This is the way my MIL welcomes Maaveli..I love the 'thrikkarappan's
( for those who don't know, they are the triangular mud sculptures on the banana leaf).
She does it herself every year
Now that I'm mom I like to think back and bring alive all the age-old traditions taught by my family that I loved as a kid and try to recreate them with my kids. I'm so glad that my kids shared the same level of enthusiasm and were troopers when it came to designing the pookalam, sadly they had to wake-up early and do all these before gone to school.
Coming to today recipe…In the past I've received so many requests to post this Parippu pradhaman -Kerala parippu pradhaman and I promised them then. But it took sometime for the promise to materialize. I'm really sorry and thanks for patiently waiting for this post even after the deadline.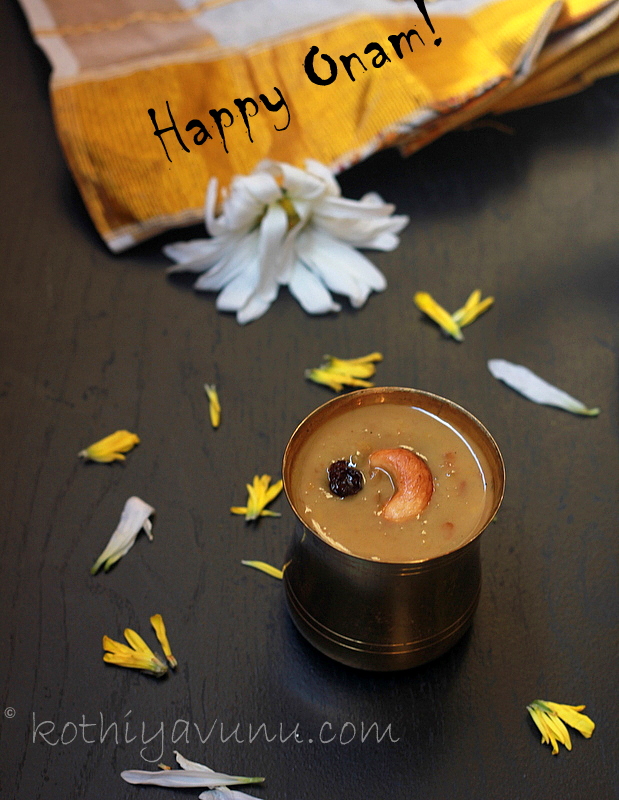 Have You Tried These Yummy Payasam's…?
How to make Parippu Pradhaman Recipe – Kerala Style Parippu  Payasam  Recipe :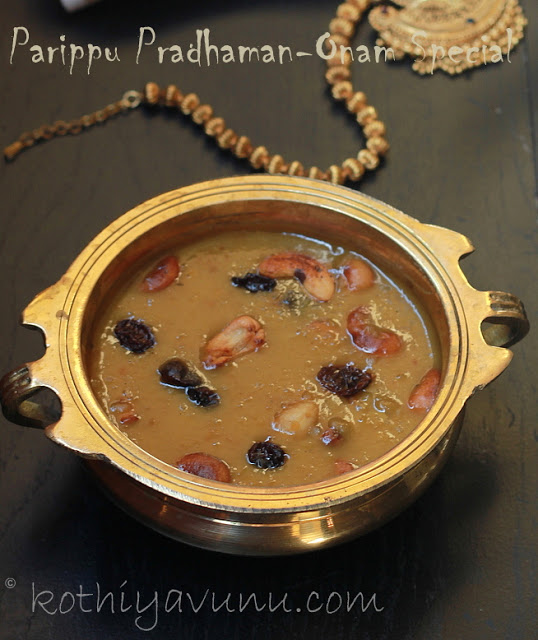 To Make Coconut Milk :
Take a 1 1/2 fresh coconut, grate it finely. In a food processor or blender, add the grated coconut with a cup of hot water and process for a minute then squeeze it for milk. This gives you 1 cup thick milk.Return coconut to processor and add 2 cup hot water and process for couple of minutes and squeeze it for milk in separate bowl. This gives you 1 cup thin milk.
(OR)
If using store-bought coconut milk. Buy 1 (400ml) can of thick coconut milk, shake well and pour 1/2 contents in a bowl and dilute with 2 cup of water for thin coconut milk – 1st extract – monnampal and for semi thick 2nd extract-Randaampal, dilute 1 cup of water with 1/2  of 1 can.  Remaining milk in can is thick milk.
(OR)
If using coconut milk powder. Mix 25 g instant coconut milk powder with 200 ml water for thin coconut milk.
Mix 25 g instant coconut milk powder with 100 ml water for thick coconut milk.

Parippu Pradhaman -Kerala Style Parippu Payasam
Yet another traditional dessert Parippu Pradhaman-Payasam from God's Own Country, Kerala. This classic dessert is made of lentils,coconut milk and jaggery.
Ingredients :
Split Mung Dal /Cherupayar Parippu : 1 cup
Jaggery / Sharkkara : 2 cups /
500 grams /15 cubes or to your taste
Semi Medium Thick Coconut milk - 2nd extract /Randaampal : 1 cup or if you using store-bought can : ½ can diluted with 1 cups of water. (see the method given below)
Thick Coconut milk - 1st extract /Onnampaal : ½ cup
Cardamom powder : ¼ tsp
Dry ginger powder /Chukku Podi : ¼ tsp
Cumin powder /Jeeraka Podi : ¼ tsp
Coconut Pieces (cut into very small bits) /Thengakothu (preferably copra) : 1 tbsp
Cashew nuts : 10-15 nos
Raisins /Unakka Mundhiri : 1 tbsp
Ghee /Clarified Butter : 2 tbsp or as required
How to Make :
Heat ghee in a heavy bottom pan or in a pressure cooker. First fry the coconut pieces until brown and drain on to a paper towel and set aside. Fry the raisins until plump and drain. Add in the cashews and fry until golden brown and drain on to a paper towel and set all these aside.
Now add the split mung dal and fry for couple of minutes until they turn a little golden brown. Now add 3 to 3.5 cups of water and boil it; once it starts boiling, reduce the heat and allow to cook till it is half done. This took me about 10 minutes. (or) pressure cook for one whistle. After the pressure settles, open the cooker. Mash the mung dal /Parippu well with the back of a spatula and set it aside.
Meanwhile melt the jaggery in 2 cup water in a pan over medium low heat and keep on stirring till it is fully melted (almost the consistency of honey) It would not take more than 10-15 mins.
Transfer the cooked mashed mung dal/ parippu to a uruli (Kerala style shallow kadai used for making payasam) or a wide-mouthed heavy bottomed pan . Strain the jaggery syrup and cook for a few minutes over medium heat.
Add the semi thick coconut milk /2nd extract/Randaampal; mix well and boil again stirring continuously over medium-low heat for about 8 to 10 minutes or until the mixture thickens.
Finally add the Thick Coconut milk - 1st extract /Onnampaal and cook for a minute at low heat and switch off the flame. Keep stirring until the milk is incorporated. (Note: Do not boil the coconut milk, boiling will result in separated coconut milk.)
Switch off the stove add cumin powder, dry ginger powder and cardamom powder. Mix well.
Finally add the fried cashews, fried raisins, coconut bits/thengakothu and ½ tsp ghee (optional).
Delicious Parippu Pradhaman is ready to serve...Serve warm or cold and Enjoy!
Notes
Adjust the amount of jaggery depending on the sweetness you prefer. The color of the payasam very much depends on the type of jaggery used.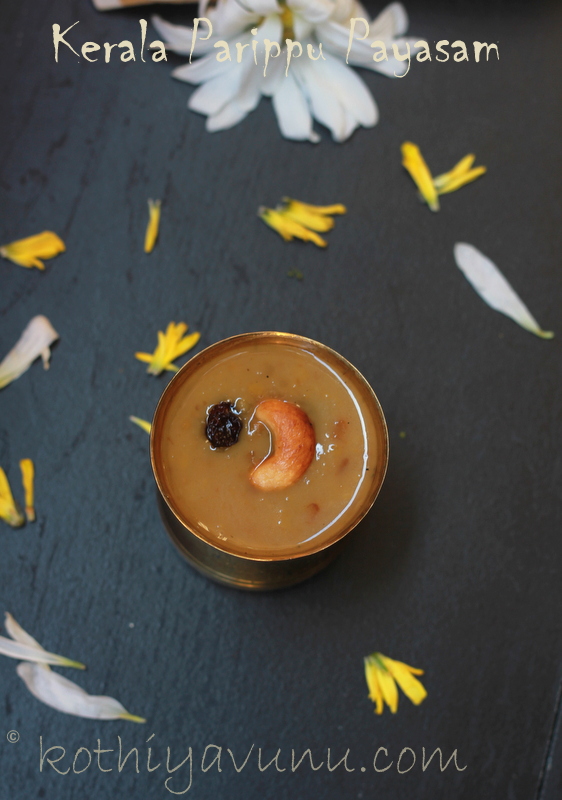 Do try this Parippu Pradhaman – Kerala Style Parippu Payasam.Hope you will all enjoy,don't forget to share your opinion.
Bon appetite,
Sangeetha
Like this Recipe? Sign up, and get more recipes delivered directly to your inbox.