Wrapping up 2012 and welcoming 2013. May the best of 2013 bring its blessings to you and to your family. Wishing you all a very Happy Blessed New Year!
Here comes the last post of this year with a sweet ending…the much-loved and popular Apple Rabdi /Rabri.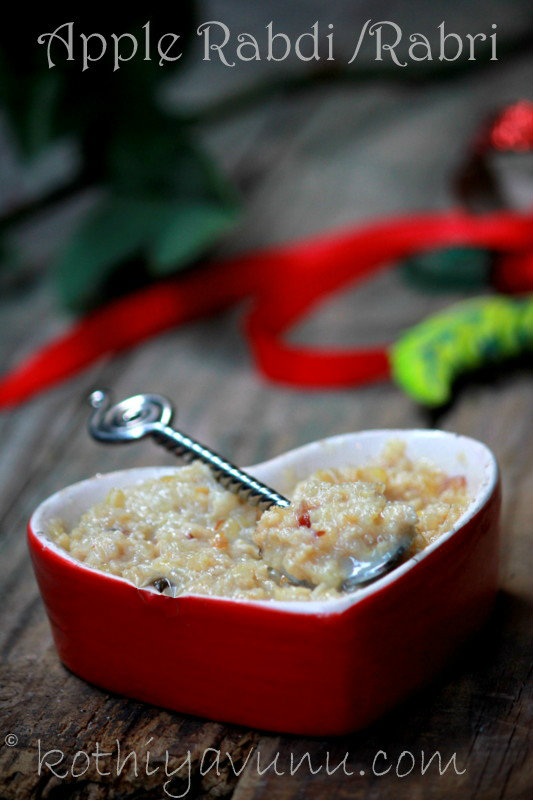 Rabdi is a traditional milk based dessert known for its taste and texture. Milk is thickened by evaporating in low flame and then sweetened by adding sugar. It is further flavored by mixing saffron, rose water and cardamom. Many variations of rabdi/rabri exist, to name few mango rabdi, apple rabdi, strawberry rabdi etc. In India, traditional rabdi is served in the matka also known as Kulhad, a earthen mini pot meant to be tossed, that lends it's own unique earthy flavor to this yummy dessert. Even though it takes considerable time to prepare with patience, worth trying it. Trust me!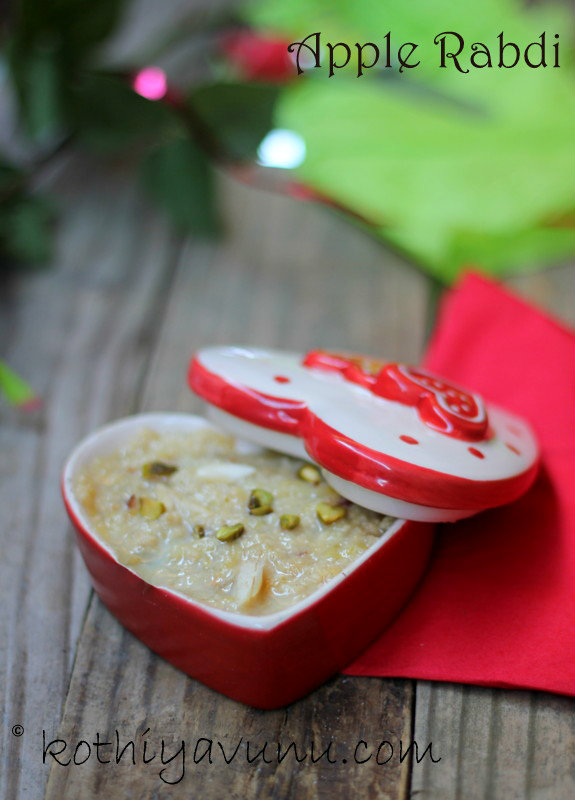 If your planning get together at your house? then I urge you to strongly consider making these Apple Rabdi /Rabri. They're positively out of this world. Give a treat to your kith and kin with this apple rabri recipe.
Let me prove it to you…
Apple Rabdi – Rabri Recipe /Evaporated milk based Apple dessert
Preparation Time : 5 mins
Cooking Time : 30 -45 minutes
Serves : 4-6
Recipe Adapted : Sanjeev Kapoor
Ingredients :
Whole Milk : 41/2 cup /1 liter
Sugar : 1/2 cup (Increase or decrease as per sweetness preference)
Apples : 3 (grated) (see notes)
Cardamom pods : 2 (roughly cracked)
Rose water : 1 tsp
Pistachio : 1 tbsp (roughly chopped)
Almonds : 2 tablespoon (slivered)
1. Sliver the almonds and pistachios .Soak the saffron threads in 1.5 tbsp of warm milk.
2. In a wide mouthed heavy bottomed pan (preferably a non stick) boil milk along with cracked cardamom on low flame.Keep stirring often and add the cream collected on the sides of the pan into the boiling milk. The color of the consistency changes from white to light brown to creamy brown hue. Again scrape off the milk solids from the sides of the vessel. They add lot of character and texture to the final flavor. Cook till milk is reduced to one-fourth of it's original quantity.(takes about 30-45 minutes),
3. Meanwhile in another non-stick cooking vessel, add the grated apple and sugar. Cook until it becomes soft, and all the water has evaporated and it turns into thick consistency.
4. Once milk reduced to 1/4 quantity; add the cooked apple-sugar mixture; mix well and cook it on low flame by stirring continuously for couple of minutes. One done, the dessert will be thick, gooey and creamy. Turn off the flame
5. Add saffron and blanched almonds and pistachios. Remove from fire and cool.
6. When cold, add the rose water and blend it in. Transfer to serving bowl or on earthen pots, matka /kulhad, if you have one. Serve warm or refrigerate for few hours and serve chilled! Enjoy!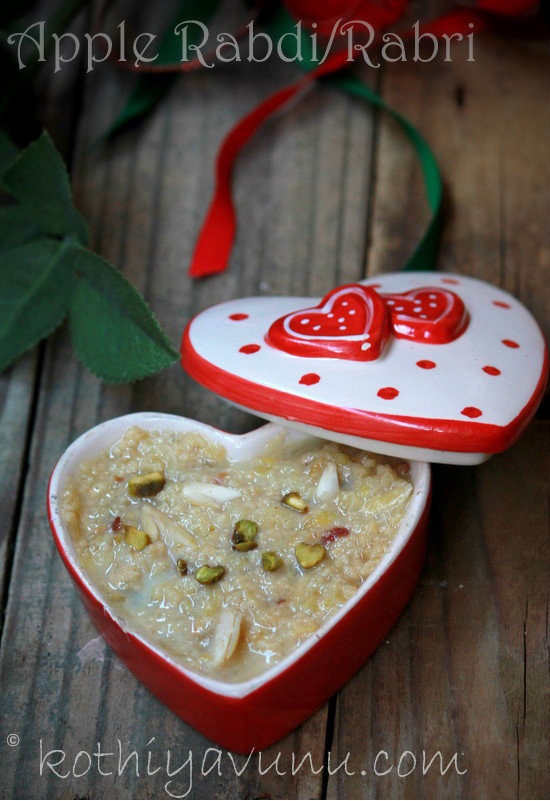 Notes:
This is a very heavy and rich dessert.
You can substitute condensed milk as a sweetener instead of sugar. Adjust the sweetness according to taste.
You can use any kind of apple, but sweet variety works well.
Grate the apples just before cooking so the apples don't brown.
The original recipe called for unpeeled apples. I peeled mine. If you think your apple skins are on the thinner side you could leave the peel on.
Related links:
Once again wish you all happy new year and that the new year brings you abundance of joy, great health and prosperity.
Sangeetha