It's been sometime since we have cooked one pot meal, right? I usually get comments and mails asking for one pot meal, which can be cooked easily. This is one such easy recipe…Paneer Fried Rice! Paneer is so versatile that we can hardly run out of different ways to cook it. I have many varieties of
paneer recipes
sitting in my drafts, waiting their turn to be published.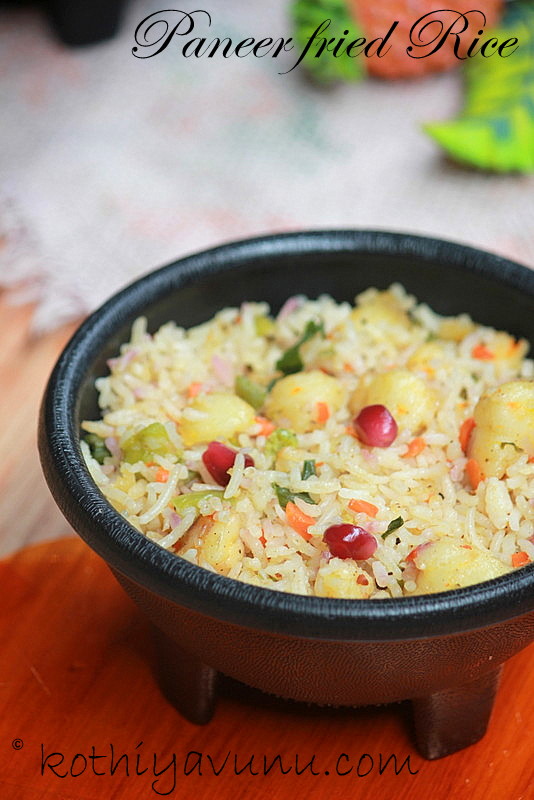 I would have made this paneer fried rice umpteen number of times, and in these 3 years of food blogging, some how I never got an opportunity to shoot this dish whenever I made. One reason being that most of the times it is a special occasion for which I'm cooking and you can imagine how crazy rush I would have been into and other reason is just thinking I will be cooking it many more times latter, so I won't brother to click. Somehow this time it just happened…though I was extremely busy I managed to click some pictures, but i apologize for not posting pictorial of the process. I made this paneer fried rice go with my
Paneer Butter Masala
and
Gobi Manchurian
for which I posted recipe earlier. Try this simplest paneer fried recipe and let me know how it turned out buddies 🙂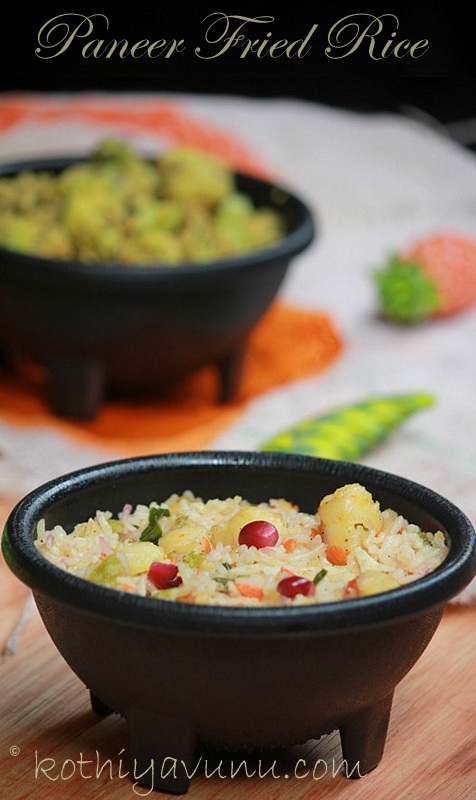 Recipe for Paneer Fried Rice /Easy Paneer Fried Rice
Preparation Time : 30 minutes for saoking rice + 5 minutes for soaking paneer
Cooking time : 20 minutes
Serves : 4


Ingredients :
Basmati rice or Long grain rice : 2 cups (Preferably basmati rice)
Paneer : 2 cups (cubed)
Carrot : 1/2 cup (finely chopped)
Capsicum /Bell pepper (any color) : 1/2 cup (finely chopped)
Spring Onion : 4 stacks (finely chopped)
Pomegranates : 1/4 cup (optional)
Pineapple : 1/4 cup (optional) (finely chopped)
Ginger : 1 tsp (finely chopped)
Garlic : 1 tsp (finely chopped)
Vinegar : 1/4 tsp (optional)
Black Pepper Powder : 1 tsp or as required
Sugar : 3/4 tsp
Salt to taste
Olive Oil /Cooking Oil : 2 tbsp


How to make Paneer Fried Rice | Simple Paneer Rice :

1. Soak the rice in water for about 30 minutes and drain.
2. Take 4 cups of water in a vessel, add rice and salt to it and boil it till rice becomes tender. Cook the rice in such a way that each grain should be separate. (Note : Do not overcook)
3. When the rice is cooked, drain the water, add some cold water to it. Again drain it and keep aside.
4. If you are using store bought paneer, then briefly soak them in salted hot water to make it soft and tasty. To do the above, heat 2 cups of water for couple of minutes and add a teaspoon of salt to the water and drop the paneer cubes for 5 to 10 minutes; drain the water, crumble it and set it aside.
5. Heat olive oil/cooking oil in a large wok/pan, once the oil is hot, add chopped garlic, chopped ginger, chopped spring onion whites and stir fry for a minute on high.
6. Add the chopped carrots, capsicum/bell pepper, sugar and toss them on high heat for a minute.
7. Add freshly grounded pepper powder and combine well.
8. Now add the crumbled paneer, green part of spring onion (saving little for garnish) and required salt. Combine well and cook for a minutes.
9. Add the cooked cold rice and combine well. Spread it all over the pan and leave on medium high for a minutes and mix well.
10. Optional – if your using vinegar, then add and toss everything on medium-low for a minute. Finally add chopped pineapple, pomegranates and mix well.
11. Turn off flame. Garnish with chopped spring onion (green part) and serve hot with
gobi manchurian
or with any spicy masala and Enjoy!
Notes :
Try to use freshly ground black pepper.
Always use cold rice. You can even use cooked rice from the previous meal to make paneer fried rice. With pre-cooked rice, your cooking time is reduced to less than 10 minutes and while tossing the rice in the skillet, do not scrape the bottom of the vessel. The rice at the bottom hardens and should not be served.
The sky is the limit for fried rice variations. You can use your imagination and put your own spin on it.You can add veggies of your choice and add some sauces like soy sauce or chilli sauces. If your adding sauces to it then add while you add black pepper powder . Add 1 tsp each.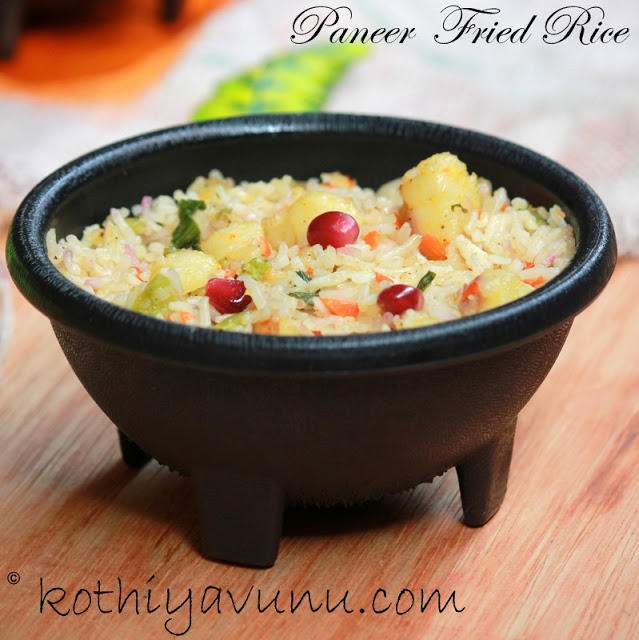 Related Posts :
Vegetable Fried Rice
Sausage Shrimp Fried Rice
Kashmiri Pulao
Happy Cooking!
Sangeetha