No long post here today, all I need to say Sali Par Eedu is a interesting, delicious, quick and easy Parsi breakfast dish. Just a classic combination of potato julienne and eggs, which compliment each other and the colors are beautiful together on the plate.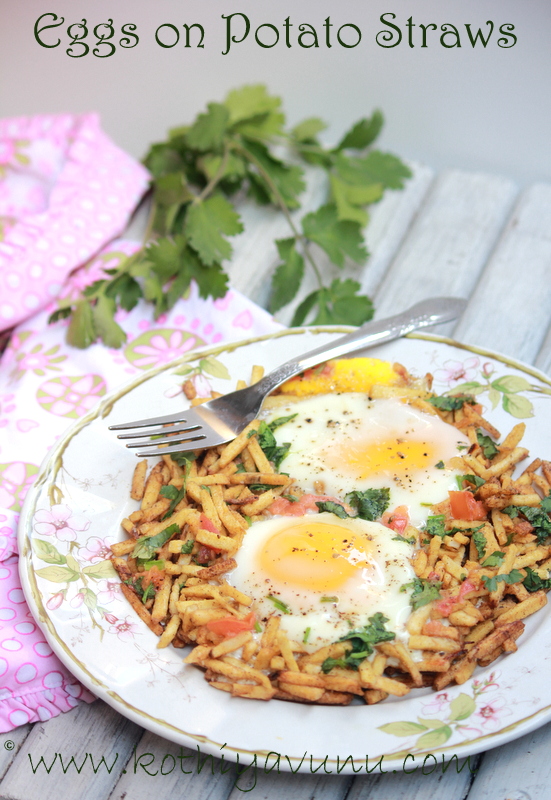 On another note, Due to several freelance commitments, which I hope to be able to share soon. I haven't had much time for posting and I am not able to revert to all your queries and mails in time. My apologies! But never fear, I've been cooking a lot lately and I have a big backlog of recipes just waiting for me to have the time to share. More to come soon…Stay tuned!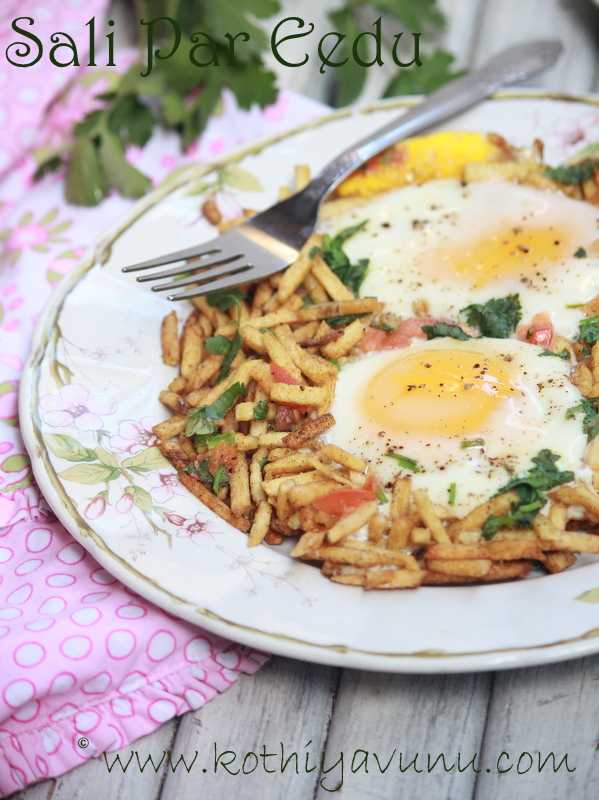 Sali Par Edu Recipe – Eggs on Potato Straws Recipe
Preparation Time : 5 mins
Cooking Time : 5 mins
Serves : 2
Recipe slighlty adapated from :
here
Ingredients :
Eggs : 2
Potato Sali (deep fried potato thin straws /Straws of potato chips) : 1 to 1/12 cup
Tomato : 1 tbsp (finely chopped) – (Optional)
Green Chillies : 1 (finely chopped) – (Optional)
Coriander leaves /Cilantro : little (finely chopped)
Black Pepper Powder to taste
Salt to taste

How to make Sali Par Eedu – Eggs on Potato Straws:
1. Heat
Pure Ghee
/Oil in a frying pan till it melts.
2. Spread the potato sali /potato straws along with chopped tomato, green chilles and coriander leaves in the frying pan and cook for minute.
3. Break the eggs carefully over the potato straws, sprinkle with salt and pepper, cover and cook till the eggs are done.
4. Carefully remove the fried eggs and potato straws to plate and serve for breakfast. Enjoy!
Notes:
Sali /Straws of potato chips is available in the market or you can make these at home by deep frying partially boiled thinly sliced or grated potatoes.
Originally recipe doesn't call chopped tomatoes and green chillies, I just added to suit my family's taste bud. So variations are open.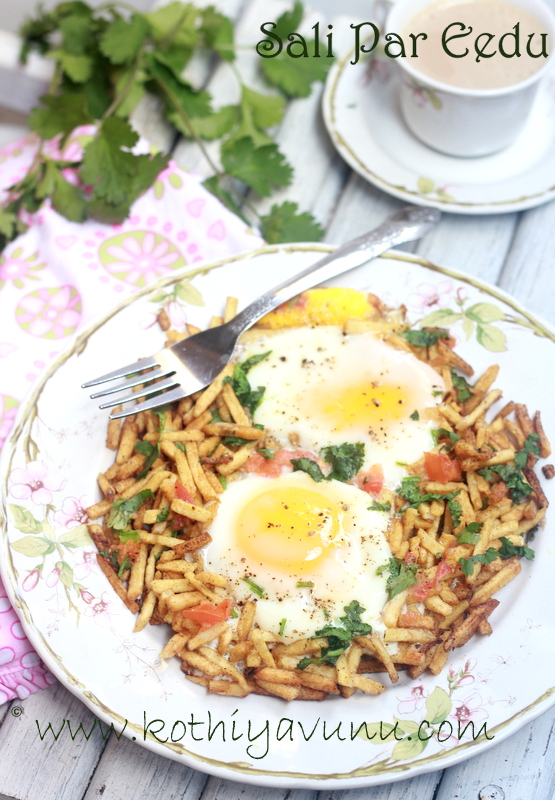 Related Posts :