Do you remember Kondattam -Vattals? What's your favorite kind?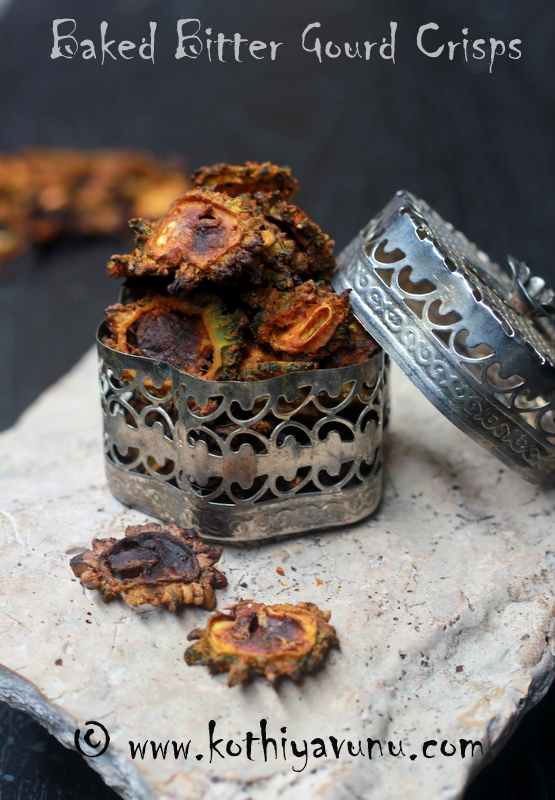 Kondattam /Vattal are made of rice, sago or with dried vegetables, sun dried and then fried in oil. Back home in Kerala, when vegetables are in season, vegetables are chopped into thin pieces, marinated, sun dried and preserved as Kondattams /Crips for later use. Usually this is done in high quantities, because it could last for more than 2 years. Various vegetables like green chillies, long beans /payar, bitter gourd /pavakka, thaamara valayam/lotus steam, okra/vendakka, kovakka/tindoora, chundanga /chundakkai, etc are preserved as kondattam. When ready to use, it is fried in oil and eaten with rice or it is used in curries and many other dishes. Oh yes, I will share the other recipe using kondattam with you all shortly 🙂
Today let's put an healthy twist on classic Pavakka /Kaipakka Kondattam by baking them instead of frying. For all health watchers and have limitation to sundried method, this baked version is great. It taste yum like fried one…more healthy too. For those of you who haven't tried it before, now is the time!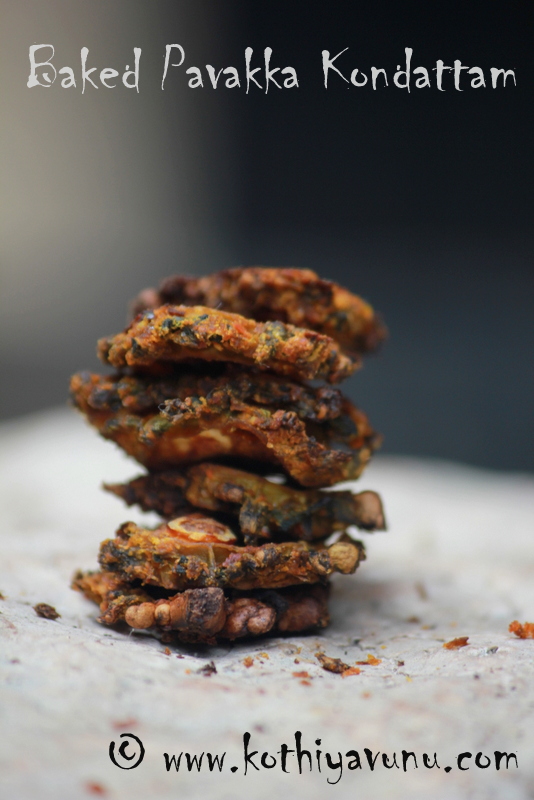 I can hear you talking 🙂 how about the bitterness? no fuss; addition of spices and yogurt help to reduce the bitterness of the bitter gourd to great extent. I'm pretty sure, I ate at least half the bowl in one sitting 🙂 I hope you become as excited as me about this recipe! You'll be fighting for the crisps powder leftover behind in the bowl; those are my favorite : ) Plus did I mention these are quick and so easy! It goes well Kanji /Rice Gruel and with curd rice rasam rice or you can eat as a snack; also, they travel well and you can store them in air tight container to have any time you're in the mood for a crispy and spicy healthy treat.
Here you go and hopefully anyone trying this recipe enjoys it too.
Baked Pavakka Recipe – Kaipakka Kondattam Recipe – Vattal Recipe | Oven Crisped Bitter Gourd Recipe
Preparation Time : 30 mins
Baking Time : 25-30 mins
Makes : 2 cups
Ingredients :
Bitter gourd : 4 medium sized
Turmeric powder : 1 tsp
Red Chilly powder : 2 tsp
Yogurt / Thick Curd : 5 tbsp
Rice flour : 1 tsp (optional)
Hing /Asafoetida : a pinch
Oil : 1 tbsp
Salt to taste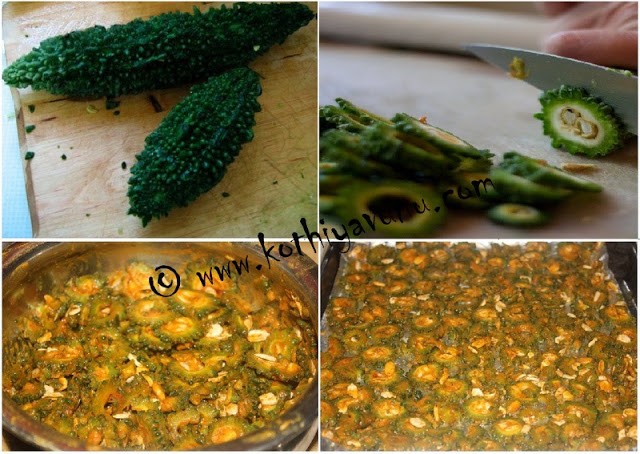 How to make baked Pavakka Kondattam | Kaipakka Kondattam – Baked Version | Bitter Gourd Crisps :
1. Cut off the ends from the bitter gourd /pavakkam and slice into 1/4 inch uniformly into thin circles.Remove pith and seeds. I like the seeds, so kept it.
2. Mix all the ingredients listed above and make a paste. Apply the paste on each bitter gourd/kaipakka and let it marinate for 20 to 30 minutes, so that all the flavors will get into it.
3. Preheat the oven to 425° F/ 220° C. Line a aluminum foil on a baking tray and spread the marinated slices over the greased baking sheet without crowding. Bake for 25 to 30 minutes; half way through (15 mins) take out the tray carefully using your oven mitts; flip sides of the gourd pieces, rotate the baking tray and place inside the oven and bake for another 15 mins or until they turn slightly crisp. (Note : Unless flipped and rotated, the bitter gourd pieces will become a charred mess at the end of baking. Hence, this step is must)
4. Now change it to the broil mode and broil for 3-5 minutes or until they get crispy.
5. Serve with a rice, kanji /rice gruel or as a snack, or use to make other recipe and Enjoy!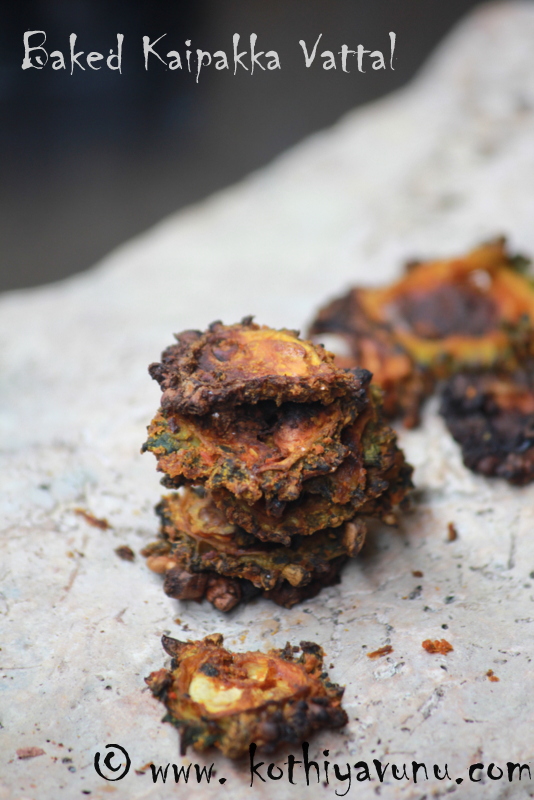 Notes :
Temperature setting and cooking time may vary depending on oven, so adjust the timing accordingly.
Keep in mind flipping and rotating the bittergourd pieces halfway through will avoid charred mess.
After completion of baking you will see that some bitter gourd pieces are baked to perfection while some are not. Remove the golden and crispy baked chips. This happens due to uneven size of the pieces so bake the undone bittergourd pieces for another 10 mins or until golden brown and crispy.

Happy Weekend!
Sangeetha