Today, I'm sharing something with very simple, something that we eat so often 5+ times per week 🙂 I 'm sure all the Indian are quite familiar with Chapati /Roti. There is nothing much to be explained about this dish. Then I thought about the people who may not be familiar with this recipe and decided to post it here.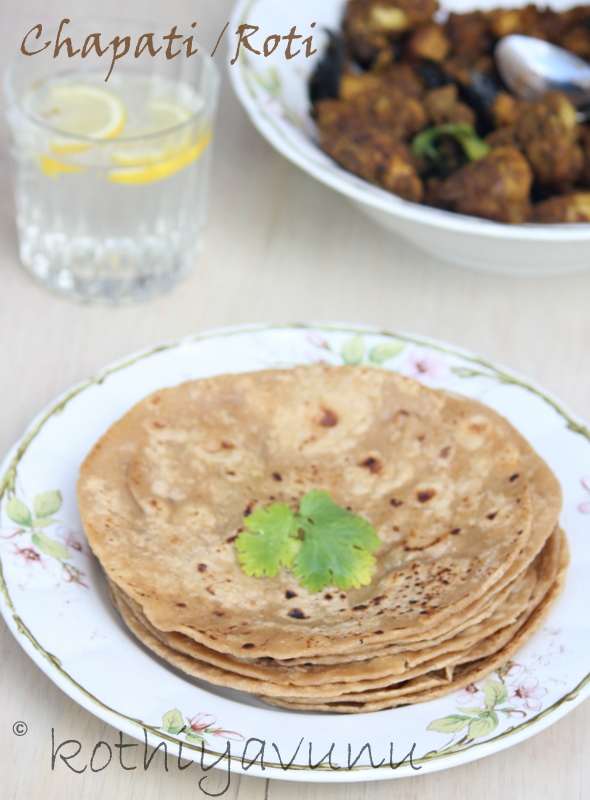 Chapatis are traditional Indian flat breads, also called rotis or phulka. It is generally a staple in the Indian diet. There are a number of different variations on Chapatis /Roti, but as a generally they are made with wheat flour ground very fine, salt, and water. These ingredients are mixed to form a dough which is formed into flat discs and cooked on a tava which is a flat cast iron plate.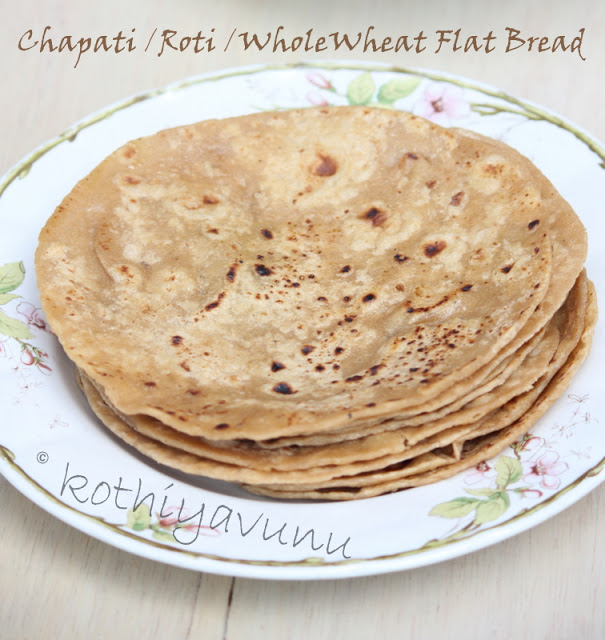 Serve hot with any subzi/curry of your choice & Enjoy !
Chapati Recipe | Chapathi-Chappathi Recipe | Roti Recipe | Whole Wheat Indian Flat Bread
Preparation Time : 20 mins
Cooking Time : 2-4 mins
Makes : 8-10
Ingredients :
Whole Wheat Flour : 3 cups
Warm Water : 1 cup
Oil :1 tsp
Salt to taste
How to make Chapati – Chapathi – Chappathi | Roti :


1. In a bowl, add wheat flour, salt, oil; pour the luke warm water little by little and knead well for few minutes until its combined well. (Note : Make sure the dough is not really very sticky)
2. Cover the mixing bowl with a lid and keep it aside for 10 minutes.
3. Divide the dough and roll into round shaped small balls. Now take the wooden board and sprinkle some flour on the board to avoid sticking.
4. Roll out the dough ball evenly in a nice round shape or desired shape of your choice.
5. Heat the tava griddle on medium flame,when the pan is heated.
6. Place the chapathi and when the dough becomes lightly dry on side flip over to other side and cook till it puffs up (Note : If it takes time to puff up,just flip it over every few sec.)
7. Smear up some ghee/oil to the chapathi. Serve hot with any subzi of your choice & Enjoy !!!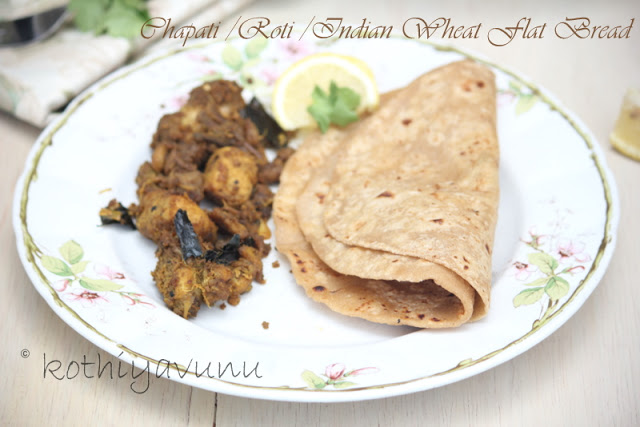 Notes :
Before start kneading the flour rub some oil on your hands, so that the dough will not stick.
Don't cook the chapati in a high flame and need to be kept covered always or they will dry out very fast and will turn hard.
If you are going to serve them later stack them up and put them between two kitchen towels to prevent condensation or drying out.
If you plan to refrigerate them put them in a ziploc bag with a paper towel. The paper towel will absorb any condensation in the bag that might occur due to refrigeration.
For more Indian Bread click here
Cheers !
Sangeetha