Well folks, today it's Bengali's most cherished breakfast – Luchi ar Aloo Chorchori. Wondering what happened to this humble Kerala blog? Lately posting more of different region cuisines…Yes, not only do I enjoy Kerala style cooking but I love trying different kinds of cuisines too. This is an expression of the passion that I have for food and also yet another exciting news is awaiting to share, so stay tuned! 🙂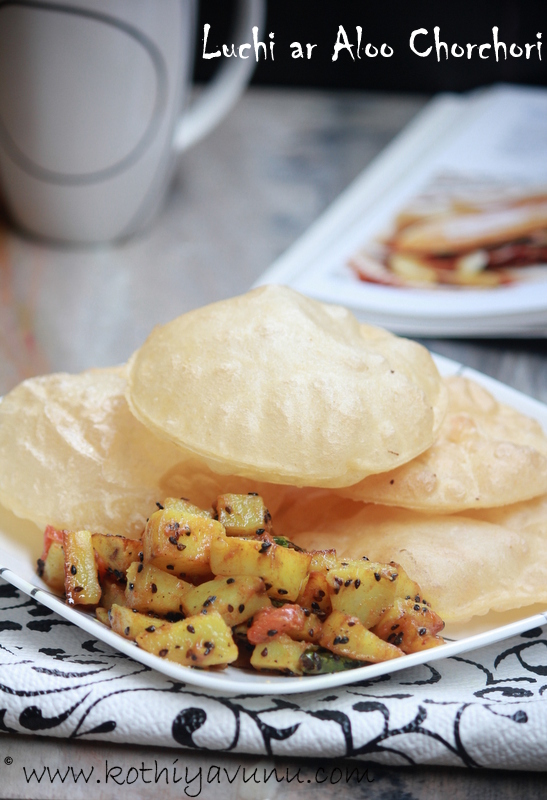 Luchi is a deep-fried flatbread made by Maida/All Purpose Flour. A dough is prepared by mixing fine maida flour with water and spoonful of ghee or oil, which is then divided into small balls. These balls are flattened using a rolling-pin and individually deep-fried in cooking oil or ghee and they are usually served with curry. Luchi goes great with any potato curry. Aloo Chorchori /Potato flavored with black cumin curry is one such combination.
It was a welcome change from our usual Kerala breakfast menu…Hope you will all try this classic Bengali's breakfast and let me know how you loved them.Enjoy!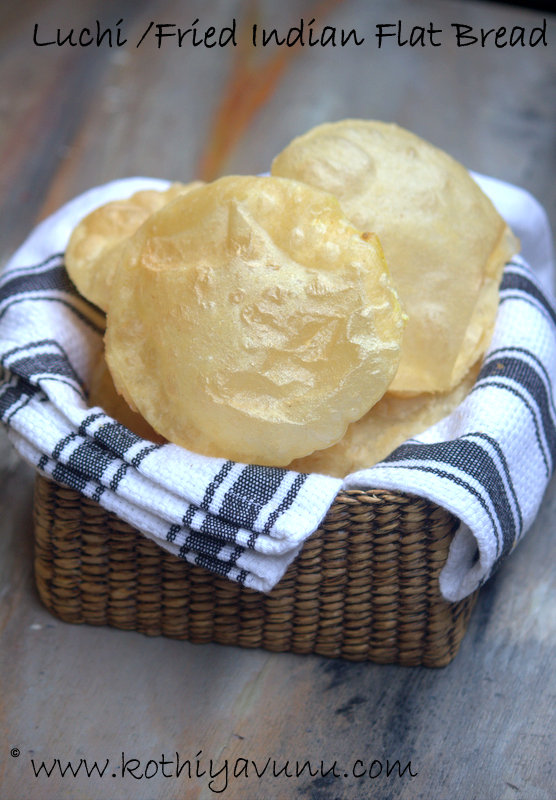 Luchi Recipe | Maida Puri/Poori Reipe | Fried Indian Flat Bread Recipe
Preparation Time : 30 mins
Cooking Time : 10 mins
Makes : 15-20
Ingredients :
Madia /All Purpose Flour : 2 cups
Cooking Oil : 2 tbsp+1tbsp
Salt : 1/4 tsp or to taste
Warm Water
Cooking Oil for deep frying
How to make Luchi /Madia Puri /Poori :
1. Sieve the madia /all purpose flour with salt and make a well in the center.
2. Pour the 2 tbsp of oil in the well and mix with fingertips. Add a little warm water at a time to form a dough, knead well with hands or by food-processor. (Note : Luchi /Madia Puri dough is needed to be very soft n smooth and this texture is only obtained by kneading the dough on an oiled surface.)
3. Once the dough is done, smear a couple of drops of remaining oil coat it. (Note : Oil will help avoid forming a crust)
4. Cover and allow the dough to rest for about half hour or at least half an hour. (Note : This will make the luchis /maida puri soft and puffed up).
5. After half hour, knead the dough once again. Divide the dough into balls approximately 1″ in diameter.
6. Flatten each ball and using oil for rolling, roll into discs approximately 4″ in diameter.
7. Heat the oil in a deep wok like pot, wait until it is hot to test the oil, drop a small piece of dough, if it is hot it will float up immediately bubbling as it comes up to the surface. Now slowly slide the poori from the side of the pot into the hot oil.
8. Deep-fry the luchi /madia poori until golden. When it puffs up, turn it once on the other side. Fry for a minute and remove.
9. Serve hot as they are made with Aloo Chorchori /Potato cumin Masala (Recipe below).
Notes :
Allow the dough to rest for about half hour or at least half an hour. This will make the luchis /maida puri soft and puffed up. Always use oil to roll out the poori /luchi.
Its always better to get someone to roll out the Luchis/Poori's while you can do the frying. If you roll them beforehand you might end up with hard and crisp poori's /luchi's.
The heat of the oil plays very crucial role in frying luchi /maida puri. It should not be very hot or cold. If you get the right heat the luchi will puff up easily.
Aloo Chorchori Recipe | Potato with Black Cumin Curry Recipe
Preparation Time : 10 mins
Cooking Time : 15 mins
Serves : 4
Potaoes /Aloo : 3 big
Tomato : 1 small
Green Chilies : 2-3 pieces
Turmeric Powder : 1/4 tsp
Nigella Seeds /Black Cumin : 1/2 tsp
Cooking Oil : 1 tbsp
Salt to taste
How to Maka Aloo Chorchori Recipe / Potato flavored with Black Cumin Gravy :


1. Peel, wash and cut the potatoes in small cubes. Slit the chilies lengthwise.
2. Heat the oil and temper with nigella seeds /black cumin seeds and green chilies.
3. Once the aroma of fried spice comes through add the potatoes, salt and turmeric Powder. Combine well and fry on medium. Cover and let it cook but stir in between.
4. When the potatoes are half cooked; add water and place the tomato at the center. (Note : Don't cut the tomato as this will result in lengthening the boiling time. Also add water as needed. if you want it dry don't add much water.
5. Once the potato pieces are soft and little mushy; mix the tomato in the gravy. Check seasoning and serve hot with luchis/madia poori and Enjoy!