How was your Vishu celebrations? Hope you had a great time with your family and friends and got handful 'Kaineetam'. 🙂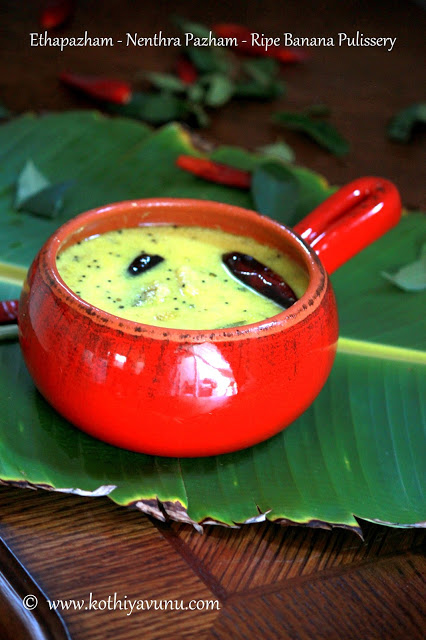 Sorry, I know I didn't wish you all. Well better late than never. Happy Vishu to everyone. I didnt make any sadya for this Vishu. We celebrated vishu at our friend place. We had a potluck, so I prepared Ethapazham puliserry. Yes you got it 🙂 the recipe of the day is a simple Puliserry…without pulissery sadya is incomplete.
Puliserry is sweet and sour, coconut and yogurt based curry. It is more or less like Moru curry. Acutally there is not much difference except that pulissery generally makes use of seasonal fruits like Pineapples, Nendram Pazham/Plantain, Mangoes, whereas vegetables like Yam, Ash gourd, Cucumber, Papaya, Pumpkin,etc are added to Moru curry. . The tasty dish goes well with white hot rice. Do give a try and Enjoy!
Ethapazham Pulliserry – Nenthra Pazham Pulissery Recipe | Ripe Banana Pulliseri Recipe
Prepration Time : 10 mins
Cooking Time : 20 mins
Serves : 4
Ingredients :
Ethapazham / nenthra pazham / ripe banana : 1 medium, (cubed)
Green chilies : 2 (slit)
Turmeric powder : 1/2 tsp
Red Chilli powder : 3/4 tsp
Curry leaves : 1 sprig
Water : 11/2 cup or as required
Curd/Yogurt : 2.5 cup
Curry leaves : 1 sprig
Salt to taste
To Grind:
Grated coconut : 1 cup
Green chillies : 3 nos
Garlic : 1 pods (optional)
Cumin seeds : 1/2 tsp
Curry leaves : 2-3 leaves
For Seasoning :
Mustard seeds : 1/2 tsp
Fenugreek seeds : 1/4 tsp (You can replace it with fenugreek powder. Sprinkle it when the pulliseri is done.)
Dry red chilly : 3 nos
Curry leaves : 1 sprig
Coconut Oil : 1 tbsp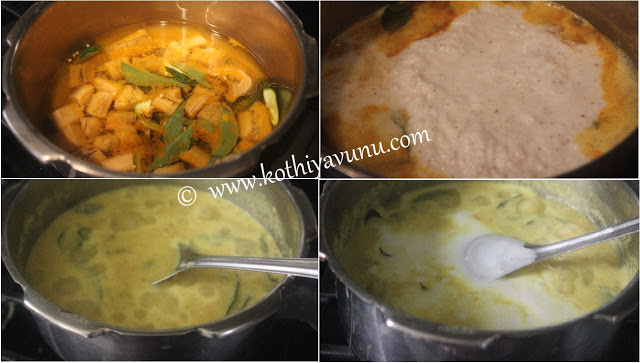 How to make Ethapazham – Nenthra Pazham Pulissery | Ripe Banana Pulliseri :
1. Cook covered ethapazzham/ripe banana pieces along with a water, turmeric powder, chilli powder until it turns to soft and tender.
2. Grind grated coconut, green chillies, garlic, cumin seeds, curry leaves to a fine paste adding half of the yogurt.
3. Add grounded coconut paste to the cooked pineapples, add salt and mix well; allow it to boil on a low heat for 5 mins.
4. Whip the remaining yogurt/curd and add to the curry; mix well. Bring to a boil and cook for a minute. Keep stiring till the gravy is heated through, (Note : Don't allow yogurt to curdle) Remove from the heat and keep it aside.
6. In a small frying pan, heat coconut oil and add the mustard seeds. When it start to splutter,add fenugreek seeds, curry leaves and red chilies; Pour this over the prepared pulissery/pineapple-yogurt gravy and mix well. Cover the dish for 10-15 mins. Let the flavor set.
7. Yummy Ethapazham/Nenthra Pazham/Ripe Banana pulissery is ready. Serve with rice along with Kaya Mezhukkupuratti or with any other spicy Side dish as you wish and enjoy!
Notes :
For Pulissery the curds/yogurt used must be sour, If you feel if yogurt is not sour enough then just leave in room temperature for a day or two.
If you wish you can add any other oil, using coconut oil gives authentic and special flavor to the dish.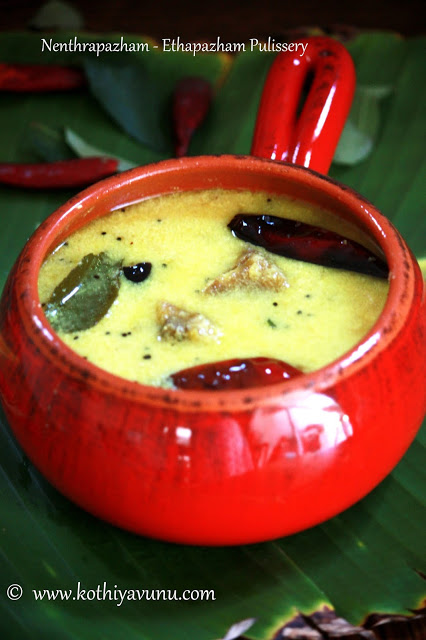 Related Posts :
Mambazha Pulissery/Ripe Mango Pulissery
Pineapple Pulissery/Pineapple in yogurt curry
Click here for more Kerala Sadya Vibhavangal.
Happy Cooking!
Sangeetha