Need more make ahead recipes for Vishu? Here is other damn healthy pickle recipe, which will be wonderful addition to your 'to-do' list for this Vishu Sadya… Nellikka Achar / Gooseberry – Amla Pickle.
Nellika /Amal or the Indian gooseberry is a very popular fruit in South India. Which is famous for its health benefits. It is a powerful anti-oxidant and very rich in iron, vitamin C, also good for people with diabetes. The fruit by itself has a sour and bitter taste. It leaves a nice sweet aftertaste which many people enjoy. Back home small vendors with the small wooden handcarts would sell this magic fruit bursting with freshness and goodness. There is also a smaller more tart variety thats eaten plain with salt and chilli powder.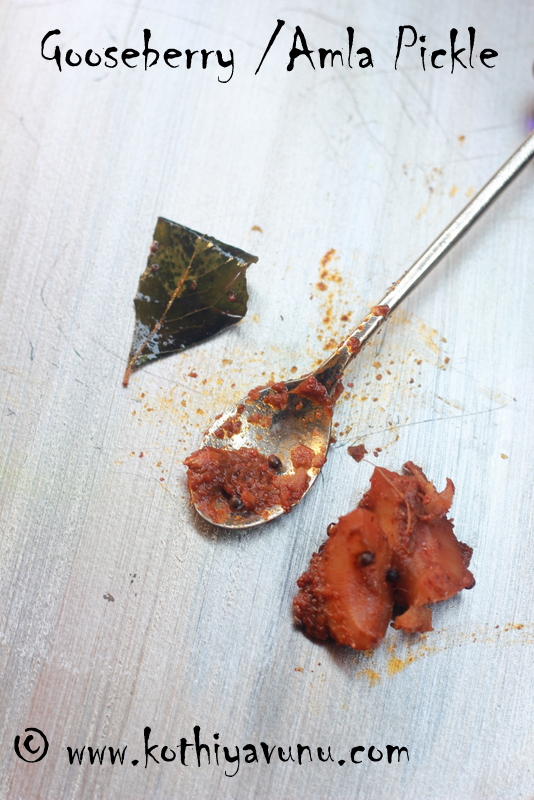 This pickle is very easy to make and and tastes yummy with curd rice. Nellikka/Gooseberry pickle is very much palatable, thus making it easier to include in our menu. Enjoy!
Nellikka Achar Recipe – Nellikkari Recipe | Gooseberry – Amal Pickle Recipe – Kerala Style
Preparation Time : 10 mins
Cooking time : 15 mins
Serves : 1 small bottle
Ingredients :
Nellikka / Gooseberry /Amla : 15 -20 nos (fresh / frozen)
Mustard Seeds : 1 tbsp
Ginger : 1 tbsp (finely chopped)Garlic :1 tbsp (finely chopped)
Green chilly : 2-3 nos (finely chopped)
Curry leaves : 1 sprig
Kashmiri Red Chilly Powder : 4 tbsp or to ur spice level
Turmeric Powder : 1/4 tsp
Asafoetida Powder : 1/4 tsp
Fenugreek Powder : 1/4 tsp
Gingelly/Sesame Oil /Nallenna : 3 tbsp
Vinegar : 2 tbsp or adjust to your taste
Salt to taste
How to make Nellikka Achar – Nellikkari | Gooseberry -Amla Pickle :
1. Wash and clean the nellikka/amal/gooseberries. Steam them for 10 minutes or until they get tender. Allow to cool and cut into 4-5 pieces. Remove the seeds. Do not discard the boiled water.
2. Heat oil in a pan or a cheenachatti/kadai over medium heat. Splutter mustard seeds; add chopped ginger,garlic,curry leaves and all spice powders listed above.
3. Add salt and the chopped gooseberries and saute for couple of minutes. Add the saved boiled water and bring to boil over low heat until it is fairly thick. Switch off the heat.
4. Allow to cool and add vinegar on top.
5. Transfer it to parani (porcelain jar) or dry glass bottle…Goes well with Curd rice or
Kanji
or any other bland preparation.
Notes :
This pickle can be stored in the refrigerator for 1 to 2 months.
Cautious not to get the pickle in contact with water…Use only clean dry spoon to scoop the pickle from the jar. Do not use wet spoon which adds moisture and the pickle very easily get "fungus" and that spoils the whole pickle.
If you wish you can add any other oil, using sesame oil gives authentic & special flavor to the pickle and it helps pickle stay longer.
If the oil seems to less add boiled and cooled oil to the top of the pickle..This will prevent fungus.
Add or reduce the chilly powder to the pickle. If you adding more chilly powder then roast and cool it before adding and mix well. It wont be spicy since the sourness of the gooseberry will compensate its heat.
Kashmiri chilly gives you pickle deep red color and its less spicy; the opposite applies to its regular counterpart.
Avoid using steel container for storing..Always store in dry ceramic jar /bharani or a glass jar and please note to clean the bottle and caps you planning to use for pickle with hot water and wipe and dry well without any water content.