If you are a Snake gourd /Padavalanga lover and a Prawns/Chemmeen lover then this is a recipe you won't want to miss out on.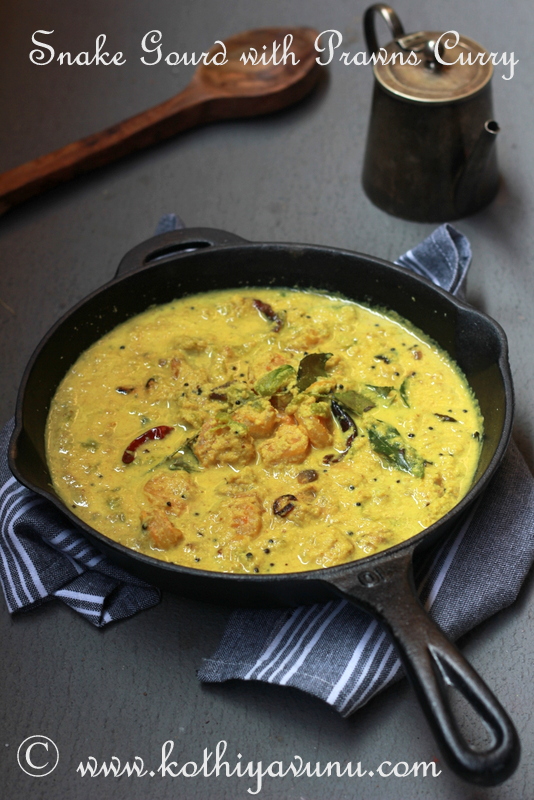 I myself completely love the both of them, so when I found they could be combined into one, I was excited to try. One great thing about this curry is it's convenience. It contains ingredients that I nearly always have on hand. This friendly side dish is a breeze to put together and may just become a new favorite.
If your a fan of Prawns and Padavalanga, don't forget to try this recipe and to share your feedback! Serve it with plain steaming
rice
with drop of
Ghee
on the top to enjoy this curry straight from "God's Own Country" Enjoy!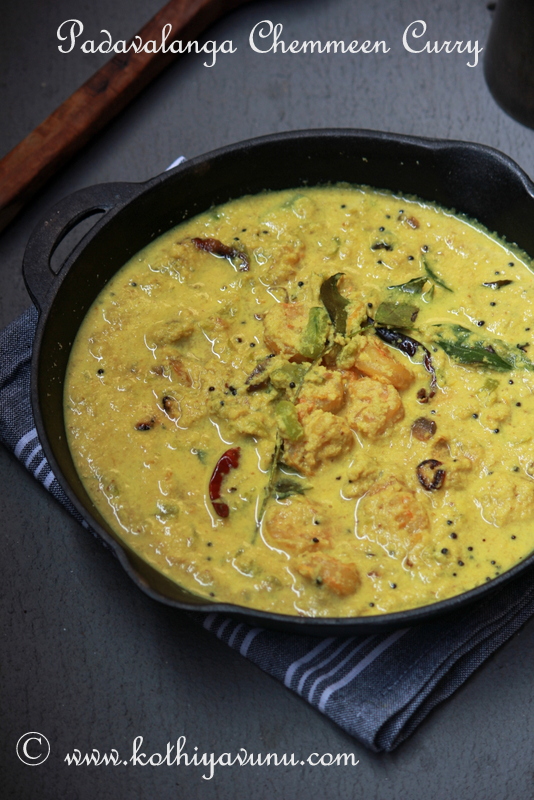 Snake Gourd with Shrimp-Prawns Curry Recipe – Padavalanga Chemmeen Curry Recipe
Preparation Time : 10 mins
Cooking time : 15 mins
Serves : 4
Ingredients :
Snake Gourd /Padavalanga : 1 long piece /1 cup (approx) (chopped to small pieces)
Prawns /Shrimp/Chemmeen : 1/2 lb /250 grms
Turmeric powder : 1/4 tsp
Red Chilli Powder : 1/4 tsp
Garlic : 2 cloves (crushed)
Ginger : 1/4″ piece (grated)
To Grind :
Grated fresh coconut : 1 cup
Small Red Onions /Shallots : 4
Green Chillies : 2
Turmeric powder : 1/4 tsp
Cumin Seeds : 1/4 tsp
For Seasoning :
Mustard Seeds : 1 tsp
Small Red Onions /Shallots : 4-6 (chopped)
Dried Red Chillies : 3 (broken into 2)
Curry leaves : 2 sprig
Coconut Oil : 1 tbsp
How to make Prawns Padavalanga Curry Recipe | Snake Gourd with Prawns Curry:
1. Grind all ingredients listed above "To grind" with little water to a smooth paste and set it aside.
2. In a pan or manchatti (preferably in 'manchatti' an earthen pot), add the padavalanga /snake gourd pieces, prawns/shrimp, grated ginger, crushed garlic, turmeric powder, red chilly powders and salt to taste with enough water to make curry consistency and bring to boil and cook till its done.
3. Add the grounded coconut paste to the snake gourd-prawn mixture; add sprig of curry leaves mix well and allow to boil, adjust the salt and remove from the fire.
4. Heat the coconut oil in a pan, add the mustard seeds,when its starts to pop add chopped small red onions/shallots, dry red chillies, curry leaves and saute for a minute. Pour the seasoning to the curry and mix well.
5. Yummy Padavalanga Chemmeen Curry is ready. Cover the dish for 10 to15 mins. Let the flavor set. Serve with hot rice and pour drop of ghee on top & enjoy!
Notes :
Varations :
You can also use dried shrimp/prawns instead of fresh prawns.
If you wish you can add any other oil, using coconut oil gives authentic & special flavour to the dish.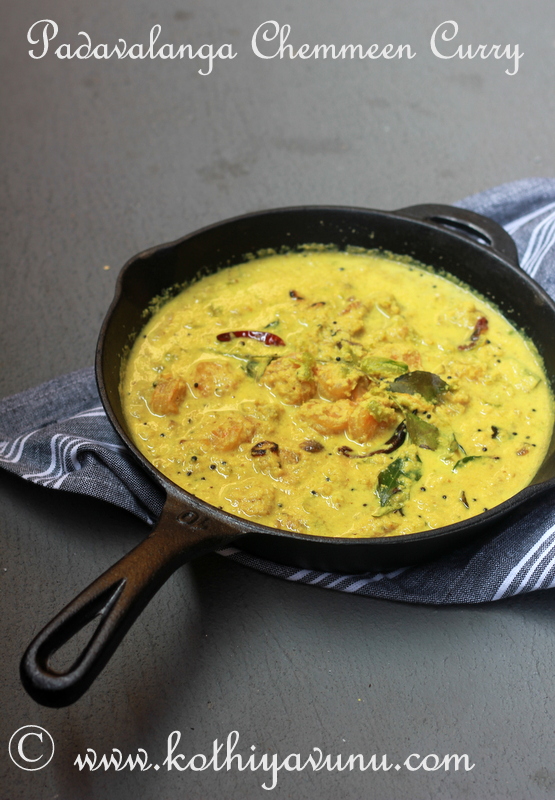 Related Posts :

Cheers!
Sangeetha