I'm back…Did you miss me? Cause I missed you all!
Well, I gather that up from the mails and messages, I have been receiving for the last few weeks. Everything is alright, Just got tied up with some personal matters and not getting enough time to sit and blog. I want to thank you all for the flood of concerned emails,msgs about my absence, you guys make me keep me going ! Now that I am back, you will get to see more recipes from me, I promise.:-)
Ok now it's time for some yummy Mussels Pepper fry! While I write this, I remember when i made mussels for the first attempt, the result was terrible. As most of you know the challenges with cleaning and shelling mussels/kallumakkaya irachi.Yes, if mussel is not cleaned enough, it tastes bitter. I admit, it's laborious; it require a lot of scrubbing and pulling of beards and keep in mind while cleaning, the black part in the bottom of the mussel should be removed or that can also result in stomach pain. Also while shopping, make sure that the shells are tightly shut and undamaged, or just tap the mussel, immediate it should close, if not leave that pick the other one.Besides the challenges with cleaning, recipe is pretty easy and delicious!
Now let's move onto recipe…Give it try and enjoy!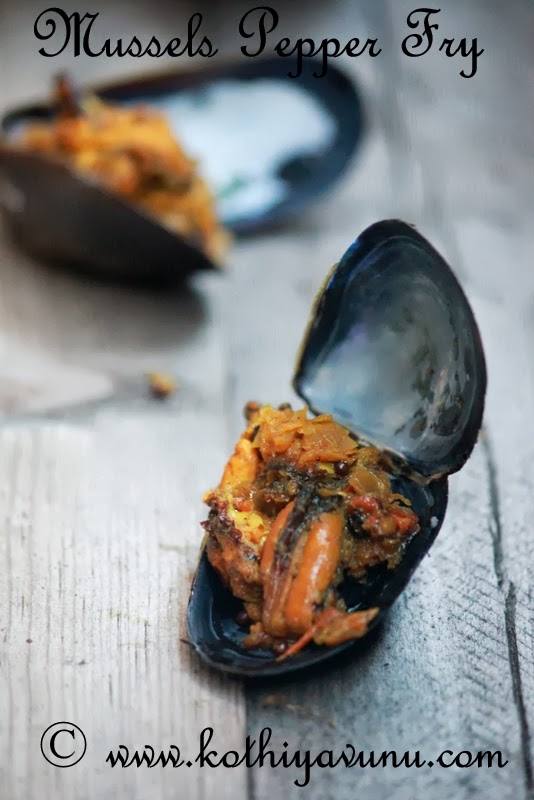 Kallumakkaya Irachi Pepper Fry Recipe- Mussels Pepper Fry Recipe – Kerala Style
Preparation Time : 20 mins
Cooking time : 30 mins
Serves : 4-6
Ingredients :
Fresh Mussels /Kallumakkaya Irachi:
1.6 lb /1/2 kg
Small Red Onions /Shallots :
2 cups (finely chopped) or Onion : 2 cups
Tomato :
1 medium sized (finely chopped)
Green Chillies :
4-6 (Slit lengthwise)
Ginger :
1″ piece (crushed)
Garlic :
4-6 cloves (crushed)
Turmeric Powder :
1/2 tsp
Red Chilli Powder :
1 tsp or your spice level
Freshly Grounded Pepper Powder :
3 tsp or your spice level
Homemade Garam Masala :
1/4 tsp (To Make Fresh Homemade Garam Masala : Fennel Seeds /Perum Jeerakam : 1 tsp, Cinnamon Stick/Karugapatta : 2 inch pieces, Cloves/Grambu : 2, Star Anise / Takkolam : 2, Green Cardamom /Elakka : 2 pods (or) Use Store Bought Garam Masala : 1/4 tsp)
Curry Leaves :
2 sprig
Coconut Oil or Cooking Oil :
3 tbsp
Salt
to taste
How to make Fresh Homemade Garam Masala :
1. Dry roast all the ingredients listed above for "To Make Fresh Garam Masala" and grind to fine powder and keep it aside. (Note : You can prepare this in bulk and store, but fresh masala taste too good or use store bought garam masala.)
How to Clean Mussels /Kallumakkaya /Kadukka –Clams /Kakka :
1. Wash and clean the Clams or Mussels shells well and place them in pot with enough water and boil till the shells open. (Note : Do not use shells that have not opened, Click here or Check here for how to clean the clams mussels)
2. Drain all the water and scoop out the mussels from the shell ,clean the dirt and remove the black part in the bottom of the mussel well.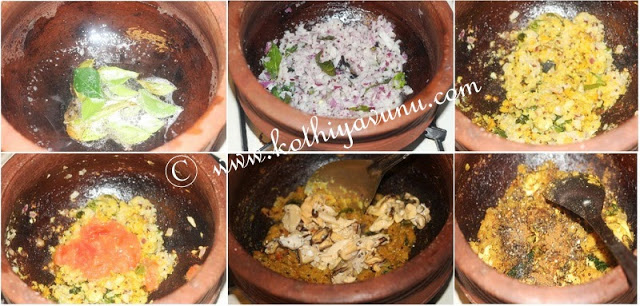 How to make Kallumakkaya Irachi Pepper Fry Recipe | Mussels Pepper Fry :
1. In a cooking vessel (preferably in 'Kalchatti' an Earthen pot) heat 1 tbsp of coconut oil and add pinch of turmeric powder, 1 sprig of curry leaves.
2. Add a 2 tbsp of remaining coconut oil and add sliced small onion or onion, crushed ginger, crushed garlic, green chilles.
3. Saute well till the onions become light brown in color, now add the chopped tomatoes and cook till turns to soft and mushy.
4. Add all spice powders except freshly grounded black pepper powder, remaining curry leaves and saute for couple of minutes. (Note : Take care not to burn the spices, add few drops of water to avoid burning the spices.)
5. Add the cleaned and half cooked mussels, sprinkle little water and mix well; close and cook it on medium flame for 15 minutes minutes or until the mussels is cooked. Add more oil if needed.
6. Finally add freshly grounded black pepper powder and combine well and cook uncovered in a low flame without adding any water for about 5-8 minutes.
7. Adjust the salt and drizzle little coconut oil and keep covered for 10-20 minutes, let the flavor set.
8. Delicious Spicy Mussels Pepper Fry/Kallumakkaya /Kadukka Irachi Pepper fry is ready. Serve with steamed rice, Parota, Chapati /Roti or with Appam..Enjoy!
Notes :
This is a very hot dish. Add or reduce chilli powder and pepper powder according to your taste. Optional – To bring down the heat, if you want can substitute red chilli powder with kashmiri chilli powder or paprika .
Using freshly ground pepper and coconut oil enhance the authentic taste and flavor.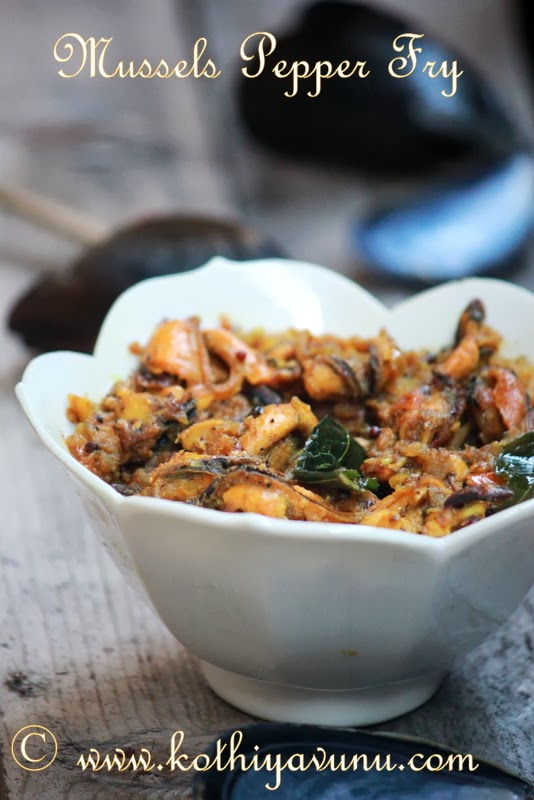 Related Posts :